What to Know Before Purchasing a Waterfront Home
Posted by Lazaro Marganon on Thursday, September 8, 2022 at 9:21 AM
By Lazaro Marganon / September 8, 2022
Comment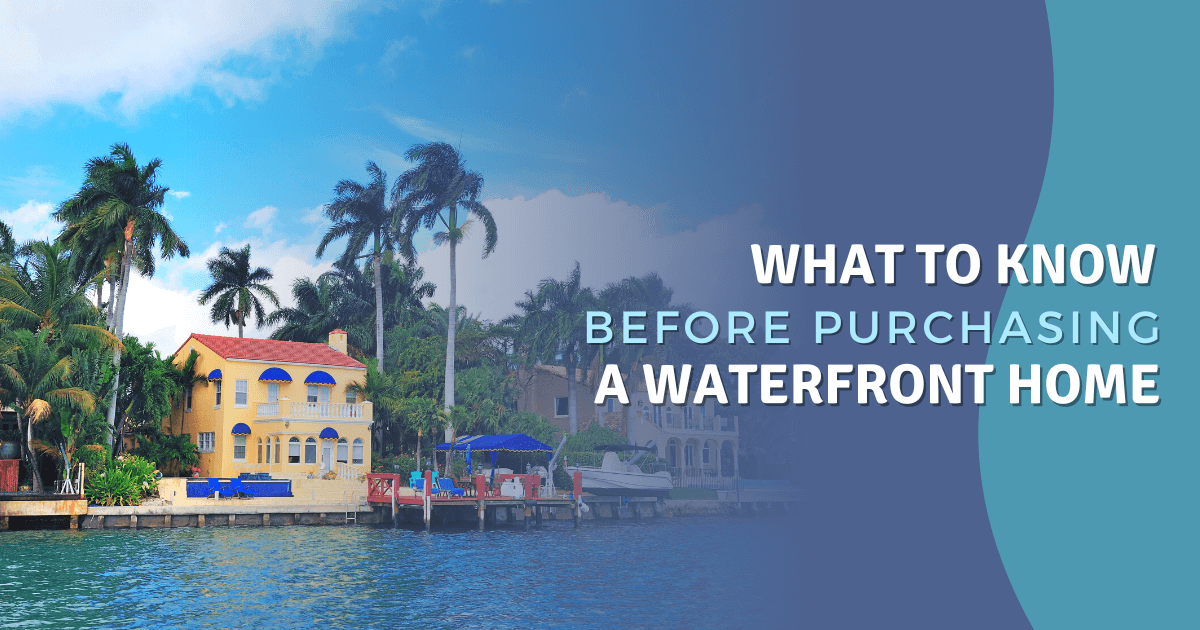 Waterfront properties offer plenty of benefits, from gorgeous views to easy water access. However, waterfront homes can also bring added expenses, which can start to add up without adequate preparation. When considering the purchase of waterfront homes, it's imperative to find the right insurance, plan for future maintenance, research local regulations and fees, and budget for the fun items and activities that make a waterfront home so appealing in the first place. Looking for tips before you dive into a house by the water? Keep reading to find everything you need to know as a first-time waterfront property buyer.
Is a Waterfront Home a Good Investment for First-Time Homebuyers?
Waterfront homes are often seen as a good investment. They typically appreciate in value at a higher rate than non-waterfront homes because there is a limited supply and high demand. On top of that, they can be a great source of rental income for those who want to take advantage of the short-term rental market. But what about as an investment for a first-time homebuyer?
Because the prices for waterfront homes are overall higher than non-waterfront homes, they can be more restrictive to first-time homebuyers. However, if a buyer has the budget and is interested in the long-term potential of the property, a waterfront home can be a great investment. Waterfront homes typically have higher upkeep and insurance costs due to the higher risk of flooding, but that doesn't mean they're completely unaffordable. With careful planning and a realistic understanding of the costs, a waterfront home can be a sound investment for first-time homebuyers.
Find the Right Insurance For Waterfront Homes
Although flooding can be a problem for any waterfront home, homeowner's insurance does not typically cover damage from flooding. However, in some cities, homeowners can purchase a separate flood insurance policy due to the city's participation in the National Flood Insurance Program. Because flooding can happen almost anywhere in coastal cities, flood insurance is a smart purchase for all real estate investments, not just those immediately on the water.
Not all flood insurance policies are created equal. Many flood insurance policies cover only the building's structure but not its contents. However, when a city experiences flooding, the city's homes tend to experience less severe damage to their structures than their contents. Therefore, when selecting a flood insurance policy, it's a good idea to buy one that covers both the building's structure and its contents.
Although insuring a waterfront home against flood damage can be more expensive, waterfront homes tend to be a more reliable investment than homes in other areas. Waterfront homes tend to continuously appreciate because beaches, lakes, and other waterways are scarce resources. Purchasing the right kind of insurance is a great way to help protect that investment.
Forecast Your Home Waterfront Maintenance Needs
Some waterfront homes have additional maintenance needs, such as seawalls, and in some cases, weather can have more of an effect on appliances, and homes may require storm-proofing. Anticipating these maintenance needs and budgeting for them can help prevent future headaches.
Seawalls help prevent erosion and other damage to coastal properties. When considering a home that already has a seawall, it's a good idea to have it inspected before buying. Seawalls built from poor materials or poorly installed can end up costing more in the long run, as they require more frequent maintenance. An inspector can determine if the seawall is rooted deeply enough to prevent erosion for years to come.
Checking appliances can also help prevent unexpected maintenance costs down the line. Salty air can wear down home appliances more quickly, leading to earlier replacements. If a home's appliances are over ten years old, they'll likely need replacing soon. While these replacements can be costly, that cost can be a negotiating tool when buying a home with older appliances.
Waterfront homes may also need additional storm-proofing. Metal roofs, impact windows, and fiberglass doors can help prevent wind and water damage during storms. While these improvements may require an investment, they can help save money later on.
Research Potential Waterfront Regulations and Fees
One of the questions to ask before buying a waterfront home is regarding the local water regulations. While many waterfront homes seem to be the perfect place for a private dock, they are typically subject to regulations from several governing bodies, and sometimes HOAs have a say as well. Even if a property already has a dock, it's a good idea to verify that it was properly permitted.
Government bodies can grant exemptions, general permits, or individual permits for marine construction projects. Permits for single-family docks are among the most common marine construction permits sought by oceanfront homeowners. However, dock permits aren't always necessary. Non-commercial piers of 1,000 square feet or less usually don't require a permit unless constructed in specially protected waters.
Meanwhile, many waterfront properties feature wetlands between the upland lot and water. A dock extending over those wetlands to reach deep water would likely require a permit.
Occasionally, neighbors can have a say in property improvements, too. In many states, waterfront property confers riparian water rights, which include an unobstructed view of the water. It's a good idea to verify that neighbors won't have any problems with planned improvements. Additionally, many waterfront homes belong to HOAs, which can charge fees and influence the available improvement options.
On the Other Hand, Some Expenses are Fun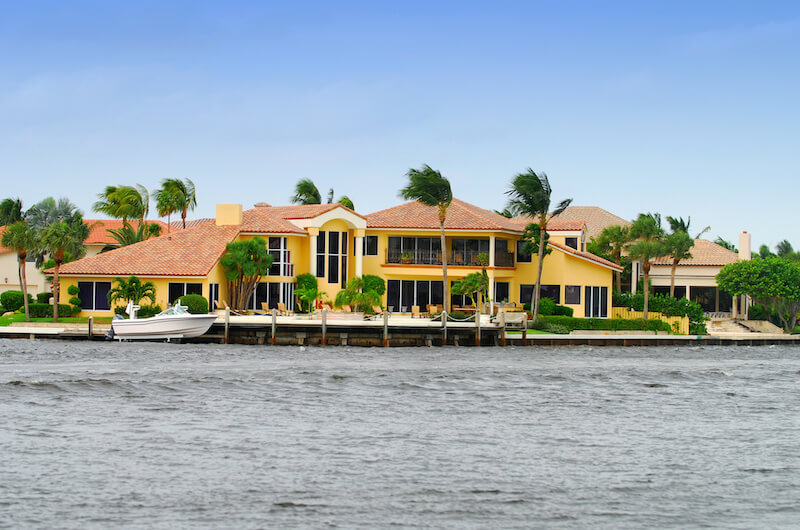 While some of the expenses of waterfront homeownership are unfortunate necessities, the essential home purchases for waterfront houses can be fun and exciting. Equipping a waterfront home with a private pier, watercraft like boats and jet skis, and outdoor furniture can help complete the dream of a luxurious waterfront living experience.
A private pier can be a great bridge to the water near a waterfront home. Not only does a private pier allow for docking various watercraft, but it can also enable fishing and other watersports. Additionally, walking down a serene private pier can provide gorgeous views of the water seen by no one else.
Once the pier is ready, why not dock a boat or jet ski on it? Boats, jet skis, and other watercraft allow for endless hours of entertainment on the water. Owning a waterfront property makes it easy to engage in watersports right in the home's backyard.
Finally, outdoor furniture can help complete the home's look and give it a cozy vibe. While it's important to select outdoor furniture that can handle humidity or the salty air of a beachfront home, comfort is still the ultimate goal. Outdoor furniture can offer a great place to relax and enjoy the view.
Choosing the Perfect Waterfront Property
With so many waterfront properties available, finding the best fit can be difficult. Although they are not the only factors to consider when choosing a waterfront home, finding the right insurance, anticipating future maintenance, researching local regulations and fees, and budgeting for fun expenses can help cut down on future costs.