What Every Homebuyer Needs to Know Before Buying Waterfront Property
Posted by Lazaro Marganon on Thursday, August 18, 2022 at 11:05 AM
By Lazaro Marganon / August 18, 2022
Comment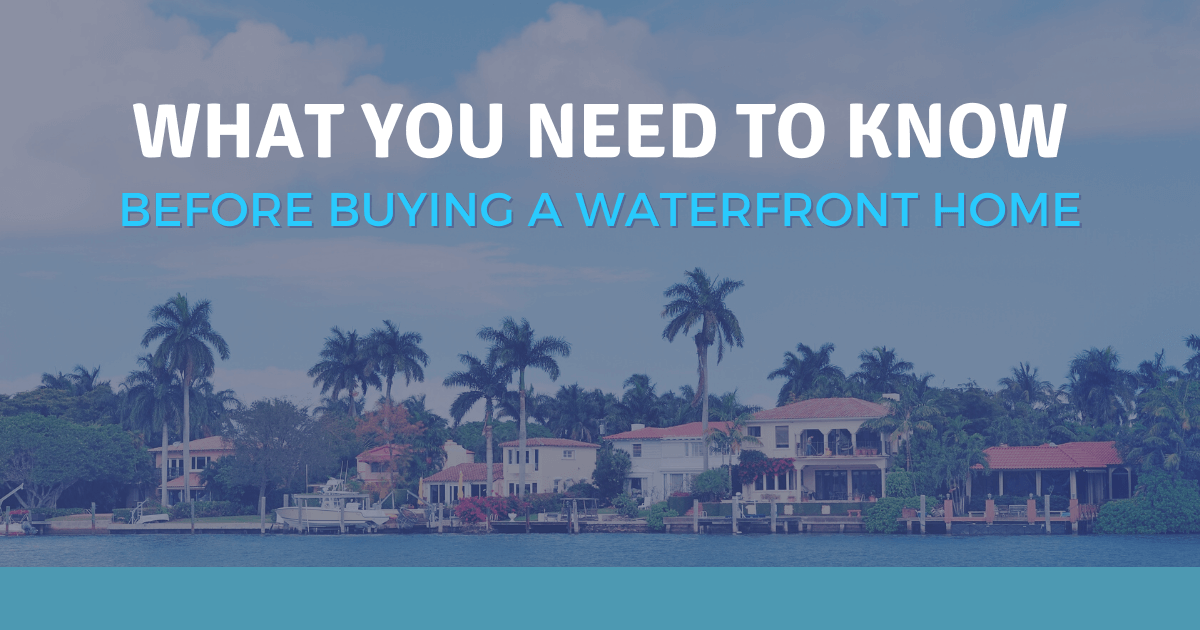 When it comes to the best places to buy a home, waterfront homes for sale are some of the most desirable in the country. Investing in waterfront property will offer you an everyday retreat and escape from the hustling and bustling of the city. Looking for tips for buying your first waterfront property? Keep reading to learn about the questions you should ask before buying a waterfront home.
Can You Build The Waterfront Home You Want?
Although a waterfront property typically grants seamless access to the water, it is subject to riparian regulations from local and federal agencies. That means, depending on the riparian rights the area is subject to, you might not be able to build docks or piers without inquiring or having proper permits. In states like Florida, if the land underwater was covered by navigable water when the state was incorporated, then generally speaking the state owns and has control over it. That means even with full riparian rights, the privilege to set up a dock or any other structure on the waterfront remains subject to public ownership, and the property owner should seek permits first before constructing anything.
These regulations also may be updated from time to time. So, before buying a waterfront property, find out whether you have riparian rights, and if so, can you build whatever you want? If not, consider whether you'd still be interested in the property.
You can inquire from the seller or find out yourself by reviewing a map of the public lands survey system to determine whether the land below water on your waterfront property is considered navigable. Some regulations limit what one can build on their waterfront and how a home can be remodeled.
Are Boats Allowed at The Waterfront Property?
Waterfront homes have different shorelines and water characteristics. How you use it often depends on the size and type of waterway. For instance, large vessels and watersports like waterskiing might not be the best idea with riverfront properties if the water is too shallow. In other cases, properties may feature a soft shore bed while others are sandy, weedy, or muddy. Some properties may be less than ideal for swimming or other watersports and boating since boats will be more prone to running aground.
Also, in some neighborhoods, even waterfront property owners with full riparian rights cannot fish wherever they want due to ecological regulations. Water vessels like speed boats might not be allowed in some communities due to HOA regulations. And due to the condition of the water in specific neighborhoods, you'll find that some boats aren't allowed. For instance, some waterfront properties might have a high tide season and turbulent waters, making them dangerous for casual boaters to use small vessels like kayaks since they're not strong enough to withstand the current. So, before you close that deal, inquire about the water and shoreline conditions, whether there are regulations regarding speed and size of the boat, and where one can or cannot fish. Also, how is the access point? If the shallows have a steep drop-off, you might need a trailer to find a good access point.
How Old Is the Seawall Near the Waterfront Property?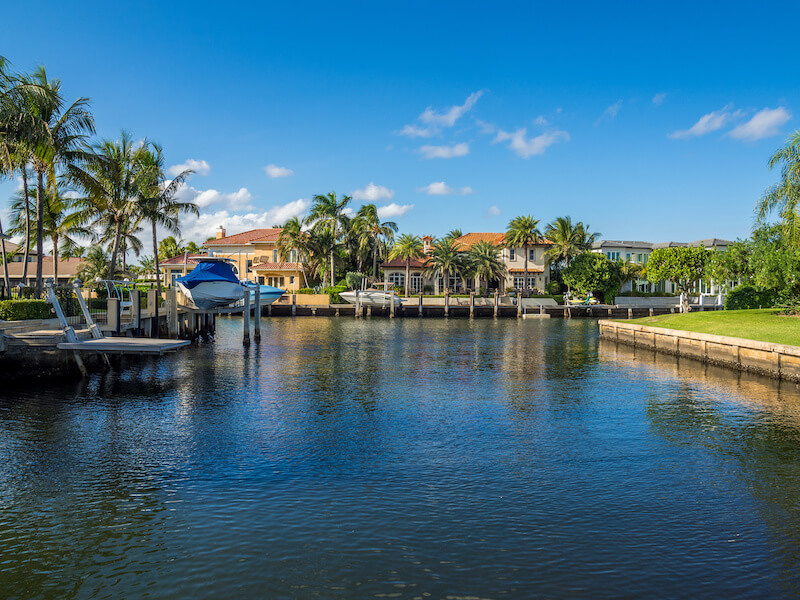 Most waterfront properties usually feature a seawall. It protects the property's land and even the structure itself from land erosion. It also helps prevent flooding due to water level changes or storms. The best part? It doesn't take up as much of your property space as dikes and is cheaper to set up compared to shoreline protection structures like dikes.
However, an old seawall can quickly turn into a money pit since it's often quite expensive to maintain. So ensure you inquire about the age of the seawall before you buy an oceanfront property. If possible, have a licensed contractor inspect it to ensure it won't turn into a liability anytime soon.
How Private is the Waterfront Property?
Enjoying beautiful, unobstructed ocean views from all the rooms in the house is among the top reasons people buy waterfront homes. But if the property is located near a public beach, it could be noisy and subject to heavy boat traffic, conversely spoiling your peace and privacy. This is especially the case if your property is expansive. If you prefer a secluded oasis over a high-energy environment, ask how private the area is to avoid getting stuck with a property you'll actively want to get rid of from the moment you settle in.
Is There a History of Flooding?
When considering buying a waterfront home, it is important to research the property's flood history. Homebuyers can obtain this information from the county clerk's office, their real estate agent, or directly from the previous owner. It is important to know if a property has a history of flooding because insurance companies may charge a higher rate for coverage.
Even if a home has been repaired after a flood, there may still be damages that can't be seen. For example, the foundation may have been weakened, or there could be mold or mildew present. These are also examples of why all homebuyers should always have a professional home inspector take a look at the property during the option period.
If the home has flooded before, it's also important to consider a plan for if it floods again. For example, will you have somewhere to go if you need to evacuate? If the property is in a mandatory evacuation zone, does it come with a flood-proofing plan?
Keep in mind that even if a home has never flooded before, that doesn't mean it's completely safe from flooding. Heavy rains and hurricanes can cause flash flooding, which can occur anywhere. However, the risk of flooding shouldn't deter you from buying the waterfront home of your dreams—it just means there are extra considerations to make.
Ask the Right Questions About Waterfront Property in Your Area
Buying an estate on the water and personalizing it with essential home purchases for waterfront properties is undoubtedly exciting. However, without proper research, your source of excitement may soon turn into an expensive asset that doesn't suit your needs. Doing your research and asking the right questions before you close will save you stress and help you purchase a waterfront home you'll be pleased with for years to come.