Jacksonville All-Ages Fun: 5 Things to Do With Kids in Jacksonville
Posted by Lazaro Marganon on Tuesday, March 22, 2022 at 10:14 AM
By Lazaro Marganon / March 22, 2022
Comment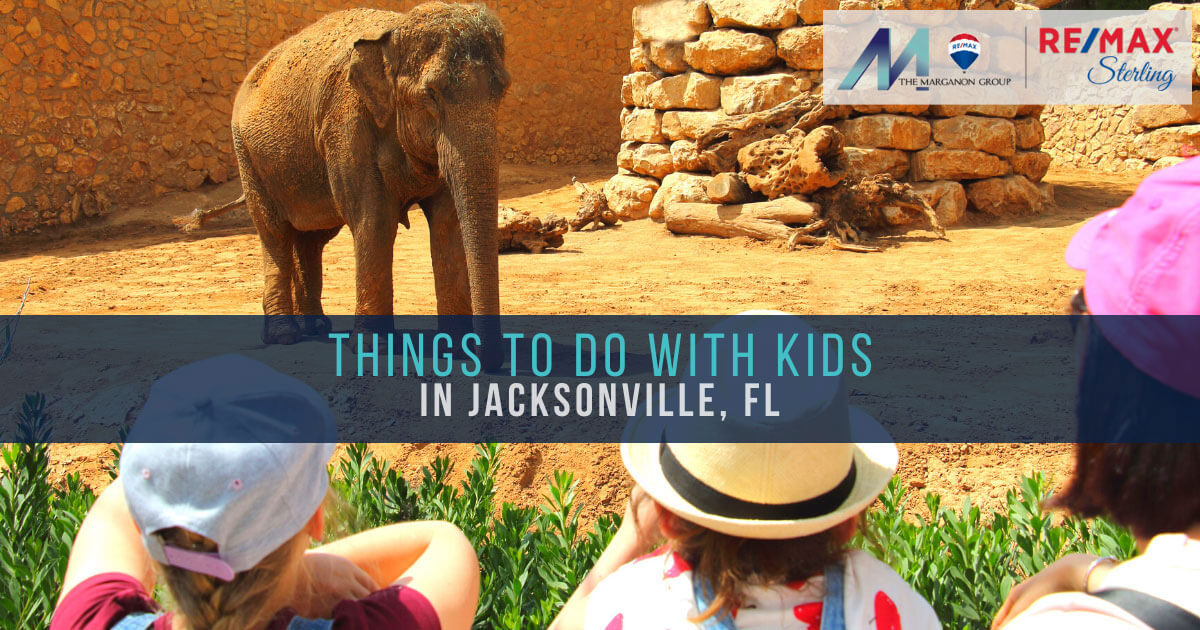 Set on the northeast coast of famous Florida, the city of Jacksonville is an oceanfront city famous for its rich, cultural, and historical heritage, miles of dazzling white sand beaches, urban attractions, a rich art scene, and beautiful public parks and gardens. With these attractions comes nearly an infinite number of things to do with kids and family. Planning a vacation or thinking about moving to Jacksonville? Keep reading to learn about some of the best places to go and things to do with kids in Jacksonville, Florida.
Table of Contents
The Jacksonville Zoo and Garden
Looking for outdoor activities in the city? The Jacksonville Zoo and Garden is a 122-acre, world-class zoo set by the mouth of the Trout River close to St. Johns River. It is home to a large collection of exotic flora and fauna from the South East and is the only facility with a walking safari on Florida's northeastern coast.
For an entertaining and interactive visitor experience, the zoo is divided into ten exhibit areas, each with flora and fauna typical of a specific habitat. The African loop features a series of African exhibits, including the River Valley Aviary, a 9,000-square-foot enclosure with African bird species such as flamingoes and hammerkops, and rare Asian birds like the Victoria crowned pigeon.
The Plains of East Africa is one of the biggest exhibits in the loop. It has a huge population specific to the habitat, such as eastern bongos, Nile crocodiles, cheetahs, the greater kudu, and even Leadbeater's ground hornbills. The Range of the Jaguar, home to six jaguars, is the most popular exhibit in the zoo.
Jacksonville Zoo and Gardens also features six themed botanical gardens cleverly integrated between animal habitats. This allows visitors to explore and learn about different animals and plant species simultaneously. And to add to the fun, there's a children's play park with an outdoor jungle gym, a water park, and even a hedge maze.
The Jacksonville Zoo and Garden Additional Information
Address: 370 Zoo Pkwy, Jacksonville, FL 32218
Hours: Daily 9:00 a.m.–5:00 p.m.
General admission tickets: $24.95 for adults, $19.95 for kids age 3-12, $22.95 for seniors
Total experience tickets: $32.95 for adults, $25.95 for kids age 3-12, $30.95 for seniors
Bravoz Entertainment Center
Bravoz Entertainment Center is a 40,000-square-foot building full of attractions perfect for kids of all ages and adults. The spacious entertainment center has everything from an assortment of foods and beverages to keep a child's tummy full to a massive selection of fun-filled games such as laser tag, mini-bowling, climbing walls, a laser maze, and an arcade.
Bravoz is also home to the largest ninja warrior course in North Florida. The 5-lane course features about 300 feet of obstacles and has different difficulty levels making it ideal for kids and adults across all ages and skill levels. Tickets for the Ninja Course go for $14.99 and allow access to the course, main jumper, the foam pit, the mini ninja course, Dodgeball, and Basketball Slam.
Besides activities, Bravoz entertainment center also hosts parties and group events, making it one of the best venues for a kid birthday party, corporate team building, or even sports team parties. The facility also offers exclusive late-night lock-ins with full access to all gaming amenities. While there's no admission fee, ticket costs vary depending on the play package.
Bravoz Entertainment Center Additional Information
Address: 14985 Old St Augustine Rd, Jacksonville, FL 32258
Hours: Monday & Tuesday: Closed / Wednesday & Thursday: 3–9 p.m. / Friday: 3–10 p.m. / Saturday: 10 a.m.–10 p.m. / Sunday: 11 a.m.–8 p.m.
Sweet Pete's Candy Shop
Sweet Pete will be a sweet treat for kids and adults with a sweet tooth (pun fully intended). It has been in operation for a decade and was established by Pete Behringer and his wife, Allison. It's one of the largest candy stores in the country spanning over 22,000 square feet of land.
The store is tucked away in Springfield, a historic neighborhood near downtown Jacksonville and is based on a three-floor Victorian mansion. Sweet Pete's produces an infinite array of candy, hand-crafted chocolates, and many other types of confectionary. The sea salt caramel and cherry cordials are their most popular offering.
Sweet Pete's Candy Shop also offers a rich selection of gluten-free and vegan candy so all visitors can have something sweet to enjoy and carry back home. Besides sweet treats, the facility also hosts candy classes such as the Chocolate Pizza and Boozy Truffles, where kids and adults can learn the art of sweet-making.
They also host parties and have a wide selection of merchandise, ranging from novelty toys and adult apparel to Sweet Pete's souvenirs. They even have a restaurant on-site, and costs vary depending on the activity or party hosted. Check the store's official website for specific rates.
Sweet Pete's Candy Shop Additional Information
Address: 400 N Hogan St, Jacksonville, FL 32202
Hours: Monday: Closed / Tuesday, Wednesday, & Sunday: 10 a.m.–6 p.m. / Thursday–Saturday: 10 a.m.–8:30 p.m.
Jacksonville Museum of Science and History
Popularly known as MOSH, the Museum of Science & History is a private, not-for-profit institution that mainly houses science and local history exhibits. The historical landmark sits on a 37,500-square-foot piece of land and was initially established in 1941 when the Jacksonville Children Museum became chartered.
MOSH is an opportunity for kids to explore the fantastic world of science and learn about the history of Jacksonville. Popular exhibits include Health in Motion, an interactive display where visitors can learn how the body systems work, and the Florida naturalist center, an interactive space geared towards Northeast Florida's wildlife.
The Museum of Science and History also features a planetarium and offers live animal and daily science shows, kid events, and learning programs such as the little learners' preschool program for kids aged five and below. Their guided adventure tours are usually on the first and third weekends of the month and take visitors through unique nature, culture, and innovative artistic themes available in the museum. What's more, MOSH has a KidSpace, meaning there's something fun for all types of kids.
Jacksonville Museum of Science and History Additional Information
Address: 1025 Museum Cir, Jacksonville, FL 32207
Hours: Monday, Thursday, & Friday: 10 a.m.–5 p.m. / Tuesday & Wednesday: Closed / Saturday: 10 a.m.–6 p.m. / Sunday: Noon–5 p.m.
Jacksonville Beach
Jacksonville Beach is the go-to destination for fun and playing in the sun and sand. It offers miles of a gorgeous white sand beach and plenty of fun-filled water activities for children and adults alike.
Kids can boogie-board, body-surf, swim in the ocean, or build sandcastles, while adults can sun-bask for a tan, surf, fish from the fishing pier, or play beach volleyball. Surfing is a trendy sport in Jacksonville, which is expected given the beach has some of the best waves in northeast Florida. Jacksonville Beach is also a famous dolphin watching spot and is lined with small, quaint eateries and restaurants where beach-goers can enjoy various cuisines. For those looking for fun water activities in Jacksonville, this beach is the place to go.
It also has plenty of places to rent sporting and beach gear, as well as restrooms and outdoor showers meaning less packing for the beach. Jacksonville Beach is also dog-friendly, meaning besides kids, dogs can also have a beach day. The equally breathtaking Neptune and Atlantic beaches are within walking distance from Jacksonville Beach and are not overcrowded despite being near the sprawling metropolis.
Explore Jacksonville, Florida, Today
Jacksonville, Florida, is a sprawling metropolis rich in natural and urban attractions and has plenty to offer everyone from kids to adults. From a candy emporium with a vast confectionery selection to an activity-rich entertainment center to a science museum where visitors can discover the innovative world of science, there is no shortage of fun things to do in Jacksonville, FL.
If you're making the move to Jacksonville, contact Marganon Real Estate Firm with Florida Real Estate Central at (904) 866-4006 to get in touch with Jacksonville real estate agents who can help you find the Jacksonville home that's right for you.