The Top Things To Do In Sarasota
Posted by Lazaro Marganon on Thursday, June 29, 2023 at 4:13 PM
By Lazaro Marganon / June 29, 2023
Comment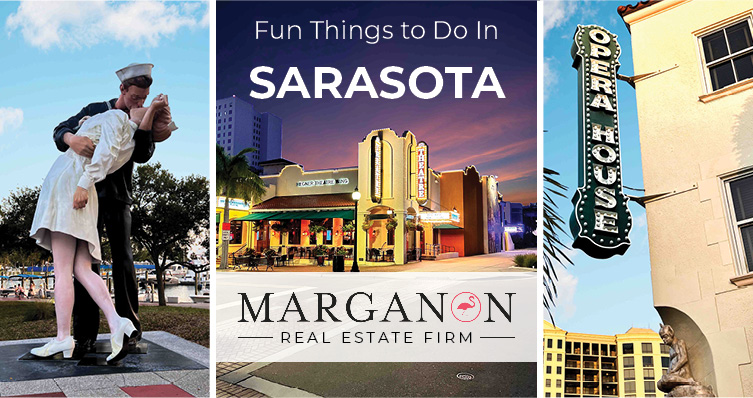 Immerse yourself in all the radiant beauty the sun-kissed city of Sarasota, Florida, offers!
Located on the mesmerizing Gulf Coast, Sarasota is a treasure trove of sparkling white sandy beaches, lush nature parks, and captivating museums. As you traverse the city and its tranquil seaside scenery, you'll discover a wealth of activities and attractions that will make your visit (or your stay!) unforgettable.
Without further ado, here's our comprehensive guide to the best places to visit and the most exciting things to do in Sarasota, Florida.
Embark on a Journey through the Myakka River State Park
One of the highlights of any trip to Sarasota has to be a visit to the Myakka River State Park. This expansive nature reserve, nestled in Manatee County between Bradenton and Sarasota, is one of Florida's oldest and largest state parks.
The park spans a whopping 58 square miles, almost all of which is hosted by the city of North Port. Here, you'll find a haven of perfectly preserved wetlands, home to an array of wildlife, including alligators, ospreys, and turtles.
Whether you're an avid bird-watcher, a fishing enthusiast, or a canoeing aficionado, there's something for you in this scenic river paradise.
You can also explore the park by boat, taking an hour-long tour to experience its stunning wildlife and bird-watching opportunities. For those who prefer to explore on foot, the park offers a variety of paths for hiking, or you can rent a bicycle to traverse them.
Bask in the Beauty of Siesta Key Beach
No visit to Sarasota would be complete without spending a day at the glorious Siesta Key Beach. Named the most beautiful beach in the United States for several years running, Siesta Beach is renowned for its crystalline turquoise waters, amazing amenities, and unique quartz sand that originates from the Appalachian mountains.
What's more, Siesta Key Beach is located close to Siesta Key Village, a charming small town on an 8-mile-long island. The village offers a range of delightful boutique shops, vibrant nightlife options, and top-notch restaurants, making it the perfect companion to your beach day.
If you're visiting on a Sunday, don't miss the Siesta Key Drum Circle. This popular weekly festival brings together a multitude of dancers and musicians to entertain the crowds at sunset, offering a truly unique Florida experience.
Discover the Rich Heritage at The Ringling
The Ringling, formally known as The John and Mable Ringling Museum of Art, is a must-see attraction in Sarasota. Far from being a simple circus, The Ringling offers a wide variety of activities and exhibits that make a visit here an enriching cultural experience.
The main draw at The Ringling is its art museum, featuring 21 galleries based on the lives of the Ringlings, founders of the Ringling Bros. & Barnum and Bailey Circus.
With constantly changing photo exhibits, you'll find new things to see every time you visit. The museum is also surrounded by beautifully landscaped gardens and towering palm trees that are part of the Bayfront Gardens.
Traverse the Mangroves in a Kayak
If you're an adventure seeker, Sarasota has got you covered. One of the most thrilling activities you can undertake is exploring Lido Key's mangrove tunnels by kayak.
Kayaking is an eco-friendly and tranquil way to explore the key, offering the chance to encounter the area's diverse wildlife, including dolphins, manatees, rays, and exotic birds. It's an absolute must for nature lovers. And when you're done, Lido Key offers a variety of shopping and dining options to enjoy.
Explore the Region's Beautiful Beaches
Beyond Siesta Key Beach, Sarasota offers a multitude of stunning beaches that are sure to satisfy every lover of the sun, sand, and sea.
For instance, Lido Key Beach is famous for its eco-tourism initiatives and scenic cruises, while Turtle Beach offers fantastic opportunities for snorkeling.
If looking to enjoy a day of picnicking and grilling, Manatee Public Beach on Anna Maria Island is your best bet. For a more undeveloped feel, head to Cortez Beach, lined with tall trees along a long stretch of sand.
Catch a Game at the Ed Smith Stadium
The Ed Smith Stadium is a staple of Sarasota's sports scene. It's the spring training ground for the Baltimore Orioles and has previously served as the training ground for the Chicago White Sox and Cincinnati Reds.
What better way to spend an afternoon than by catching a game at this iconic, 7500-seat stadium? Grab a friend, buy a hotdog, and take in a few innings of America's favorite pastime.
Hop on a Trolley for a City Tour
If you're looking to get a quick overview of the city, consider taking a hop-on-hop-off trolley tour! Traveling by trolley is a fun and easy way to explore the city's highlights, from its spectacular beaches to its vibrant downtown area. Enjoy an informative tour
These tours provide a convenient and enjoyable way to see the city's main attractions, offering the flexibility to explore at your own pace.
Visit the Big Cat Habitat and Gulf Coast Sanctuary
For a truly unique experience, visit the Big Cat Habitat and Gulf Coast Sanctuary. This non-profit sanctuary houses over 70 animals, including lions, tigers, leopards, bobcats, and cougars. It offers public feeding sessions and educational tours, allowing you to get up close and personal with some truly big cats.
Explore Oscar Scherer State Park
Oscar Scherer State Park is a haven for outdoor enthusiasts. It offers a variety of hiking trails, fishing spots, bird-watching opportunities, and more. A highlight of the park is Lake Osprey, the only freshwater lake in Sarasota County, which provides a great spot for swimming and snorkeling. Best of all, you can take part in ranger-led programs to learn more about the park's history and wildlife. If you're looking for a relaxing day out, Oscar Scherer State Park is definitely worth checking out!
Shop at the Sarasota Farmers Market
Established in 1979, the Sarasota Farmers Market is a treasure trove of fresh produce, artisanal goods, and Florida-made products. Browse the stalls, chat with the vendors, and sample the goods for a delightful morning out.
You'll find everything you need to enjoy a day out in the sun and support local businesses. Don't forget to bring a bag — you'll likely find more than one item that catches your eye!
Catch a Live Concert at the Van Wezel Performing Arts Hall
If you're a fan of live music and performances, the Van Wezel Performing Arts Hall is a must-visit. The theater hosts over 200 performances yearly, ranging from Broadway musicals and rock concerts to comedy shows and symphony orchestras. Grab a ticket and see a new show — you'll be glad you did.
Visit the Historic Spanish Point
For a unique look at Florida's past, stop by the Historic Spanish Point. Part of the Selby Gardens, the historic grounds are filled with artifacts and exhibits that depict Florida's early settlers and their way of life.
This archaeological and environmental site is home to some of the earliest settlements in Sarasota dating back thousands of years. Learn about the area's history through informative exhibits, take a guided tour, or simply admire the scenery.
Explore the Mote Marine Laboratory & Aquarium
If you're in the mood for some marine-inspired fun, head over to the Mote Marine Laboratory & Aquarium. The aquarium is home to more than 100 species of aquatic life, including sharks, sea turtles, and jellyfish. Check out interactive exhibits like touch tanks and sea-life shows for a truly unique and exciting experience. You can even take part in their popular Dolphin Encounter program.
Shop at St. Armands Circle
When it comes to shopping, St. Armands Circle is the place to be. This charming outdoor mall features a wide selection of upscale shops, as well as local boutiques and restaurants. With over 100 stores, you'll find something for everyone. Plus, the circular layout makes it easy to find your way around.
Whether you're looking for a unique gift or the perfect outfit, you'll find it here. Don't forget to take some time to admire the stunning architecture and atmosphere, too.
Walk on the Wild Side at the Sarasota Jungle Gardens
For a fun-filled family day out, head to the Sarasota Jungle Gardens. Home to a variety of exotic animals, the gardens also feature a number of shows and exhibits that are sure to delight children and adults alike! You never know what you might find here—from beautiful flamingos to playful lemurs, there's something unique around every corner.
Dine at Sarasota's Iconic Restaurants
Finally, no visit to Sarasota would be complete without sampling the local cuisine. With a range of iconic restaurants serving everything from fresh seafood to global cuisine, there will surely be something to tickle every taste bud.
Enjoy Everything Sarasota Has To Offer
As you can see, there's quite a bit to do and see in and around Sarasota, Florida! Whether you're a nature lover, history buff, or foodie, the sunny city has something to offer everyone.
If you are looking to buy or sell in Sarasota, contact Marganon Real Estate Firm with Florida Real Estate Central at (904) 866-4006.
We're a team of skilled realtors based in Sarasota, Florida, dedicated to guiding you every step of the way in your property search. Our expertise and knowledge of the local market will ensure that you find the ideal home or investment opportunity in Sarasota. Contact us today and let's get started!