Sarasota Economy: Top Industries, Biggest Employers, & Business Opportunities
Posted by Lazaro Marganon on Thursday, June 22, 2023 at 3:43 PM
By Lazaro Marganon / June 22, 2023
Comment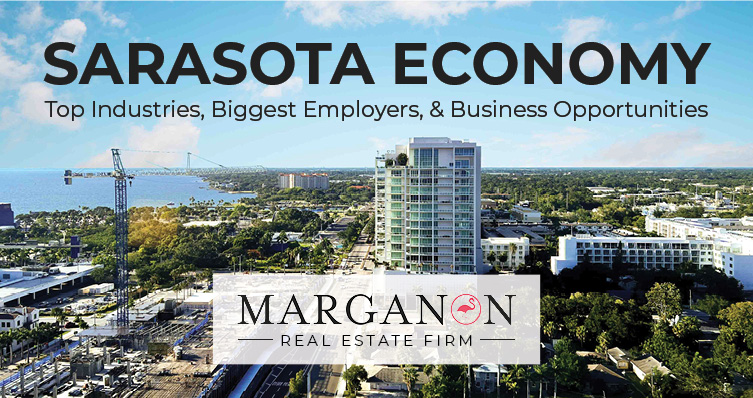 Sarasota, a vibrant city nestled on Florida's Gulf Coast, is experiencing significant economic growth driven by diverse industries. From real estate and construction to healthcare and technology, the city's economy is thriving, offering numerous opportunities for businesses and individuals.
Whether you are considering making a move to Sarasota for work or for leisure, it's essential to understand the city's economic landscape and where the biggest opportunities lie.
Sarasota, Florida at a Glance
Sarasota, Florida, is a vibrant city located in Southwest Florida on the Gulf Coast. It is part of the Greater Tampa Bay Area and offers visitors an eclectic mix of culture, fine dining, circus thrills, and pristine beaches.
The city sits within Sarasota and Manatee counties and provides a lively downtown area, numerous parks, and plenty of shopping opportunities. According to the latest population estimates, more than 600,000 people call Sarasota home.
Some of the top attractions in and around Sarasota include:
No matter what you are looking for in Sarasota, you'll find new and exciting activities and attractions to explore.
The city has a vibrant economy that provides numerous job opportunities for local residents. From construction and hospitality to technology and healthcare, Sarasota is quickly becoming a hub for businesses of all sizes.
Sarasota Cost of Living
The cost of living in Sarasota is slightly higher than the national average. The overall cost of living index for the city is 102.9, which means that housing, goods, and services are about 3% more expensive in Sarasota compared to the average cost across the country.
To put it simply, the index indicates that living expenses in Sarasota are 102.9% higher than the average in the United States. Due to its proximity to the beach and other features, housing costs are higher than the national average by 114.3%, and typical home prices range from $450,000 to $550,000.
Since 2022-2023, the cost of living in Sarasota has increased overall when compared to the previous year's statistics. Housing prices and utility costs have experienced the most significant increases, aligning with national averages.
Sarasota's Housing Market
Sarasota's housing market has been on an upward trend, with the median listing home price reaching $573,900 in February 2023.
Interestingly, Sarasota was a balanced market during this period, where demand and supply were roughly equal. This is quite different from the situation in most parts of the United States, where the listings-to-sales ratio was skewed in favor of sellers.
However, the median home sold price in Sarasota was $490,000, indicating that homes were typically sold below the listing price. This may show a cooling off of the market as buyers become more aware that they have more negotiating power with rising interest rates.
Current Market Trends and Predictions
Sarasota's housing market has witnessed several interesting trends. For instance, home prices in the city increased by 11.1% compared to the previous year. According to Redfin calculations, the average home sells for about 4% below the list price, and the sale-to-list price ratio stands at 96.4%.
Looking into the future, experts predict a continued trend of strong demand coupled with low inventory. Furthermore, the home price growth is expected to slow down in 2023, potentially easing affordability issues for homebuyers.
However, potential buyers might face challenges due to a possible inventory shortage. This makes working with an experienced real estate agent even more important.
Sarasota & Employment
Sarasota, Florida is home to a number of top employers - many of which are in the manufacturing and service industries
The Sarasota Memorial Health Care System, PGT Innovations, Sun Hydraulics, and HCA Florida Sarasota Doctors are some of the most prominent employers in the area.
Sarasota is home to some of the largest employers, including well-known companies such as Publix, Target, Amazon, Starbucks, McDonald's, The Home Depot, and Lowe's Home Improvement.
Other notable contributors to the local economy are Venice, Tropicana, and Bon Secours. Some of the largest companies in Sarasota when it comes to revenue include Wells Fargo and AT&T.
Sarasota: A Growing Hub for Industries
Beyond its vibrant real estate market, Sarasota is home to diverse thriving industries. These sectors not only contribute to the city's economic health but also offer a myriad of employment opportunities for its residents.
CleanTech: Leading the Way to a Sustainable Future
Sarasota County has been proactive in attracting businesses in the green and clean technology sector.
Companies specializing in renewable energy, organic produce distribution, and green operations find the region conducive to growth. With over 320 companies focusing on engineering, environmental consulting, water systems, and construction, the CleanTech sector is set to play a significant role in Sarasota's future economic development.
Corporate Headquarters: A Strategic Location for Business Expansion
Florida's robust economy makes Sarasota County an ideal location for corporate headquarters. The region boasts a highly skilled workforce, world-class business amenities, and a favorable tax environment, making it a conducive climate for thriving businesses.
And with its close proximity to the state's major cities, businesses can easily take advantage of the region's strategic location and access potential clients in the short term.
Financial/Professional Services: A Key Pillar of Sarasota's Economy
Florida's diversified economic structure attracts numerous professional services, including accounting, consulting, finance, and insurance.
In Sarasota County, over 25,000 individuals are employed across nearly 7,500 financial and professional services companies.
InfoTech: A Hotbed for Innovation
Sarasota County provides an ideal environment for infotech and innovation. The city's cultural infrastructure fosters creativity, innovation, and diversity, promoting success in the infotech industry.
Major local infotech players include AdRizer, Dealers United, RevContent, and FloorForce.
Manufacturing: A Diverse and Growing Industry
Sarasota County maintains a cost-competitive market for manufacturing companies. The county is home to over 450 manufacturing companies, producing a wide range of intermediate, finished, and specialized products.
The Future of Sarasota's Economy
Sarasota's economy is poised for continued growth, driven by its diverse industries and burgeoning businesses.
While currently balanced, its housing market may face challenges due to potential inventory shortages. However, the city's robust CleanTech, infotech, life science, and manufacturing sectors, among others, are expected to continue driving its economic vitality.
Whether you're considering relocating your business, investing in real estate, or seeking employment opportunities, Sarasota's dynamic economy offers a wealth of possibilities. As the city continues to grow and evolve, it remains a promising destination for both businesses and individuals.
Make Your Move to Sarasota with Marganon Real Estate Firm
With so much to do and see, it's no wonder that many are moving to Sarasota. At Marganon Real Estate Firm, we're dedicated to helping you find the perfect property in this vibrant city. Our experienced real estate professionals can provide you with expert advice and assistance when searching for a home or commercial space in Sarasota.
If you're considering making the move to Sarasota, contact Marganon Real Estate Firm with Florida Real Estate Central at (904) 866-4006.
We offer personalized service tailored to your individual needs. From finding the right location to managing paperwork and obtaining financing, we have the expertise and resources you need to make your move to Sarasota smooth and successful.