Moving to Jacksonville: Jacksonville, FL Relocation & Homebuyer Guide
Posted by Lazaro Marganon on Monday, April 5, 2021 at 12:41 PM
By Lazaro Marganon / April 5, 2021
Comment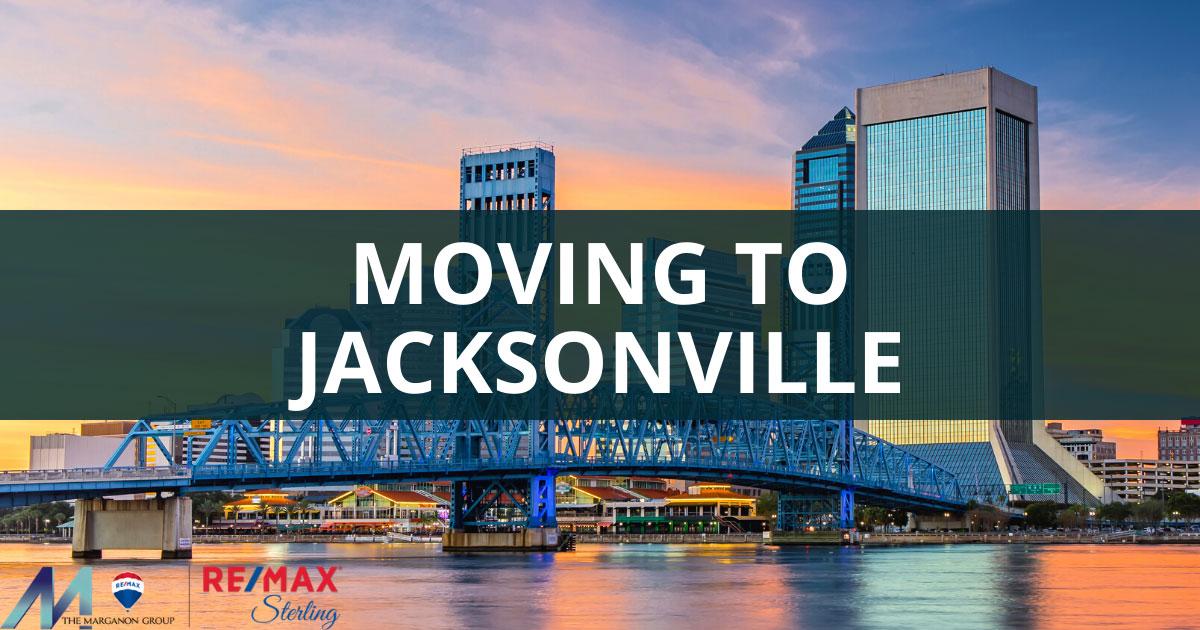 In addition to the Jaguars, Jacksonville, Florida, is also home to roughly 911,507 people. That makes it the largest city in the southeast US. While places like Miami and Atlanta have larger metro communities, no other city in the area has more people living within its jurisdiction. As the last decade demonstrates, that population is also experiencing incredible growth. The census in 2010 was just 821,784, meaning Jacksonville added more than 11% to the number of residents.
As for why so many people are choosing to live in Jacksonville, there are several reasons. For many, the promise of clear skies, beaches, and warm weather is undeniable. Other personalities seek opportunities for new careers and entrepreneurship that arise with strong economic growth. Whatever the reason, nearly 90,000 new residents since 2010 can't be entirely wrong.
Here are a few reasons so many people decide to move to Jacksonville, Florida.
Cost of Living in Jacksonville
One of the main reasons Jacksonville is experiencing so much growth is its lower cost of living. Opportunities may indeed abound in other cities, but the relative costs may be prohibitive. Using an index with the cost of living in an average US city being 100, Jacksonville's number is only 93.5, requiring only $93.50 to purchase the same amount of goods and services that would cost $100 in the average US community.
More specifically, a lower cost of living means greater buying power with the same amount of money. However, these savings will not be consistent across expenses. Grocery costs scored 99.2 out of 100, meaning new residents will pay about the same at the market. Health care costs are also about the same, at 97.1.
In fact, most costs in Jacksonville are roughly the same as average communities across the nation. Utility costs scored slightly above the norm at 102.8, while transportation costs were similarly situated at 101.4. Miscellaneous costs like clothing, equipment repairs, and entertainment were nearly identical to the typical city at 100.4.
That being said, the most significant difference new residents will notice is that housing costs are only 78% of the standard living arrangement. In other words, buying or renting similar quality residences will be 22% cheaper in Jacksonville than in the rest of the United States. That leaves a significant amount of money for other expenses, including those related to the quality of life. A home with a swimming pool or even a luxury home might just be a little more within reach.
For example, the median home cost in the area was $180K, compared to the US median of $231K. Renting a studio apartment in the community will cost about $652 a month, compared with the US average of $821. A standard 1 bedroom in Jacksonville is about $823 monthly, while the national going rate is $930. Those willing to commute longer distances can save even more money, with similar-sized suburban rentals going for only $798. And, should you need it, you can compensate for the lack of space at home by using self storage: a 10'x10' self storage unit in Jacksonville rents for about $120 per month.
Adding a bedroom means a monthly cost of $1,005, which is $143 cheaper than the US average. For maximum space, renters can probably find a four-bedroom house or apartment for about $1,699, with suburban options slightly cheaper at $1,647. Both numbers will provide significant savings over the US four-bedroom standard of $1,791.
Job Market in Jacksonville
The job market in Jacksonville is another draw to the community. At first glance, the per capita income ($27 thousand vs. $31 thousand) and household income ($51 thousand vs. $58 thousand) are both lower than the national average. However, the large savings in housing costs alone would likely more than eclipse the lower income. Meanwhile, the unemployment rate matches the national average at 3.70%.
Also, both recent job growth (2.75% vs. 1.59%) and future job growth projections (44.39% vs. 33.51%) are greater than the US averages. That is good news for new residents hoping to find opportunities in the coming years.
Another piece of good news for new residents, Jacksonville has a fairly diversified economy. As much of its growth has been in the last few decades, it was not stifled by legacy industries. The modern city has several institutions of higher education, hospitals, military facilities, sports organizations, and much more.
The largest employer in the area is Naval Air Station Jacksonville, with around 20,000 employees. The second-largest number of employees work with the Duval County Public Schools, which handles public education for the area. The next three largest employers by population are healthcare-related groups, including Baptist Health, UF Health Jacksonville, and Mayo Clinic Hospital. These three organizations combined manage more than 24,000 staff dedicated to the health needs of fellow residents.
Popular Industries in the Area
By percentage of the employed population, the largest segment of workers is in industries related to health care and social assistance, at 13.5%. Retail trade positions were a close second at 12.4%. The finance and insurance industry keeps the third-highest number of workers busy at 9.6%, followed by accommodation and food services at 8.5%. Rounding out the top five is educational services, with around 7% of total workers.
Things to Do in Jacksonville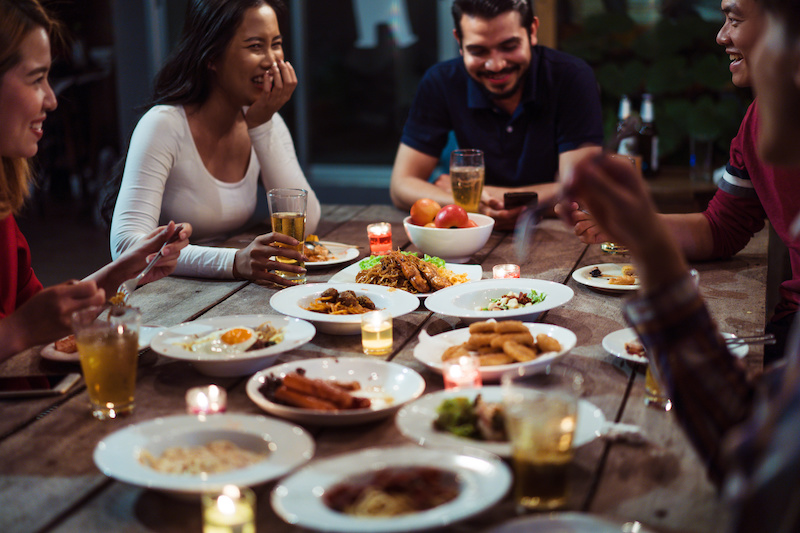 Of course, working conditions alone will not communicate the true reality of a new community. Most new residents to Jacksonville would not enjoy the experience without some activities of leisure. Fortunately, the city is large enough to offer many different indoor and outdoor activities for people of all interests. There may be some benefit to experimenting with the possibilities when moving to a new area.
Outdoor Activities
One of the best benefits of the warm Florida weather is the ability to enjoy the great outdoors. True to this fact, there is a wide variety of fresh air fun available around the area. The Jacksonville Zoo and Gardens combines more than 2,400 exotic animals and more than 1,000 plant varieties. Opened in 1914 with a history of wildlife conservation, the facilities provide an excellent opportunity to explore the world of flora and fauna.
The Castaway Island Preserve is a great way to explore the Intracoastal Waterway salt marsh. Take a stroll on the boardwalk and enjoy the scenic overlook platforms. More adventurous types can kayak through the marsh or hike through nature trails.
Restaurants, Breweries, and Bars
Even people who need to save money and eat healthily will want to enjoy a few restaurant dinners or stop by a brewery occasionally. Aside from the sheer experience of something new, people worldwide recognize the benefits of sharing a meal among family or friends. For example, the Black Sheep Restaurant highlights the fusion of locally grown fresh meat, vegetables, and fruit with the highest quality service and preparation. The result is an unforgettable dining experience in the famous Five Points district of the Riverside neighborhood.
For speakeasy-style entertainment, try The Volstead. Featuring the best in custom-made cocktails, wines, and both craft and nationally known beers, this is the place to visit to listen to live music and dance the night away. On the other hand, the Aardwolf Brewing Company is a much more relaxed environment offering the best in unique beers. Try the food truck and sit in the fresh air discussing the finer points of favorite topics.
Nightlife
No matter the daytime hobbies, there is nothing more exciting for some people than partying through the darkness. A growing community like Jacksonville knows the nightlife must be as strong as the economy. Lovers of rock and roll will definitely enjoy hanging out in The Shim Sham Room. Enjoy traditional bar food with a twist, like a chicken parm mini burger or a buffalo chicken-wrapped burrito. Savor the quiet conversation with friends downstairs, or venture upstairs for live music and spirits.
For dancing and drinks in a high-tech tavern of the future, try Myth Nightclub. The experience features intelligently linked lighting and sound shows, unforgettable live appearances, and internationally known DJs.
Jacksonville Climate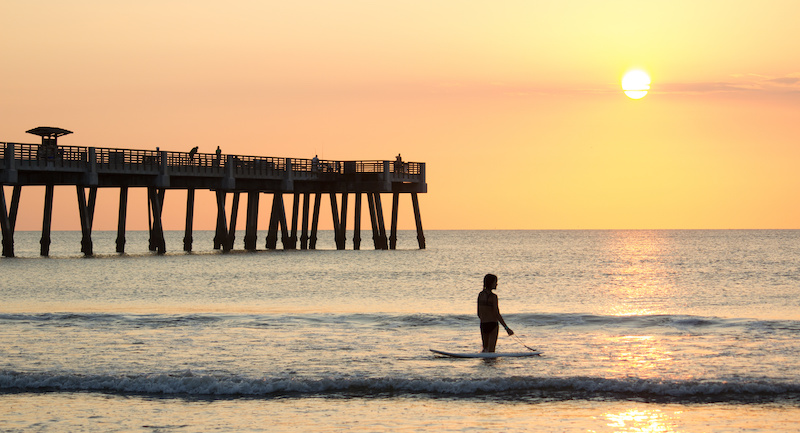 Despite Florida's reputation for surf and sand, Jacksonville does get 12 more inches of rain annually than the US average of 38. However, those who hate cold weather will love that the community gets almost no snow. In total, the area gets an average of 221 days of sunshine, much more than the US average of 205. Of the remaining days, 113 days per year bring some form of precipitation.
As for the temperatures, the hottest month of the year is July, averaging 91º. On the opposite end, the coldest month is generally January, with lows around 44º. Visitors should know that the best months to visit are March, April, and November, with temperatures in the 70s and very little rain.
Jacksonville Traffic
Like most communities, traffic patterns in Jacksonville follow the rush hour pattern. The heaviest traffic is found from 7:00 AM to 9:00 AM and 4:00 PM to 6:00 PM on weekdays. The average commute time for the area is about 24.6 minutes, shorter than the national average of 26.4 minutes.
Traveling from Jacksonville to Gainesville takes about an hour and 21 minutes (1:21), but leaving during the morning rush can add as much as 30 minutes to the trip. Under the best circumstances, traveling from Jacksonville to St. Augustine takes about 45 minutes, but traveling during the evening rush could add 10 minutes.
More than 80% of workers drive to work alone, while 9.6% use some form of carpool. Parking won't be an issue for most of the city; however, parking downtown may require extra planning. A combination of metered spaces and garages is available, so research in advance may help indicate the destination's best parking.
Alternative Routes
One of the first things new residents will learn is that several rivers and coves cut through the city. I-295 surrounds the community in a wide circle, with the I-10 and I-95 leading directly to the city center. Most of the heaviest traffic will surround bottleneck areas where there is only one bridge across a body of water. For these commutes, there are no alternative routes.
Public Transportation in Jacksonville
With an overwhelming number of people choosing to drive to work instead of taking public transportation, the community has definitely taken on a car ownership culture. However, JTA operates a ferry between Mayport Village and Ft. George Island, Skyway, and a comprehensive bus system. The Skyway performs an eight-station loop above downtown Jacksonville. The system is completely automated and provides free rides through the city core.
The ferry leaves each side twice an hour and takes about 10 minutes to cross. Fares for an individual or with a bicycle are $1 and for cars are $7 each. The cash fare for the bus is $1.75, and several bus routes crisscross the entire area.
Jacksonville Schools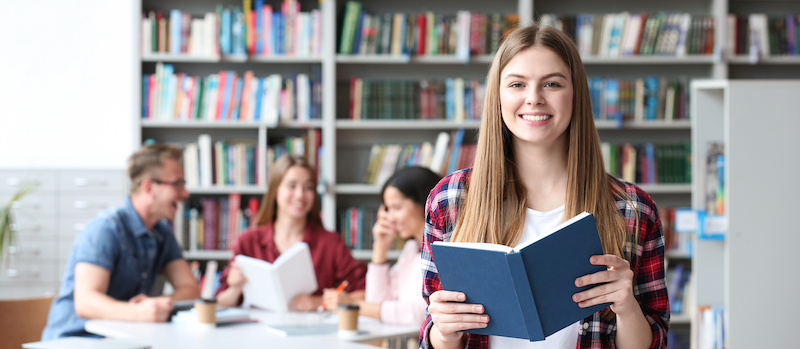 One of the most important amenities within a community is education. For most people, classroom instruction and training are the keys to unlocking future opportunities.
Duval County Public Schools instruct nearly 130,000 students across 12 grades, kindergarten, and preschool. They carry out this education through 198 schools. That total includes 56 preschools, 132 elementary schools, 57 middle schools, and 39 high schools. The average teacher makes about $40K a year and prepares about 18 pupils.
There are several colleges or universities located in the Jacksonville community. Florida State College at Jacksonville is a two-year public institution providing residents with various certificates and associate degrees. The average cost of attendance after aid is $4,493.
The University of North Florida is a four-year public school offering a large number of bachelor's degrees. The average cost after aid is about $12K. Other private colleges and technical training institutions may also be available.
Come Home to Jacksonville
As a growing community, Jacksonville has matched the needs of many new residents over the past decades. However, the overwhelming advantage the community has is its low cost of housing. Potential new residents may want to consider the expected salary to determine the extent of benefit from cheaper housing. In addition, the area also avoids brutal winters and affords easy access to the beach.
If you're making the move to Jacksonville, contact Marganon Real Estate Firm with Florida Real Estate Central at (904) 866-4006 to get in touch with Jacksonville real estate agents who can help you find the Jacksonville home that's right for you.