Most Affordable Neighborhoods in Jacksonville: Jacksonville, FL Affordable Living Guide
Posted by Lazaro Marganon on Friday, June 25, 2021 at 8:50 AM
By Lazaro Marganon / June 25, 2021
Comment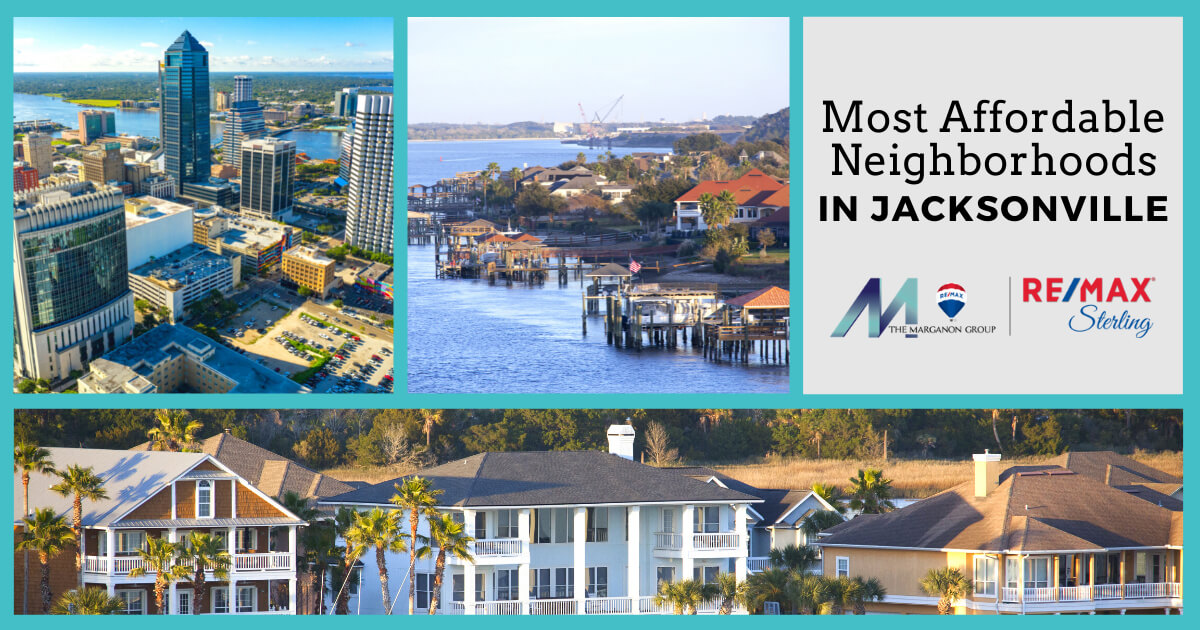 Considering moving to Jacksonville, Florida? A hub of social and cultural activities, this picturesque city boasts over 20 miles of beaches, miles of walking and biking paths, and many areas to launch boats. It's also the most populous city in Florida, which means there will always be places open and ready for gatherings, relaxing, and simple enjoyment. Get ready for a slamming nightlife with your choice of authentic cuisine and craft beer, or enjoy a Sunday drive overlooking 40 miles of the Intracoastal Waterway canal. Additionally, residents of the Jacksonville community enjoy over 80,000 acres of parks, from national and state to local arboretums and gardens. This great city has so many places to visit and exciting things to do. Consider settling down in a home in one of these comfortable and affordable neighborhoods in Jacksonville.
College Gardens
College Gardens Amenities
Places of worship
Adjacent to EWC Community Field and Athletic Stadium
The neighborhood of College Gardens has nearly 4,500 residents with an attractive collection of brick and masonry in American Rancher and Minimal Traditional-style homes. Its rich history begins with the vision and hard work of early Jacksonville transplants, a collection of architects and contractors who toiled to build these residential structures into a thriving neighborhood in the early 1900s. It's become an idyllic spot with beautiful views and opportunities for relaxing days spent enjoying all the city offers, from good food to lovely drives. Home prices vary, but the median tends to be in the low $100,000s, or even more affordable. While most residences are Jacksonville single-family homes, the neighborhood also features apartments.
East Jacksonville
East Jacksonville Amenities
Annual Fairs
Adjacent to downtown
In the late 1800s, three communities were annexed by Jacksonville to form the East Jacksonville neighborhood. It's currently a close-knit community of only 2,600 residents. Many are drawn to this neighborhood because of the amenities and being close to everything else. Home prices vary, but listings can often be found for less than $100,000.
East Jacksonville is one of the oldest core neighborhoods of the area and is adjacent to Jacksonville's sports and entertainment complex at TIAA Bank Field. The complex is a massive draw for sports-lovers of all types, whether they play or cheer.
Living in East Jacksonville, residents have no shortage of coffee shops, restaurants, parks, and bars to enjoy their evenings. Watch the game at Eva's 1925 Sports Bar & Grill or enjoy a meal at The Avenue Grill, one of Jacksonville's best breakfast spots and home to some of the best burgers in the city.
Grand Park
Grand Park Amenities
Grand Park swimming pool
Places of worship
Another affordable place to call home in Jacksonville is the Grand Park neighborhood—many homes list for under $100,000. The inception of this small town began in 1925, and it was named for the major intersection of multiple rail lines called Grand Crossing. As a tribute to the past, many streets are named after Civil War battles, like Wylene and Henrietta.
Grand Park currently offers a sparse urban feel to its 3,600 residents. Over the past 30 years, millions of dollars have been invested in improving the neighborhood's landscape, drainage system, and sidewalks. As a result, Grand Park is now a unique blend of industrial and mid-century-style architecture.
Panama Park
Located at the junction of the Trout and St. Johns rivers, the Panama Park neighborhood was plotted out in 1875 where Florida's first steam-powered sawmill was located, and also established the Cummer Lumber Mill, the city's largest employer for many years. All paved roads ended before reaching Panama Park, so there was a daily train service to take people for a day of sailing, fishing, and fun outdoor activities. Today, the neighborhood features homes at a median price of around $135,000.
Enjoy the seafood at J Lemon Pepper Fish & Chicken, or get some freshly caught shrimp to cook up at home at Alexander & Sons Shrimp Co. This small community resides among historic properties and stately architecture that hearkens back to its roots in the latter 1800s while still providing the same recreational and outdoor attractions that have always been. Consider exploring Panama Park with its secure and deep historical roots as you search for a home base.
Downtown Jacksonville
Downtown Jacksonville Amenities
The Downtown Jacksonville neighborhood has become one of the most desirable parts of Jacksonville in which to live because of the ample opportunities for work and play. With over 90 restaurants, 21 bars and nightclubs, and numerous theatres, galleries, and museums, everything one could want for a night out on the town is within easy reach.
As with many city downtowns, Downtown Jacksonville is highly walkable. Residents can get anywhere they need to go on foot, by bike, or by public transportation. Downtown homes typically list in the mid-$200,000s.
Downtown Jacksonville homes are frequently built in the Colonial Georgian and American Colonial style, featuring decorative crowns above entryways, wooden columns, fireplaces, and chimneys. Should prospective residents choose to explore Downtown Jacksonville in the search for their next home, they'll be pleased with the community celebrations during the holidays, the quaint scenery of Victorian-style gazebos, and historic lamps lighting their way in an evening. Sample some of Downtown's cuisine at The Bearded Pig, Bay Street Bar & Grill, or The Volstead, or pick up a coffee at one of the many cafés, including Urban Grind Coffee and The Brick Coffee House.
Ortega Hills
Ortega Hills Amenities
Ortega River
Near Jacksonville Naval Air Station
The Ortega Hills neighborhood consists largely of single-family residences but also features some of Jacksonville's townhouses, condos, and rentals. At a median price of about $175,000, these cozy homes are very affordable, ranging from 924 to 1,882 square feet and typically having 2–3 bedrooms and 1–2 baths.
While this community is almost entirely residential, it's right across the river from Ringhaver Park, which features the Ortega Stream Valley Trail, Ringhaver Playground, a soccer club, and a boat launch, among other amenities. Several lots on the edges of the neighborhood feature streams in their backyards.
Secret Woods
Secret Woods Amenities
Places of worship
Public pool
Recreation Center
Pottsburg Creek
A more recent addition to the Jacksonville area is the Secret Woods neighborhood. Built in the 1980s, this neighborhood is touted to be "the best-kept secret in town" with only 3,600 residents.
Secret Woods boasts a recreation center with a pool, tennis court, and basketball court. With easy access to malls and a short drive to downtown, residents enjoy their quiet life while being surrounded by daily conveniences and the entertainment of Jacksonville. The median home price here is around $277,000.
The neighborhood borders Drew Park, and residents can drop by nearby Mikey's Pizza and Italian Restaurant for a delicious meal or Liberty Bakery for a delectable dessert. Consider becoming part of the hidden community of Secret Woods for a peaceful and charming place to live.
Harborview
Harborview Amenities
The neighborhood of Harborview has a relatively small population of around 1,800. However, this quiet little nook of Jacksonville is perfect for those who enjoy the water, as the neighborhood is bordered to the south by the Ribault River, and some lots run right up to the shore. The median home price in Harborview is about $135,000, but some homes here list for less than $100,000.
Enjoy Bob's Famous BBQ or the buffet at Best Taste Jamaican and American Restaurant. Residents in the mood for seafood can visit Mr. K BBQ & Seafood, Mattie's Seafood Hut, or Tunis Seafood, Wings & Subs for a tasty bite. Consider your next home base here in Harborview.
Find a Home to Fit Your Lifestyle in Jacksonville
The variety found in Jacksonville and the surrounding neighborhoods will appeal to every personality and style. From trendy lofts to stately Jacksonville homes by the water, people are at home and enjoy living among the people who make the city so colorful. If you think Jacksonville is only about sand and pretty beaches, there are so many other things that make this city a wonderful spot to plant some roots. From state parks with hiking trails and other outdoor adventures to the calm sport of bird watching and combing beaches for shells and driftwood, there are activities for people of all ages. And must we mention the glorious weather?
If you're making the move to Jacksonville, contact Marganon Real Estate Firm with Florida Real Estate Central at (904) 866-4006 to get in touch with Jacksonville real estate agents who can help you find the Jacksonville home that's right for you.