Things to Do in Jacksonville: Jacksonville, FL Places to Go and Things to Do
Posted by Lazaro Marganon on Monday, May 17, 2021 at 3:42 PM
By Lazaro Marganon / May 17, 2021
Comment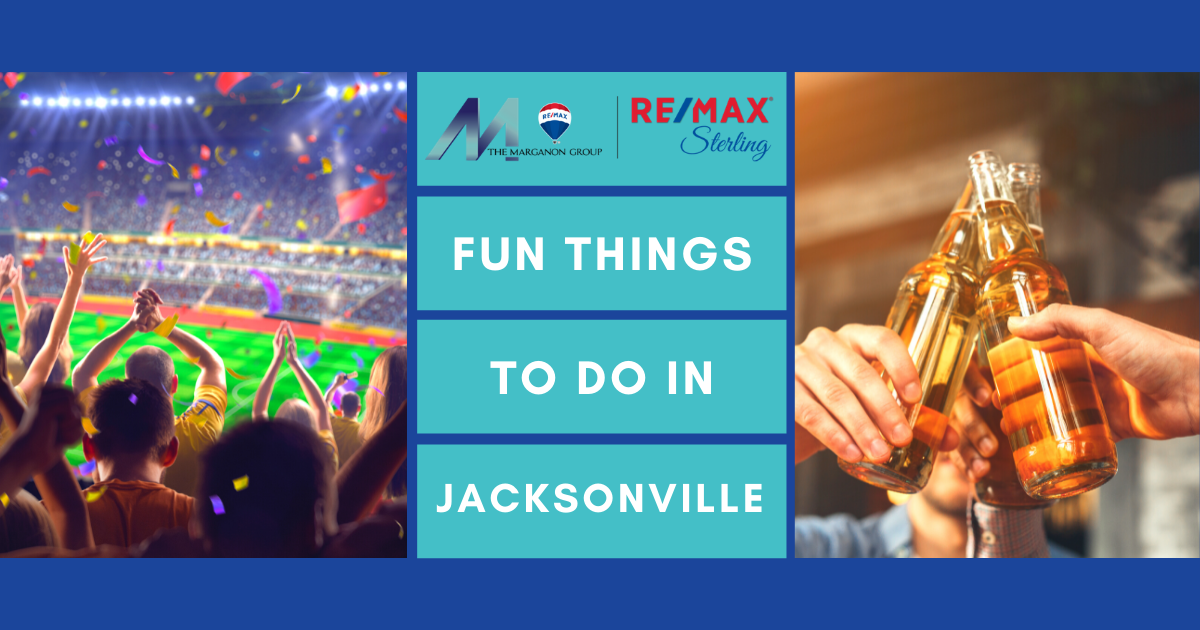 Jacksonville, affectionately called "Jax" by many, sits on the northeastern Florida coast. It's a relaxed and stunningly beautiful city, with both rivers and ocean coastline, over 22 miles of beaches, historic architecture, an extensive urban park system, and several state parks. Jacksonville is well-known for having abundant outdoor recreation and fishing opportunities, being a great sports town, hosting world-class shopping, and providing excellent food, craft beer, and arts scenes. With over 220 sunny days a year and mild year-round weather, there's always something to do in Jacksonville, indoors or out. Read on to discover a list of fantastic things to do in Jacksonville.
Jacksonville Outdoor Adventures
Home to the largest urban park system in the United States and situated on the Atlantic Ocean, there is no shortage of outdoor activities in Jacksonville. Whether you prefer to pedal or paddle, be on land or in the water, this Florida city has outdoor pursuits for every interest and ability.
Parks
Parks in Jacksonville
Riverside Park
Memorial Park
Kathryn Abby Hanna Park
Boone Park
Losco Regional Park
With 450-plus city parks, seven state parks, and two national preserves in Jacksonville, there is truly a park for everyone. Riverside Park is one of the oldest in the city, built in the 1890s, and has a small spring-fed lake, dog park, and playground. Kathryn Abbey Hanna Park, locally known as Hanna Park, has over 20 miles of hiking and biking trails, 1.5 miles of sandy beach, and camping facilities for tents and RVs. To explore the pristine coastline, marshes, and wetlands with excellent fishing and wildlife viewing opportunities, head to Timucuan Ecological and Historic Preserve.
Water Recreation
Beaches in Jacksonville
Jacksonville Beach
Neptune Beach
Atlantic Beach
Kathryn Abbey Hanna Park
Ponte Vedra
Jacksonville's opportunities for water recreation are seemingly infinite. Whether you want to enjoy the city's beaches, launch a kayak down the street from your Jacksonville condo, or go deep-sea fishing, you'll find it here.
If you're a surfer (or want to be!), Jacksonville Beach has some of the best surf breaks in the state. To feel like you're getting away, head to Little Talbot Island State Park, one of the few undeveloped islands in northeastern Florida. For a bit of an adventure, hire a fishing charter or check out guided eco-tours with Adventure Kayak Florida.
For those seeking water fun without actually being on the beach, there's Shipwreck Island Waterpark.
Hiking and Biking Trails
Trails in Jacksonville
Jacksonville-Baldwin Rail Trail
University of North Florida Nature Trails
Spanish Pond Trailhead
Seaton Creek Preserve Trailhead
People don't often associate coastal Florida with hiking, but Jacksonville has miles and miles of trails to explore. In many cases, hikers and cyclists use the same trails, but some are specific to one or the other. Be sure to check guidelines on trails you're interested in, and always respectfully share the trails.
The Jacksonville Arboretum and Botanical Gardens are widely considered hidden gems. Seven dog-friendly trails run through varying ecosystems, and visitors might see turtles, birds, and other wildlife. There are also many hiking trails in the city's Northside region, where Timucuan Preserve and the Talbot Islands State Parks are.
However you prefer to get outdoors, whether it's leisurely or strenuous, you'll find that there are ample opportunities throughout Jacksonville.
Jacksonville Shopping
Shopping Centers in Jacksonville
Regency Square Mall
Orange Park Mall
St Johns Town Center
River City Marketplace
Old St. Augustine Plaza
Gateway Town Center
Regardless of what type of shopping you like, Jacksonville has you covered. From trendy, traditional shopping malls to tiny boutiques to antique shops and flea markets, there are plenty of ways to get your retail fix in Jacksonville.
Check out Regency Square Mall when you're looking for a little of everything, including an AMC movie theater and plenty of dining options. For upscale and luxury retailers such as Tiffany & Co., lululemon, and Louis Vuitton, head to the outdoor mall St. Johns Town Center. The Five Points area downtown is known as the best spot for vintage finds for the home, while Avondale, on the edge of downtown and the west side, is a hub of small boutiques. Of course, the tremendous Pecan Park Flea Market on the north side is a can't-miss, with over 750 vendors both inside and out.
Jacksonville Sports
Northeastern Florida is a huge sports area. People get very into their friendly rivalries, and with sports teams at the professional, semi-professional, college, and community levels, there's always a game or match to watch.
Sports Teams
Jacksonville is home to many sports teams year-round. No matter the season, you can find a team or player to cheer on, whether it's from the comfort of your new construction home or in person at the stadium.
Jacksonville-based sports teams include:
Jacksonville Jaguars (football)
Jacksonville Sharks (arena football)
Jacksonville Icemen (hockey)
Jacksonville Jumbo Shrimp (baseball)
Jacksonville Giants (basketball)
Jacksonville Axemen (rugby)
Jacksonville Armada (soccer)
Additionally, several major sporting events are held in Jacksonville each year, including the PLAYERS Championship golf tournament and the TaxSlayer Gator Bowl, one of the oldest college bowl games in the country.
Stadiums
Stadiums and Arenas in Jacksonville
TIAA Bank Field
Hodges Stadium
121 Financial Ballpark
VyStar Veterans Memorial Arena
UNF Arena
While sports are certainly a big deal in Jacksonville, the city's stadiums and other professional-level facilities are equally impressive. TIAA Bank Field, the home of the Jaguars, features some of the biggest video screens in the world, as well as some of the league's only in-stadium pools and spas. Right next door, Daily's Place amphitheater hosts concerts and other special events throughout the year. VyStar Veterans Memorial Arena, where the Sharks, Giants, and Icemen play, also hosts numerous high-profile events such as PBR Rodeo, UFC fights, comedy shows, concerts, and more.
Whether you prefer more solo sports like golf, rooting on the Jaguars from your favorite neighborhood establishment, or taking a group out to a Jumbo Shrimp baseball game, there are always many ways to catch the game or other special events in Jacksonville.
Jacksonville Restaurants
Restaurants in Jacksonville
Restaurant Orsay
The Capital Grille
Terra Gaucha Brazilian Steakhouse
Matthew's Restaurant
Taverna
Black Sheep Restaurant
It seems that every city and region has signature foods and specific dishes it's known for. That's certainly true of Jacksonville, where both seafood and classic Southern cuisine dominate restaurant menus. Indeed, Jax is a foodie's paradise, with phenomenal restaurants dotting every part of the city.
Shrimp and grits, biscuits and gravy, fish tacos, and chicken and waffles are all local favorites. To find the best versions in the city, head to Julington Creek Fish Camp (shrimp and grits), Maple Street Biscuit Company, Mossfire Grill (tacos), and Beach Road Fish House & Chicken Dinners (chicken and waffles). Jumpin' Jax House of Food has what's widely considered the best burger in Jacksonville (try the black n' bleu), and bb's restaurant is a go-to for indulgent desserts and weekend brunch. If you're just generally in the mood for seafood, you can't go wrong in Jax. Try tiny, cozy Singleton's Seafood Shack or North Beach Fish Camp. Any of the Fish Camp restaurants in town are a safe bet for seafood.
Arts & Culture in Jacksonville
Jacksonville may have a reputation for being an outdoors and sports-oriented destination, but its art and culture scenes are also rich and complex. Whether you're seeking a relaxing night watching a play or a thrilling night of live rock music, you'll find it in Jacksonville.
Museums
Museums in Jacksonville
MOSH
Museum of Contemporary Art Jacksonville
Karpeles Manuscript Library
Jacksonville's "Hands On" Children's Museum
Whatever you're interested in, whether it's science, history, art, space, or even beaches, there's probably a Jacksonville museum dedicated to it. There are over a dozen museums in the city, but here are some highlights to help you decide which one to visit first.
Cummer Museum of Art & Gardens: This museum in the historic and picturesque Riverside neighborhood houses a massive collection of over 5,000 pieces of art. Part of the building was originally a home, and visitors can also tour the impeccable gardens, which are more than a century old.
MOSH (Museum of Science and History): Right in downtown Jacksonville, this interactive museum always has something new to see. Learn about how nature, technology, and culture have all formed northeast Florida, and don't miss the biggest single-lens planetarium in the world, the Bryan-Gooding Planetarium.
Beaches Museum: Beaches are generally fascinating, and this museum highlights those in the Jacksonville area specifically.
Performing Arts
Performing Arts in Jacksonville
Times Union Center for the Performing Arts
Florida Theatre
Players by the Sea
Ritz Theatre & Museum
Just like its museums, Jacksonville's performing arts scene is vibrant and eclectic, with something for people of all ages and interests. From music and dance to theatre and special events created specifically for children, there's always an interesting performance to catch in Jax.
The world-class Jacksonville Symphony Orchestra is the largest in the state and plays a wide variety of shows throughout the year. Make a night out of it and dine at one of downtown Jacksonville's many restaurants. The Florida Theatre hosts over 200 performances based in Jax, ranging from opera to ballet to competitive dance and jazz concerts. During its season in the winter and spring, the Florida State College at Jacksonville (FSCJ) Artist Series Broadway brings international touring shows and iconic Broadway performances to Jacksonville.
Jacksonville's cultural scene is incredibly diverse, with offerings ranging from pop-up art galleries to permanent live performing arts venues. Whether you're a resident looking for a new experience or you're hosting out-of-towners, consider checking out one of the city's museums or concert halls.
Jacksonville Nightlife
Bars and Clubs in Jacksonville
Dos Gatos
Sidecar
The Volstead
Myth Nightclub
theLOFT
Eclipse Nightclub & Bar
Jacksonville is a festive city that loves live music and celebrates just about everything with lively food and drinks. Perhaps you want a low-key evening at a local craft brewery, or maybe bar-hopping along the beach is more your scene. For those extra-special nights, there's also downtown Jacksonville, a hub for dining and nightlife.
You can always count on 1904 Music Hall to have live music shows with an eclectic lineup of DJs and other artists. Head to The Elbow downtown when you want to hop around and try bites and brews from several places. Myth Nightclub & Bar is ultra-trendy, featuring the hottest DJs, an extensive cocktail selection, and a VIP lounge.
Find Your Home in Jacksonville
With its natural beauty, unique geography, and its endless list of things to do, Jacksonville is ideal for just about everyone. This northeastern Florida section lends itself to outdoor recreation, fishing, relaxing on the beach, exploring nature trails, a vibrant arts culture, and thriving brewery and foodie scenes.
If you're making the move to Jacksonville, contact Marganon Real Estate Firm with Florida Real Estate Central at (904) 866-4006 to get in touch with Jacksonville real estate agents who can help you find the Jacksonville home that's right for you.