Jacksonville Public Transportation: 5 Ways to Get Around
Posted by Lazaro Marganon on Monday, July 19, 2021 at 7:33 AM
By Lazaro Marganon / July 19, 2021
Comment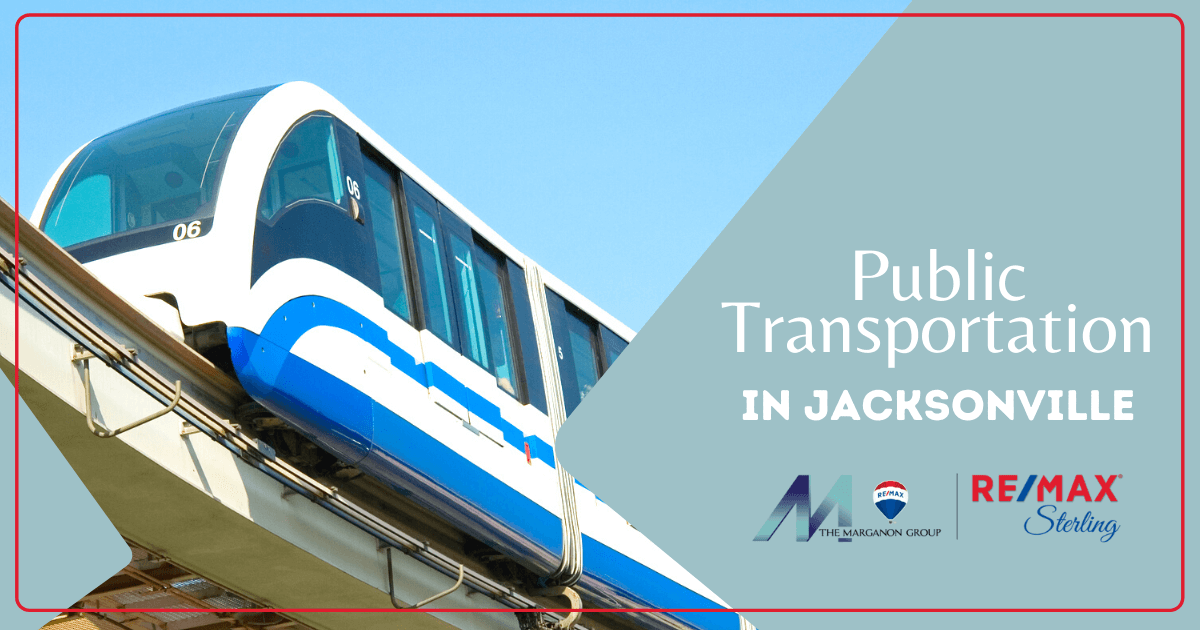 Jacksonville, Florida, is a city on the move. Those who live here appreciate having a wide range of ways to get around town, often conveniently located near lovely condos, waterfront homes, and Jacksonville's gated communities. Bus services, ferries, on-demand ride companies, and more are ready to get locals and visitors moving easily and affordably. Read on to learn more about some popular public transportation options in the Jacksonville community.
Jacksonville Transit Authority Bus Lines
Known more commonly as the JTA, the Jacksonville Transit Authority has a massive bus fleet with almost 250 vehicles. Over 8.5 million miles across the region are traveled by the JTA bus and rail lines along 56 routes each year. In addition to routinely scheduled buses, there are five early morning and afternoon express bus options that are optimal for commuters and university students. Bike racks on the outside of buses are available on a first-come, first-served basis.
The First Coast Flyer is JTA's premium rapid transit bus service. Stops are limited, but the routes cover almost 50 miles of Jacksonville in all directions. There are also trolley-replica buses that run weekday mornings and afternoons, and the Beaver Street and Bay Street routes are free. They do run on weekends, but there's a small charge.
Jacksonville Transit Authority Bus Lines Additional Information
Phone: 904-630-3100
Fares: Regular fare including First Coast Flyer $1.75 / Express route fare $2.75 / Single-day and multi-day passes available / Discounts available
The JTA Skyway
Another project of the Jacksonville Transit Authority is the JTA Skyway, which is a 2.5-mile-long monorail system. Some locals call the Skyway the "L." There are five stations in the Downtown neighborhood and three in the Southbank neighborhood. Routes on the elevated monorail include the downtown area and the region between Kings Avenue and St. Johns River.
The Skyway offers locals exceptional and convenient access to Jacksonville's major employers, as well as restaurants, shopping, entertainment venues, and other things to do in Jacksonville. Each car is air-conditioned and environmentally friendly. Scheduled departures occur every four minutes during peak hours and every eight minutes during off-peak periods.
JTA's buses are connected to the Skyway, and there are park-and-ride lots that allow people to get downtown without the challenges of packed parking lots when driving in Jacksonville.
JTA Skyway Additional Information
Phone: 904-630-3100
Hours: Mon–Fri 6 a.m.–9 p.m. / Sat–Sun special events only
Peak Hours: 6–9 a.m. and 4–7 p.m.
Fares: Free to ride
Ready to Ride? Call ReadiRide in Jacksonville, FL
ReadiRide is an on-call transportation service that connects 11 Jacksonville service areas with a ride when and where they need it. All it takes is a phone call to schedule an appointment or through using the free MyJTA app. Customers are in control of the pickup and drop-off points and time schedules. Service zones include but are not limited to:
The only catch is that the drop-off point must be in the same zone as the departure zone or another reservation will need to be made for another service. Don't forget to mention any accommodations that will be needed, such as wheelchair lifts, while booking a trip. Call at least two hours before the desired departure time.
ReadiRide Additional Information
Phone: 904-679-4555
Reservation Hours: Mon–Sat 6 a.m.–7 p.m.
Fares: One-way $2 per passenger
Paratransit Service Providers
Paratransit services are offered through JTA Connexion, which is a destination-to-destination form of shared public transit for qualified residents. One must put in an application and receive approval to use Connexion's paratransit services. Specifically, this transportation is an option for those with disabilities or who are unable to use traditional route services for their transportation needs.
Another option is Connexion Plus, a service option from the JTA for those who need private, same-day transportation services within Duval County. Out-of-county medical trip destinations will incur an additional fee, and the program is open to qualified Connexion users.
Be sure to schedule rides at least two hours before the desired pick-up time. ADA-approved personal care attendants ride for free alongside paying clients.
Paratransit Service Providers Additional Information
Connexion Phone: 904-265-6999 / Florida Relay: 800-955-8771 (voice) or 711 (TTY)
Connexion Hours: Reservations may be made daily 8 a.m.–5 p.m. / Hours of service are the same as fixed-route service
Connexion Fares: ADA fare $3 / TD fare $3.50
Connexion Plus Phone: 904-404-0848
Connexion Plus Hours: Reservations may be made Mon–Fri 5:30 a.m.–10 p.m. / Weekends 7:30 a.m.–7:30 p.m.
Connexion Plus Fares: One-way $6 up to 15 miles / $2 per mile on trips over 15 miles / Additional travelers $4 each
The St. Johns River Ferry
The St. Johns River Ferry is a passenger and car ferry service that links the northern and southern ends of Florida State Road A1A in Duval County. Those wanting to travel between Ft. George Island and Mayport Village rely on the ferry service for the 0.9-mile journey across the St. Johns River.
It's a short ride of about five minutes, but during peak hours and on weekends, the line to get on can be tight. The ferry launches every half hour for departures and return trips and operates seven days a week throughout the year.
St. Johns River Ferry Additional Information
Mayport Village to Ft. George Hours: Every half hour Mon–Fri 6 a.m.–7 p.m. / Sat–Sun 7 a.m.–8:30 p.m.
Ft. George Island to Mayport Village Hours: Every half hour Mon–Fri 6:15 a.m.–7:15 p.m. / Sat–Sun 7:15 a.m.–8:45 p.m.
Pedestrian and Bicycle Fares: $1
Vehicle Fares: Motorcycle $6 / Weekday car $7 / Weekend car $8 / Weekday truck, bus, or RV $14 / Weekend truck, bus, or RV $16
Vehicle discounts are available with the MyJTA app
Get Around Jacksonville with Public Transportation
The public transportation system in Jacksonville is one of the best and most reliable in the state of Florida. Anywhere JTA travels in Jacksonville, there is a way to get there using one or more modes of public transit. There are ample options, including cabs, ridesharing, buses, trolleys, and a unique monorail. The JTA offers parking on their lots served by buses and various express services downtown. Parking is usually free, with the exception of certain holidays or during special events.
The beauty of this comprehensive system is that most routes connect to one another, and departure times are steady throughout the day and evenings. Locals and visitors can easily navigate their way through Jacksonville affordably and without having to deal with unexpected traffic along the way.
If you're making the move to Jacksonville, contact The Marganon Group @ RE/MAX Sterling with Florida Real Estate Central at (904) 866-4006 to get in touch with Jacksonville real estate agents who can help you find the Jacksonville home that's right for you.