Where to Live in Jacksonville: Your Best Guide to Neighborhoods in Jacksonville, FL
Posted by Lazaro Marganon on Monday, January 3, 2022 at 1:01 PM
By Lazaro Marganon / January 3, 2022
Comment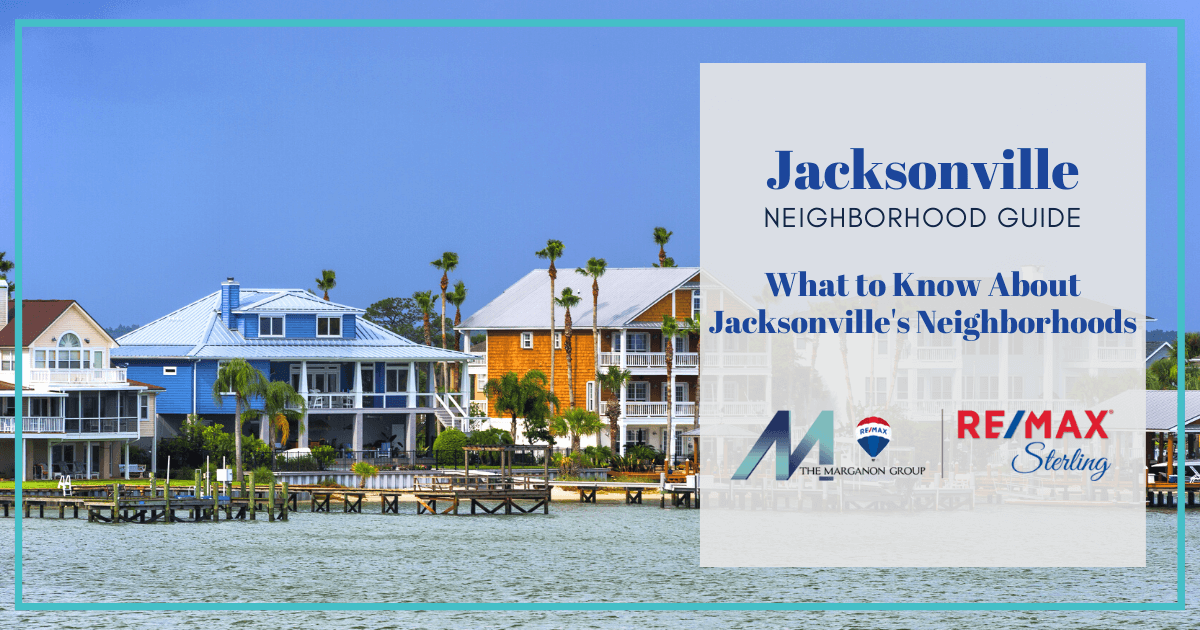 Florida has a lot of big cities that are well-known, but the most populous of them all is Jacksonville. While Jacksonville does touch the Atlantic Ocean on one side, it also sits on the St. Johns River banks, providing plenty of opportunities to purchase waterfront homes in Jacksonville.
As such a thriving coastal city, it is no surprise that the Jacksonville market includes many neighborhoods, each with a unique claim to fame. When it comes to choosing a neighborhood in Jacksonville, there's an option to suit anyone's needs. Keep reading to find a complete guide to the neighborhoods in Jacksonville.
Table of Contents
Sections of Jacksonville, FL
Although the population of Jacksonville continues to grow, the districts and sections of the city remain distinct. However, they're also evolving to accommodate the needs of new residents and long-time locals.
There are six critical groupings of neighborhoods in Jacksonville: Downtown, Arlington, Southside, Westside, Northside, and The Beaches. Each one has its unique flavor, which is further showcased in each of the neighborhoods within.
Downtown Jacksonville
Downtown Jacksonville Zip Codes
When summarizing the attractions that draw people to buy homes for sale in Downtown Jacksonville, there are two main factors to consider.
First off, the area is rich in historical landmarks and places listed on the National Register of Historic Places. There is an entire historic district that has an extremely high concentration of historical sites. While Jacksonville suffered a great fire in 1901 that destroyed much of its skyline, notable architecture appeared before 1965 and represents a rich design legacy.
The other is the wide range of sports and entertainment venues found in this mighty downtown scene. These include the historic Florida Theatre, Daily's Place Amphitheater, the Greater Jacksonville Fair and Expo Center, TIAA Bank Field, the Baseball Grounds of Jacksonville, VyStar Veterans Memorial Arena, and Metropolitan Park.
Many businesses are headquartered in Jacksonville, including Fidelity National Financial, TIAA Bank, and FIS corporate. After all, downtown Jacksonville is the central business district (CBD) of its parent city.
Downtown Jacksonville Neighborhoods
The area that makes up Downtown Jacksonville is defined by boundaries created by roadways and bodies of water. State Street forms the northernmost border, while the St. Johns River marks the southern edge. Hogans Creek is found on the East, and LaVilla is on the West. Each of these separate neighborhoods has a rich set of landmarks and attractions that set them apart.
Homes for Sale in Downtown Jacksonville Neighborhoods
Central Core (Northbank)
The Cathedral District
The Entertainment & Sports District
Southbank
LaVilla
Arlington
It was not until 1968 that Arlington was incorporated into the city of Jacksonville, but once it was, it brought along a slew of neighborhoods and opportunities.
Arlington is mainly known for its architecture, focusing on mid-century modern American architecture resulting from the population boom between the 1940s and 1970s. Several prominent architects designed the homes for sale in Arlington, including Robert Broward, William Morgan, and Taylor Hardwick. Old Arlington, Inc. is a neighborhood conservation group that offers tours of notable homes; their services can be a fantastic starting point for getting to know the area.
Historically, Arlington has been a site of significant transportation innovation, which makes sense considering its unique landscape of local waterways that not only need to be traversed but may be leveraged for better performance. In 910, Atlantic Boulevard became Florida's first modern highway, providing an option for people driving in Jacksonville to easily reach the beach.
In 1953, the Mathews Bridge was opened, crossing the St. Johns River to connect Downtown Jacksonville to Arlington. Between 1985-1989, the Dames Point Bridge was completed to connect Arlington to the Northside. When it was built, the Dames Point Bridge was the longest concrete cable bridge in the world.
With all of these systems in place to move people around efficiently and effectively, it follows that Arlington positioned itself for some business and retail success. For example, the Regency neighborhood, in particular, is focused on the developed area surrounding the Regency Square Mall, the largest shopping mall in all of North Florida.
Arlington Neighborhoods
In the past few decades, Arlington has experienced particularly heightened population growth. As a result, the size of existing neighborhoods and the emergence of new ones have continued to ebb and flow.
Homes for Sale in Arlington Neighborhoods
Southside
Southside Zip Codes
32216
32224
32246
32256
32258
While Southside may be said to overlap a bit with Arlington in its northernmost parts, the area said to belong to Southside covers a large surface area. Just south of Downtown Jacksonville but still north of the Mandarin neighborhood and running from the St. Johns River to just shy of the Intracoastal Waterway, Southside is huge.
What is Southside best known for? Historical landmarks, good shopping, and riverfront activities are some of the core draws to the homes for sale in Southside.
There are not one, but two big malls in Southside. St Johns Town Center covers over 1.1 million square feet with retail, dining, and luxury services. If this fun open-air retail concept weren't enough, a more traditional mall is available via the Avenues Mall. The Tinseltown Cinemark is the local movie theater.
Southside is a notable diving and snorkeling jumpoff point, with many diving supply shops right there in town like Atlantic Coast Diving and Divers Supply. It's easy to rent a charter fishing boat or go for a dolphin boat tour to get more familiar with the area.
After a full day outside, easy access to good food and drink can make all the difference. One trendy local watering hole is Bottlenose Brewing, a microbrewery, taproom, and restaurant that proudly carries local Jacksonville brews through to national favorites like Cigar City Brewing.
Southside Neighborhoods
Some of the best river views in Jacksonville are available in Southside, attracting many residents and tourists alike.
Homes for Sale in Southside Neighborhoods
Westside
Westside Zip Codes
32234
32220
32221
32244
32210
32219
The Westside's primary claim to fame is easy access to outdoor activities in Jacksonville.
Of course, the history of Westside is a bit more detailed and cultured than this gives it credit for. The Westside area first began to be settled back in 1763. The region amassed a sizable collection of classic buildings, historical landmarks, and architectural styles during the centuries that followed. Everything from wood-frame cabins to traditional Tudor-style homes can be seen on display while exploring the Westside market. Of course, many of these buildings are right on the waterfront.
The Westside region offers several full-service marinas. This means that it can accommodate all sorts of boats and watercraft and the outfitters needed to keep each of these going. This easy waterway access opens the door for easy fishing, boating and hiking, and camping in the natural lands between water access points.
One popular natural area to tour is Bulls Bay Preserve, which has over 1200 acres of wetlands fed by tributaries of the Trout and Ortega Rivers. This preserve features several miles of hiking and biking trails amid swamps, but visitors are encouraged to stay open-minded; the Preserve has several significant elevation changes that keep trips interesting and can catch people off-guard.
One somewhat quirky claim to fame for Westside is that it was once home to the Blue Angels, the U.S. Navy's flight demonstration team that is now stationed in Pensacola, Florida.
Westside Neighborhoods
A link joining these neighborhoods together is that the Westside neighborhood is a crucial jumpoff point for water sport enthusiasts, particularly anyone interested in fishing or boating.
Homes for Sale in Westside Neighborhoods
Five Points
Naval Air Station
Normandy Estates
Normandy Manor
Yukon
Northside
Northside Zip Codes
32208
32209
32218
32219
32226
The Northside region of Jacksonville stands tall almost as a responsible older sibling to the other areas. Northside is vital to Jacksonville's ongoing stability and growth. First and foremost, Northside houses the transportation and logistics hub required to Jacksonville (and its surrounding areas) serviced and stable.
The Jacksonville International Airport is just one critical logistics feature behind Northside, but it is not the only one. The JAXPORT Cruise Terminal, Blount Island Marine Terminal, and Dames Point Marine Terminal help keep tourism and entertainment alive, bringing in critical revenue for the area.
Although it's business-oriented, there are many fun things to do near Northside homes for sale. For starters, the Jacksonville Zoo and Gardens moved to the Northside region about a century before today, and in the past hundred years, it has nearly doubled in size. Venturing into the wild, enthusiasts may visit Northside's Timucuan Preserve, a 46,000-acre national preserve primarily of wetlands and various waterways.
It doesn't stop there—there are six state parks within the confines of Northside, including Big Talbot Island State Park, Little Talbot Island State Park, Fort George Island Cultural State Park, George Crady Bridge Fishing Pier State Park, Pumpkin Hill Creek Preserve State Park, and Yellow Bluff Fort Historic State Park. Additionally, there are several city parks and the East Coast Greenway, and the Machaba Balu Preserve.
Northside Neighborhoods
Northside is one of the best places to live for access to Jacksonville public transportation. This sort of mobility does not just support the local economy but encourages future growth. Additionally, there is Northside access to airports and even ferries, providing further transportation support.
Homes for Sale in Northside Neighborhoods
Black Hammock Island
Fort George Island
Norwood
Pecan Park
The Beaches
The Beaches Zip Codes
32082
32227
32228
32233
32250
32266
The Jacksonville Beaches are referred to as "The Beaches" by locals. The Beaches are found on a barrier island that used to be a peninsula until a ten-mile channel was dug in 1912. This channel connects two local rivers: the San Pablo and the Tolomato. Although the peninsula was converted into an island, the resulting island was never given a name.
At the very northernmost tip of Beaches are the homes for sale Mayport, which is the U.S. Naval Station Mayport site. Atlantic Beach, Jacksonville Beach, and Neptune Beach are municipalities that occupy the center o the barrier island. At the very southern tip, buyers will find homes for sale in Ponte Vedra Beach.
As suggested by its name, The Beaches is very focused on beach life, meaning that most businesses and attractions in the area somehow relate to the sea. Adventure Landing and its Shipwreck Island Water Park has all of the accouterments that are to be expected of an amusement park. Culture is celebrated through performances at venues like Players By The Sea.
The Beaches Neighborhoods
There is also an area of nearby St. Johns County, known as Palm Valley, often included as part of The Beaches.
List of The Beaches Neighborhoods
Mayport
Jacksonville Beach
Atlantic Beach
Neptune Beach
Ponte Vedra Beach
Find Home In A Jacksonville Neighborhood
The most populous city in Florida is anything but boring, and its neighborhoods are no exception. From the bustling of Downtown Jacksonville through the sun-kissed vibes of The Beaches, each neighborhood has its different tempo and attractions. Anyone moving to Jacksonville can find their ideal neighborhood.
If you're making the move to Jacksonville, contact Marganon Real Estate Firm with Florida Real Estate Central at (904) 866-4006 to get in touch with Jacksonville real estate agents who can help you find the Jacksonville home that's right for you.