Jacksonville Economy: Top Industries, Biggest Employers, & Business Opportunities
Posted by Lazaro Marganon on Thursday, May 13, 2021 at 1:05 PM
By Lazaro Marganon / May 13, 2021
Comment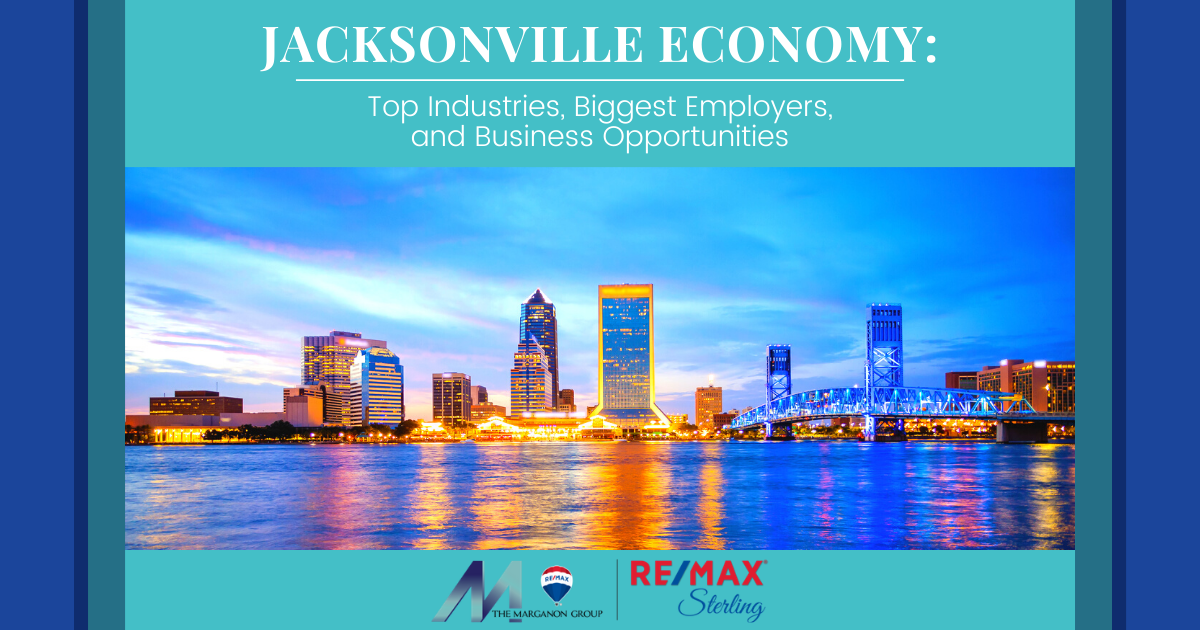 Known as "The River City," Jacksonville, Florida, is one of the fastest-growing cities in the southern U.S. Named after former President Andrew Jackson, the community sits at the border between Florida and Georgia. Growing by almost 11% between 2010 and 2019, Jacksonville is emerging as a haven for new residents. The warm weather and relatively low cost of living pull people from all over the country. From new construction homes to lovely waterfront homes, expansion of the local housing stock is apparent.
But can the economy of Jacksonville continue to provide for such population growth? Those considering relocating to Jacksonville would be wise to study the economic layout before moving. Understanding the job market and local opportunities can help predict the expected lifestyle one could enjoy as a resident. Here are a few things to consider about the local Jacksonville economy.
Jacksonville Industries
While an older city, Jacksonville doesn't have a legacy of clinging to long-deceased industries. Instead, the community's recent growth partly reflects Jacksonville's commitment to a diverse economy. The industry with the largest portion of employed civilians is healthcare, with 13.8% of local workers. The second-largest segment of workers is employed in retail industries at 12.3%. Finance and insurance hold the third spot with 9.7%, while hospitality follows at 8.6%. Rounding out the top five is education at 6.8% of Jacksonville residents.
Many of the top industries employ more significant percentages of people part-time or seasonally. The hospitality industry, for example, employs 54.1% of its workers on a part-time or seasonal basis. Agriculture is another industry with a very high number of sub-full-time staff. Estimates are that 50.3% of people in this industry work less than full time. Again, this matches the reality that farms grow crops by season, and therefore require seasonal help.
Only 13.7% of employees in the manufacturing industry work part-time or seasonally in Jacksonville. That could be good news for those hoping to find long-term positions in production. Additionally, only 10.4% of staff in finance and insurance work part-time. Research on the percentage of part-time or seasonal workers in government, utilities, and management positions all indicate less than 10%.
The highest-paying jobs include utilities positions at $62,100 per year. Management positions were second, with incomes around $61,800. Average salaries for those working in oil, gas, and mining were third at $54,800, followed by professional positions at $54,400, including scientific and technical services. Finance and insurance workers brought home about $47,400 annually, followed by government workers at $46,300.
While it may not have the highest percentage of Jacksonville's employed staff, transportation and logistics is an essential industry for Jacksonville. The city has one of the busiest shipping docks in the country and converging interstates and railroad lines. This access to easy transportation inspired automotive companies like Toyota and General Motors Corp. to create distribution centers in the community. Other manufacturing industries include paper mills, construction and building equipment, and more.
Aside from private employers, there are also three naval bases near the community. Including the Kings Bay Submarine Base, these establishments pump more than $6 billion into the local economy. The military is also a source for population growth, as around 4,800 people leave the military each year and stay in the city.
Top Industries in Jacksonville
Healthcare
Retail
Finance & Insurance
Hospitality
Education
Transportation
Administrative Services
Top Employers in Jacksonville
In addition to the largest industries, understanding the largest employers in Jacksonville can convey much information. Fortunately, Jacksonville's economy is largely balanced, with no one company dominating the labor market.
The largest private employer in the community is Baptist Health, with 10,650 employees. This medical services organization has a chain of facilities in the region providing a full range of care. It renders emergency care, including surgery, and offers longer-term assistance like senior care and behavioral health. The second-largest number of staff work with Bank of America. The financial services company has more than a dozen facilities in Jacksonville and employs 7,700 people.
Around 6,400 people provide medical care and other services through the local Mayo Clinic branch. This organization offers specialty care and revolutionary research into many health conditions. Southeastern Grocers provides another 5,700 positions to the local economy. The company owns some of the largest grocery store chains in the country, including Winn-Dixie and Harveys Supermarkets.
Florida Blue insurance rounds out the top five with another 5,700 on staff. Associated with Blue Cross Blue Shield, Florida Blue provides health care insurance for millions of customers. The following five largest private employers include healthcare providers University of Florida Health and Ascension St. Vincent's and major corporations like Citi and Amazon.
Additional Large Companies in Jacksonville
Amazon
Citi Bank
J.P. Morgan
GATE Petroleum
AT&T
Memorial Hospital
UPS
Information via JaxUSA.org
Jacksonville Economy Facts & Figures
Jacksonville's economy is strong. Future job growth is expected to reach more than 44% in the next decade, which is about 11 percentage points higher than the U.S. average.
The current unemployment rate matches the national average at 3.7%.
The median household income for the city is $54,000, and the median property value is about $184,000. Those calculating Jacksonville's cost of living will find the dollar stretches further in Jacksonville than in some other communities. The city's sales tax rate is 7%, which is slightly lower than the U.S. average of 7.3%. Jacksonville has no income tax, whereas most communities in the U.S. charge around 4.6%.
The More You Know About Jacksonville, The Better
While it's good to understand the economic picture in Jacksonville, this is just part of the relocation puzzle. Before choosing to move, many other considerations can influence a potentially prosperous outcome. However, with the tremendous population growth happening over the last few decades, it's clear the city has much to offer.
If you're making the move to Jacksonville, contact Marganon Real Estate Firm with Florida Real Estate Central at (904) 866-4006 to get in touch with Jacksonville real estate agents who can help you find the Jacksonville home that's right for you.