How to Get the Most from Small Condos: Design Ideas for Maximizing Space
Posted by Lazaro Marganon on Thursday, September 15, 2022 at 8:53 AM
By Lazaro Marganon / September 15, 2022
Comment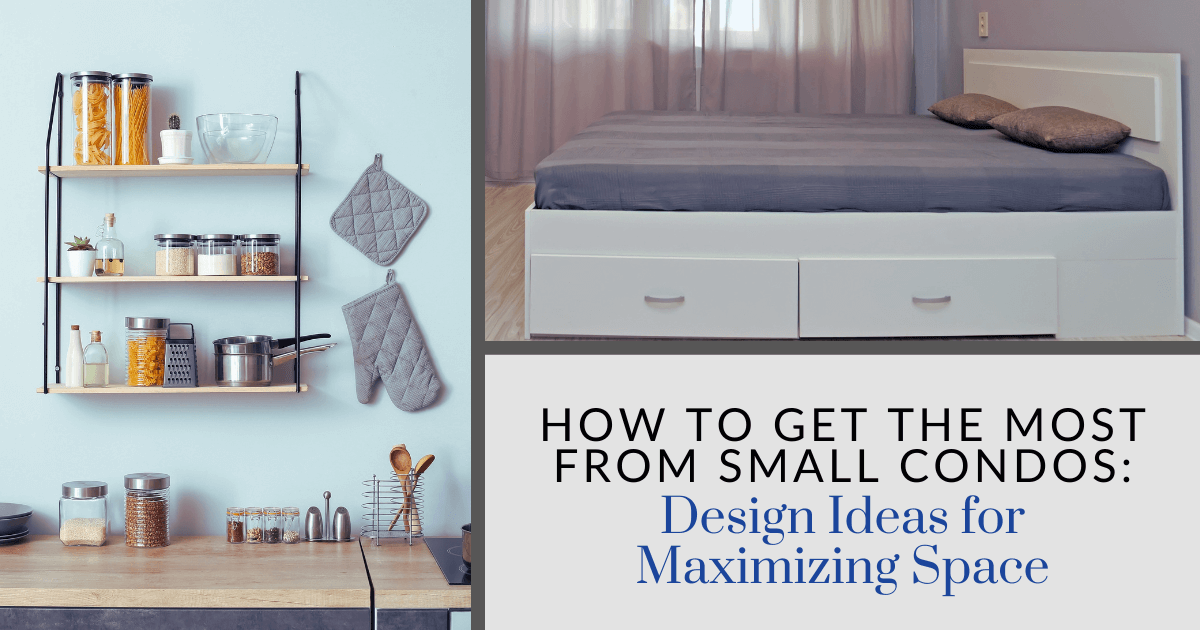 Moving into a new condo provides owners with the opportunity to design their own dream space. However, many condos for sale are built with less square footage than a single-family home, making it sometimes challenging to keep the space feeling spacious. It takes some creativity to maximize the space in a condo and make the condo feel larger. Get ready to flex your inner interior designer and read on to discover some design ideas for small spaces so that condo owners can make the most of their new home.
Try These Places to Hide More Storage
Creative furniture and shelving solutions that offer additional storage for personal items are a great way to maximize space in a condo. Clothes can be stored underneath a bed, for example; a "Captain's bed" has built-in drawers beneath the mattress that can be used in lieu of a separate chest of drawers. A Murphy bed that folds up against the wall is another space-saving idea for the bedroom. Some companies are even designing beds that cater to condo owners, such as a bed that lowers from the ceiling each night.
Creative dual-purpose and storage furniture pieces offer another avenue for storing personal items out of sight and reducing clutter in a condo. Attractive benches are available in which the top lifts up to reveal a storage chest, for example. For a small bathroom, a set of over-the-toilet shelves can create some much-needed space. A nested coffee table with hidden storage beneath it is a creative living room solution. Foldaway desks and tables are more options for freeing up space when they are not in use. Attractive and plush folding chairs are a nice option for extra seating, because they can also be put away when not in use.
Consider New Paint and Mirrors
A fresh coat of paint doesn't just make a small condo appear newer. It can also expand the space by visually tricking the eye. Pale colors and cool colors can make walls appear to recede, which makes a room look larger. Pale blue, green, gray, or lavender, for example, with undertones of blue or green, can make a smaller room look bigger. If living in a low-rise condo with a view of greenery and trees outside, a saturated light green paint with hues of yellow can make a room look bigger, because it draws the eyes toward the outside.
Mirrors are another way to make a room look more spacious. Large mirrors with small frames (two inches or less) are the rule of thumb. Mirrors should be hung with the center of the mirror at 60 inches from the floor, making them eye-level for most adults. There should also be some space left around the mirror—at least two inches from the edge of the frame to the nearest wall or ceiling. If a mirror is situated near a light source that it can reflect, such as a lamp, it can also open up a room and make it appear larger.
Bigger Might be Better for Furnishings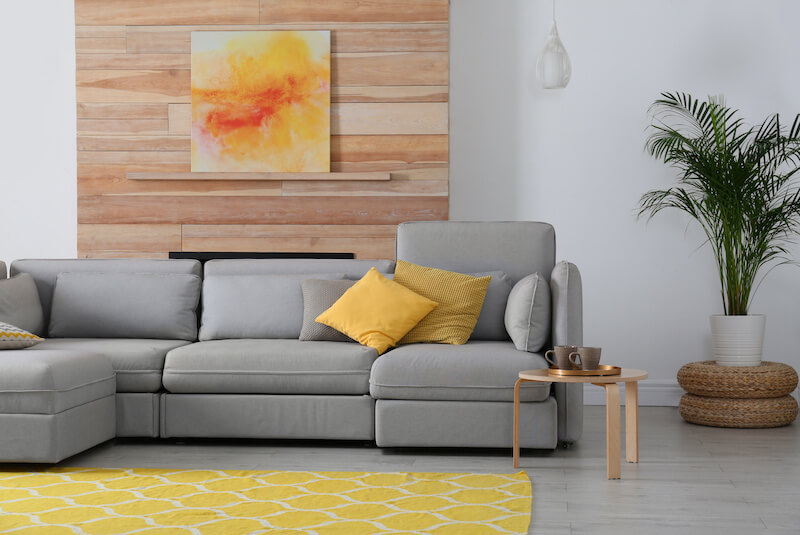 It seems counterintuitive that bigger furnishings could help to maximize space, but it's true. Much like the optical illusions created by paint and mirrors, a single large piece of furniture, like a sectional, creates the illusion of more space because it looks less crowded than multiple smaller pieces, like a pair of couches. Another counterintuitive tip: pull furnishings away from the wall, and a space will feel airier than if everything is backed up as far as possible to free up floor space.
Large pieces of furniture may also feature a lot of storage or hidden storage. A large couch that folds out into a hide-a-bed can eliminate the need for another bed entirely. A Captain's bed, as mentioned above, is another example of a larger space-saver. It sits higher off the floor because of the shelving underneath but eliminates the need for a chest of drawers or an armoire. Speaking of armoires, a large wooden piece of furniture like this can be a centerpiece for an entire room, while providing storage space for linens, knick-knacks, or other items. Remember: The goal is to create storage space and reduce clutter, ultimately making the condo look larger.
Shelving is another example where condo owners should consider "going big." Wall-mounted shelves, for example, can extend from the floor all the way to the ceiling. While they only jut out from the wall approximately 12 inches, they can be a great way to create extra storage space in the kitchen or living room.
Think Vertically Rather Than Horizontally
Speaking of shelving, it's a good idea for condo owners to learn to think vertically, rather than horizontally, when it comes to space-saving solutions. Floor-to-ceiling shelves are great for storing books, knick-knacks, shoes, and other items.
For those who don't have the space for a countertop garden, there's the option for a wall garden or vertical garden to grow herbs and small plants. An indoor wall garden that gets enough sunlight can be built or purchased with wool pockets or small planters, to offer some greenery and maybe some ingredients to the indoor space.
Wall-mounted bars or racks with hooks are another great vertical solution for saving space. Flat items that can rest directly against the wall are perfect for this type of space-saving solution. Owners can hang cookware, linens, utensils, mugs, or shoes from the racks.
If owners are allowed to build inside their condo, a do-it-yourself loft is another great way to create some more space. A simple set of stairs with drawers under each step can lead up to the loft for additional storage space. The loft itself could be a location for another bed, an elevated home office, or any other sort of space that the owner wants to use it for, provided their ceiling is high enough to accommodate a loft.
Avoid Having Dead Space Whenever Possible
One of the biggest challenges for condo owners is making the most of their limited space. Every square foot counts, so it's important to avoid wasted space, or what is commonly referred to as "dead space." Dead space is any area that goes unused or is difficult to use due to its layout or design. It can be found in corners, alcoves, and even in the middle of a room. The key to maximizing your condo's potential is to identify dead space and find ways to put it to good use.
One way to do this is by repurposing dead space as storage. If you have a corner that's not being used, try adding a floor-to-ceiling shelving unit. This will not only help you make better use of the space, but it will also help your small condo feel larger by creating more opportunities to put away things that could end up as clutter.
Another way to put dead space to good use is by turning it into a home office or reading nook. A cozy chair and small desk can easily fit into an alcove, and this can be a great way to create a quiet space for yourself where you can get away from it all. Finally, if you have a large expanse of empty wall space, consider using it as an opportunity to add some personality to your condo with some art or photos.
By avoiding dead space, you can help your small condo feel larger and more inviting. With a little creativity, even the smallest condos can be transformed into comfortable and stylish homes.
Saving Condo Space Just Takes Some Creativity
The size of a condo is far from an insurmountable challenge, and there are many benefits to buying over renting a condo. The amenities of condo communities, the reduced condo owner maintenance responsibilities, and the often-fantastic locations of a condo are part of the lifestyle and, for many buyers, far outweigh the possible challenges of a smaller space. It just takes some creativity and elbow grease to reduce clutter and store items out of the way and out of sight. The correct use of mirrors, paint colors, furniture, shelving, and other solutions can make a small space feel much larger than it really is.