4 Essential Home Upgrades That Your Waterfront Property Needs
Posted by Lazaro Marganon on Monday, December 13, 2021 at 10:22 AM
By Lazaro Marganon / December 13, 2021
Comment
Buying waterfront homes is exciting, but getting the most out of it requires careful planning. High-ROI home improvements should be a priority for all homeowners. However, waterfront property owners can use upgrades to boost their home values and transform their space into a paradise by the water. Constructing a dock for a boat, building a beach firepit, decorating with outdoor furniture, and installing an outdoor shower can help complete the everyday experience. Keep reading to learn about essential upgrades that every Jacksonville waterfront property owner needs.
Build a Dock and Sail into the Sunset
Many waterfront homes would feel incomplete without a dock. Ask before buying your waterfront property to make sure the planned or existing pier falls within local regulations, and it's well worth the effort to do so. A dock can provide easy access to the water, and numerous kinds of boats can call them home, allowing for all sorts of backyard watersports.
The Florida Department of Environmental Protection (DEP) and the St. Johns River Water Management District (WMD) regulate marine construction in Jacksonville. In many cases, smaller docks may not need a permit from DEP. If it is 1,000 square feet or less, will not be used for commercial purposes, and is not in specially protected waters, the dock is exempt. However, the pier will likely need a permit from the WMD if it needs to pass through wetlands to reach the deep water.
While smaller docks are fine for small vessels, a larger boat may require a larger permitted dock. Deciding early on what kind of boat will use it can help determine what sort of dock is appropriate. When purchasing a boat, there are numerous factors to consider, such as how to use it, where to use it, and how many passengers will enjoy the ride. From jet skis to fishing boats, plenty of watercraft can help complete a waterfront home.
Install a Waterfront Firepit & Pick Up Some Marshmallows
Building campfires and grilling on the beach can be a fun way to experience a beachfront property, but it's always best to verify the local regulations before sparking a flame. Most of the Jacksonville metropolitan area's beaches don't allow open fires at any time. However, Atlantic Beach offers permits between November and February, and other beaches allow gas grills for cooking.
Campfire season in Atlantic Beach doesn't last long because the city does not allow open fires during sea turtle nesting season to help preserve their population. Luckily, this period coincides with Florida's mild, cool winter. Permits for a beach fire or charcoal or gas grill cost $25.
Meanwhile, Jacksonville Beach, Neptune Beach, and beaches in St. Johns County prohibit open fires of any kind. In Jacksonville Beach, charcoal or gas grills can be used for cooking, while Neptune Beach only allows small gas grills. St. Johns County does not specify what type of grills are acceptable but requires cooking fires on beaches to be self-contained. While Jacksonville's nearby beaches may not allow campfires year-round, designing a waterfront fire pit on your private property can make any night special.
You'll Definitely Want Outdoor Furniture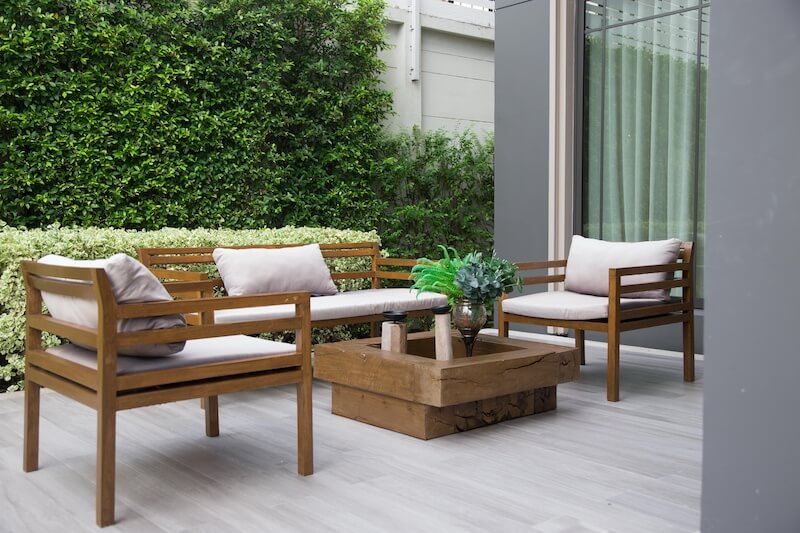 What waterfront home would be complete without a comfortable way to enjoy the view? Outdoor furniture provides ripe opportunities for soaking up the sun, enjoying the sea breeze, and savoring gorgeous waterfront views.
It's a good idea to get outdoor furniture that can withstand the humidity, salt air, and Florida sun so that it lasts longer. High-density polyethylene (HDPE) lumber offers impressive weather resistance, thus making it a solid choice for outdoor furniture in Florida. Although metal is a popular material choice for outdoor furniture, HDPE lumber tends to fare better in coastal environments, where salt and moisture can cause metals to corrode more quickly. Additionally, HDPE resists warping due to water damage, unlike porous materials like wood. HDPE also contains UV-inhibitors that can prevent outdoor furniture from fading in the sun, thus ensuring it looks fresh for years to come.
Outdoor furniture can help complete all sorts of outdoor spaces, turning them into relaxing living rooms, dining rooms, or lounges. Sofas and rocking chairs work well with coffee tables and end tables in creating a cozy outdoor living room overlooking the water. Meanwhile, an outdoor dining room might consist of a small dining set or can include an outdoor bar or counters. A sunny deck can benefit from a chaise set to soak up the rays. Finally, a fire pit table and chairs can provide a space to warm up when the temperature cools down at night.
Consider Installing an Outdoor Shower
An outdoor shower can be a great addition to any home, but one is especially useful for a waterfront home. After a long day enjoying the beaches or the river, an outdoor shower can conveniently rinse off all the sand and mud before it gets tracked into the house. Outdoor showers come with tons of options, thus making it easy to customize them.
It's a good idea to start by considering where and how to install an outdoor shower. Outdoor showers can be freestanding or mounted on a wall, fence, or other solid structure, meaning they can go just about anywhere. However, they also need plumbing and a drainage system. A cold shower requires just one inlet, while a warm one will need two to allow for hot and cold water connections.
Although it may require less work to choose a space that already has sufficient privacy, it's possible to create a secluded shower enclosure just about anywhere. This solution might be as simple as installing a shower curtain rod or constructing a more elaborate structure.
Outdoor showers come in all sorts of styles and offer numerous features. While a simple showerhead or foot spray can get the job done, shower panels with body jets and hand sprays can provide a more luxurious experience.
Making the Most of a Waterfront Home
Whether by beaches, lakes, or rivers, there are plenty of impressive waterfront homes offering great views and easy water access. Building a dock, having a beachside campfire, acquiring outdoor furniture, and installing an outdoor shower are great ways to take advantage of everything a waterfront home can offer. A tip for first-time waterfront property buyers: begin with the end in mind. As soon as you buy your home on the water, start planning and executing the home upgrades to make it your own.