Sarasota Driving & Commute Times
Posted by Lazaro Marganon on Monday, July 3, 2023 at 9:00 AM
By Lazaro Marganon / July 3, 2023
Comment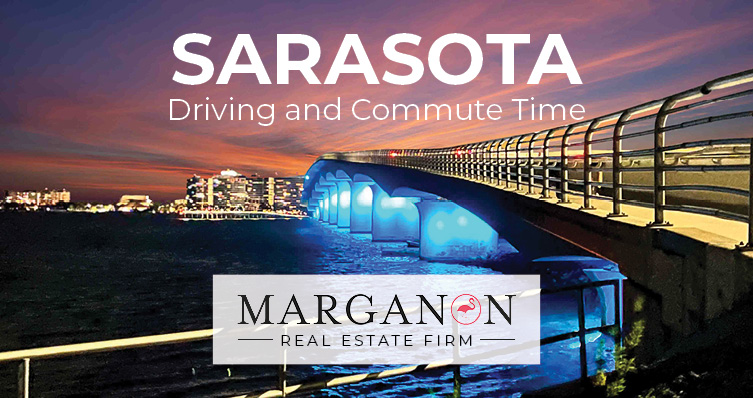 Driving in Sarasota can be a mixed experience. While the area is known for its beautiful beaches and relaxed lifestyle, traffic congestion can be a headache for many residents and visitors. Fortunately, there are some tips and tricks that can help make your Sarasota commute go smoother.
In this guide, we'll explore the major roads in Sarasota, provide tips for navigating rush hour, and discuss parking options in the city. So buckle up and get ready to explore the ins and outs of driving in Sarasota, Florida!
Welcome to Sunny Sarasota
Sarasota, located on the beautiful Suncoast of Florida, is a vibrant city with a growing population. Home to a variety of cultural attractions, shopping, and outdoor activities, Sarasota is known for its beautiful beaches and laid-back lifestyle.
As more people call Sarasota home, traffic congestion has become a concern for residents and visitors alike.
Understanding the major roads, knowing when to expect traffic, and discovering alternative routes can make your driving experience in Sarasota more enjoyable - even if all you're doing is heading to work!
What Are The Major Sarasota Roads?
To navigate Sarasota's roadways effectively, it's essential to familiarize yourself with the major roads in the area. Here are the key routes you're likely to encounter:
Interstate 75 (I-75)
Interstate 75, commonly referred to as I-75, is the main north-south highway in Sarasota. It spans across the entire state of Florida, connecting major cities along the way.
In Manatee County, I-75 is the most heavily traveled road, with daily traffic ranging from 78,000 to 133,000 vehicles. Sarasota County also experiences significant traffic on I-75, with an average daily count of 78,000 to 133,000 vehicles. Also known as "Alligator Alley," I-75 is the primary route for travelers heading south from Tampa or north from Naples and Fort Myers.
U.S. Route 41
U.S. Route 41, also known as Tamiami Trail, is another major roadway in Sarasota. It runs north-south along the west coast of Florida, passing through the heart of Sarasota. U.S. 41 is a popular route for both local and tourist traffic, with daily counts ranging from 43,000 to 78,000 vehicles.
University Parkway
University Parkway is a bustling east-west corridor in Sarasota, connecting I-75 to the beach communities. It is a major thoroughfare for both residents and visitors, especially due to its proximity to the University Town Center (UTC) area. Traffic on University Parkway can be heavy during peak hours, so it's essential to plan your trips accordingly.
State Roads 70 and 64
State Roads 70 and 64 are east-west routes that traverse Sarasota and Manatee Counties. They provide access to various neighborhoods, shopping centers, and attractions.
While not as heavily congested as I-75 or U.S. 41, these roads can experience increased traffic during rush hour. You'll want to be mindful of your speed and yield to other drivers while traveling these roads.
Rush Hour in Sarasota
To navigate Sarasota's roads effectively, it's crucial to understand the flow of traffic during rush hour.
Rush hours in Sarasota typically occur between 7:30 a.m. and 9:30 a.m. and again between 3:30 p.m. and 6:30 p.m. These are the busiest times on the road, with increased congestion and longer travel times - so you'll want to make sure and plan your commute accordingly.
During these peak hours, major roads such as I-75, U.S. 41, and University Parkway experience the highest traffic volume. It's important to plan your travel accordingly and allow extra time for your commute, as these major arteries can often be significantly slower during rush hour.
Navigating Traffic Hotspots in Sarasota
While traffic congestion can be a challenge in Sarasota, specific areas tend to experience more congestion than others. Let's look at some of these traffic hotspots in Manatee and Sarasota Counties.
Manatee County
In Manatee County, I-75 is the most heavily traveled road, with daily traffic ranging from 78,000 to 133,000 vehicles. Other congested areas include I-275, State Road 70, State Road 64, Manatee Avenue, and U.S. 41 and 301 sections.
According to the Manatee County Sheriff's Office Traffic Unit, intersections such as Cortez Road and U.S. 41, Bayshore Gardens and U.S. 41, and 57th Street at U.S. 41 see the most congestion and accidents. It's essential to exercise caution and be patient when navigating these areas.
Sarasota County
Sarasota County's most heavily congested roads see daily traffic ranging from 78,000 to 133,000 cars. I-75 is the most affected, with Fruitville Road, Clark Road, University Parkway, U.S. 301, and U.S. 41 following suit.
The Sarasota County Sheriff's Office and the Sarasota Police Department have identified specific intersections with high traffic volumes and accident rates.
These include Cattleman Road and Bee Ridge Road, U.S. 41 and Stickney Point Road, Fruitville Road, and U.S. 301. Exercise caution and be aware of your surroundings when passing through these areas.
Alternative Routes in Sarasota & Manatee Counties
While some areas in Sarasota experience heavy traffic, there are alternative routes you can take to avoid congestion. These routes can help you save time and reduce stress during your commute. Here are a few alternative routes worth considering:
Manatee County
El Conquistador Parkway serves as an alternative to U.S. 41 in Manatee County.
You may consider using Whitfield Avenue, 60th Avenue West, and 17th Street in Palmetto when traveling east-west.
When traveling north-south, consider exploring routes such as 26th Street West, 34th Street West, 75th Street West, Lockwood Ridge Road, and Lorraine Road.
Sarasota County
You can take several alternative routes to avoid congested areas in Sarasota County.
Traveling east-west, consider using Ringling Boulevard when heading downtown. Other less crowded east-west routes include Webber Street and Proctor Road.
For north-south travel, Osprey Avenue is a viable alternative to U.S. 41.
Exploring these alternative routes can reduce travel time and avoid the busiest areas during peak hours. Plus, you'll get to see more of what makes Sarasota and Manatee Counties so unique!
Parking in Sarasota
Parking in Sarasota can be a concern, especially in popular areas and during peak tourist seasons. However, there are various parking options available throughout the city. Here are some key points to keep in mind:
Downtown Sarasota: Downtown Sarasota offers on-street metered and public parking garages. There are around 4,000 public parking spots in the City of Sarasota, encompassing curb, lot, and garage parking. Pricing varies depending on the location, with an hourly rate of $1.50 per hour. The City also accepts various methods of payment to make parking easier.
Parking Garages: Parking garages are also available for long-term parking and can be a good source of convenience if you plan on shopping or having a meal downtown. The City of Sarasota operates four parking garages, three located downtown and the fourth serving St. Armands Circle near Lido Beach.
Beach Areas: When going to Sarasota's beaches, use public beach lots or street parking. Some parking areas may charge during busy hours, so bring small bills and coins.
Shopping Centers and Attractions: Shop centers & attractions have visitor parking. Some have free parking, while others may require fees or have time limits. Be sure to check signs and comply with regulations.
Park legally to avoid fines or towing. Those who park illegally can be cited or even towed, so it's best to avoid trouble.
Tips for Driving in Sarasota
Driving in Sarasota can be a pleasant experience if you keep a few tips in mind:
Plan ahead: Before heading out, check traffic conditions and plan your route accordingly. Consider alternative routes to avoid congestion.

Allow extra time: Factor in extra time for your commute, especially during rush hour or when traveling to popular destinations.

Stay informed: Stay updated on traffic conditions using apps or websites that provide real-time information. This will help you make informed decisions and avoid delays.

Be patient: Traffic congestion can be frustrating, but maintaining patience and calm will make your driving experience more pleasant.

Follow traffic rules: Observe speed limits, traffic signals, and road signs to ensure your safety and the safety of others. The last thing you need is a ticket for breaking the law!
Enjoy Everything Sarasota Has To Offer - Traffic & All!
Navigating Sarasota's roadways requires understanding the major routes, awareness of rush hour traffic, and knowledge of alternative routes to avoid congestion.
By familiarizing yourself with the major roads, planning your trips in advance, and utilizing technology to stay informed, you can make your driving experience in Sarasota more enjoyable and efficient. Remember to be patient, follow traffic rules, and always prioritize safety on the road!
Are you looking to buy or sell in Sarasota? Trust Marganon Real Estate Firm with Florida Real Estate Central at (904) 866-4006 to get in touch with Sarasota real estate agents who can help you find the perfect home!