Jacksonville Driving & Commute Times
Posted by Lazaro Marganon on Friday, May 28, 2021 at 11:20 AM
By Lazaro Marganon / May 28, 2021
Comment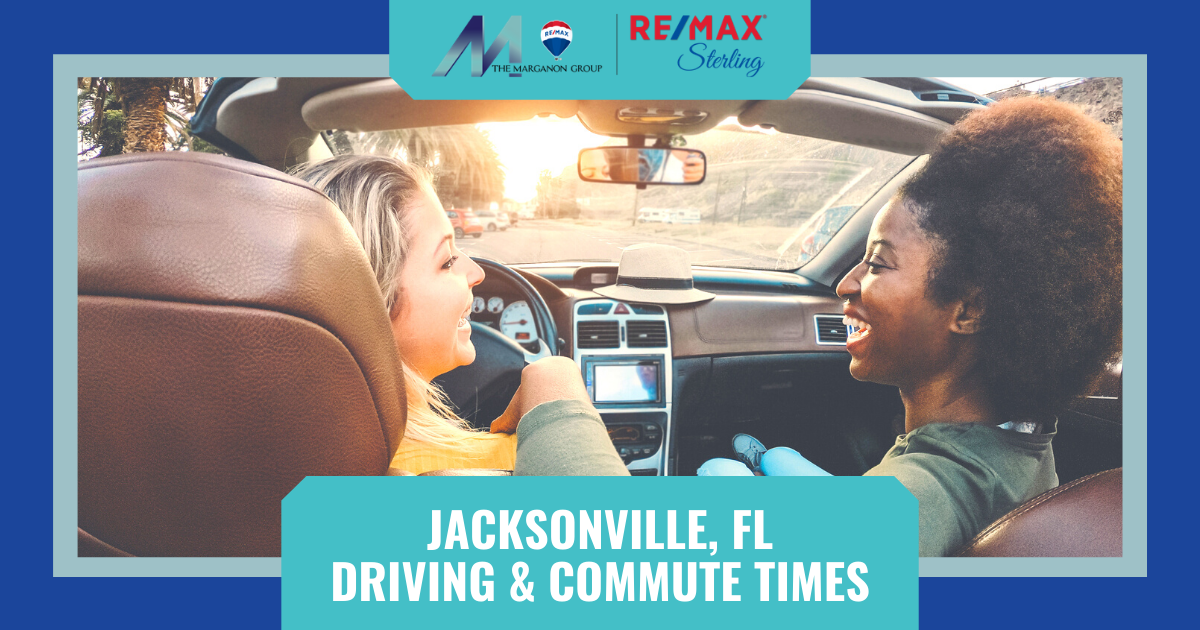 One of the largest communities in the Southeast United States, Jacksonville, Florida, is a shining gem. At around 911,500 people within the city limits, it's nearly larger than Miami and Atlanta combined. However, Jacksonville's regional population is much lower than those cities, giving the area a special character. It's large enough to provide shopping and entertainment options to new residents but not so large to include a high cost of living and urban sprawl.
In fact, whether living in downtown Jacksonville townhomes or homes on Jacksonville's waterfront, most people can navigate the entire city faster than communities with comparable populations. The commute time in Jacksonville is only 24.6 minutes on average, compared to the U.S. average of 26.4. Here are a few other things new drivers in Jacksonville should know before arriving.
Get to Know Your Major Jacksonville Roads
Two major routes lead into Jacksonville. People who plan to drive to nearby communities will have to get used to using these interstate roads. The I-95 is the best way to reach cities north or south of Jacksonville. I-95 S leaves the city and travels down the coast through Daytona Beach and Orlando. I-95 terminates near Miami, making it the perfect path for Miami Dolphins or Heat fans.
I-95 N, on the other hand, travels up the southeast coast of the U.S. through Savannah, Georgia, and Fayetteville, North Carolina. This critical route passes through all the east coast hotspots, including Washington, DC, New York City, and Boston. The other major interstate leading to Jacksonville is the I-10 W. This route leads across the Gulf Coast past Tallahassee and New Orleans, Louisiana.
Locally, the I-295 forms an oval shape around the outskirts of the community. Knowledge of this route is essential because there are several areas where this highway is the only nearby route over a body of water. While there are some areas where surface streets mirror I-295 for brief periods, no other direct roads provide fast access to disparate corners of the city.
Fortunately, there are several routes across the bodies of water near the center of the community. I-95 is a main route across the bridge from downtown Jacksonville to Southbank. The state-maintained FL-13, FL-10, FL-115, and FL-228 all provide quick access across the St. Johns River near downtown as well.
What to Expect During Rush Hour in Jacksonville
Jacksonville's commute is considerably less stressful than what might be found in other communities. At nearly two minutes shorter than the national average, most drivers will encounter minimal traffic most days.
Despite the shorter commute time, Jacksonville does have a rush hour. Starting at about 7 a.m., people traveling to work will find heavier traffic for the next hour and a half. The roads don't get congested again until about 4:30 p.m. The evening rush continues until 6:30 p.m. and remains light for the rest of the night.
Rush hour in Jacksonville relies heavily on I-95 and I-295. Those two routes connect with nearly every other road in the city, meaning they are densely traveled during peak hours. Therefore, the delays may be extra challenging when either highway is congested due to an accident. Commuters with regular routes may want to find surface streets to get around any temporary obstructions.
Parking in Jacksonville
For those who don't work in or travel to the downtown area, parking is usually easy. Most places on the city's periphery either provide their own parking or have free parking available nearby. However, those working, living, or shopping in the downtown area should be prepared to locate and pay for parking. Fortunately, some websites can track available parking in Jacksonville, making it easier to plan.
There are almost 45,000 paid parking spaces downtown, separated into garages, parking lots, and meters. Parking fees are enforced on weekdays during the workday, and drivers can expect to pay $2 an hour at public meters. There are some private lots, with parking expenses ranging from $1–$4 an hour. Other parking spaces are only available in monthly increments, providing an option for those with long-term commitments.
Other Helpful Things to Know About Driving in Jacksonville
Perhaps the first thing to understand about driving around in Jacksonville is that the St. Johns River carves a rather large path through the area. That means in many cases, the actual distance between two points is not as important as the proximity to the nearest bridge or ferry. New residents should take the time to memorize these bridges to navigate through the community efficiently.
Another thing to keep in mind is that the Jacksonville population is growing quickly, resulting in construction and changes to area landmarks. Residents and visitors are encouraged to monitor announcements about road repairs or street closures. It may also be helpful to leave a little early to ensure punctuality.
Plan Your Routes in Jacksonville
The bottom line is to make sure to research and plan routes in Jacksonville properly. Consider traveling a given set of directions at least once before important appointments to avoid unexpected delays. With a little forethought, most residents can find commuting a breeze, especially when compared to other similar-sized cities.
If you're making the move to Jacksonville, contact Marganon Real Estate Firm with Florida Real Estate Central at (904) 866-4006 to get in touch with Jacksonville real estate agents who can help you find the Jacksonville home that's right for you.