Jacksonville, FL Downtown Driving Times [2022 Guide]
Posted by Lazaro Marganon on Wednesday, July 28, 2021 at 12:47 PM
By Lazaro Marganon / July 28, 2021
Comment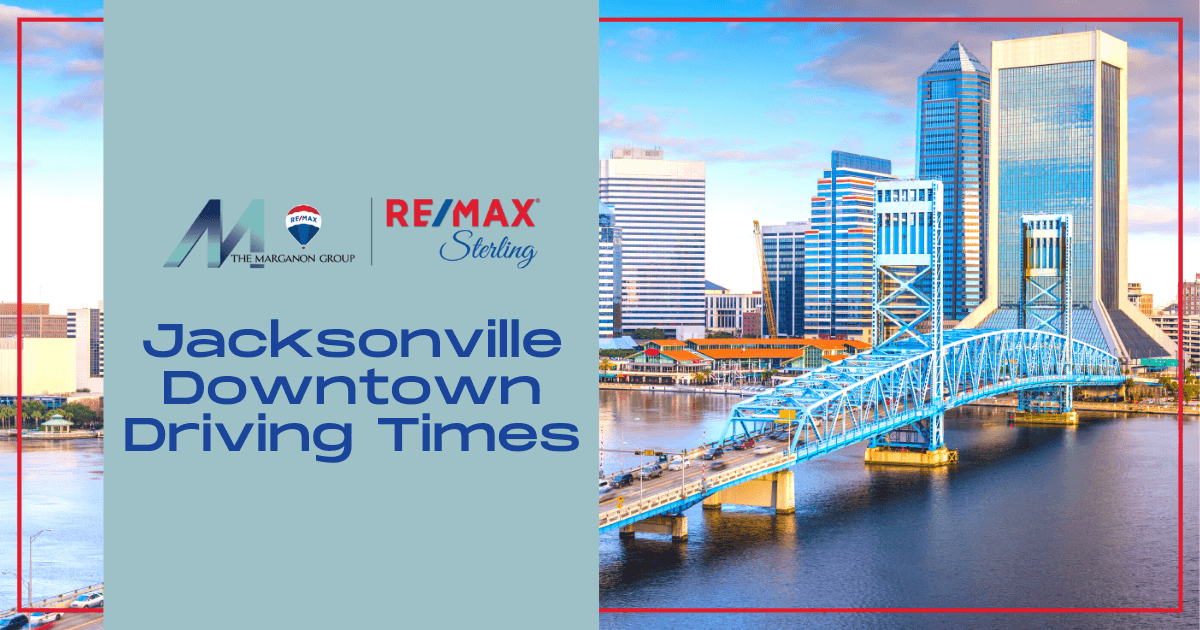 Commuting is a basic fact of life for a large segment of the U.S. population. The suburbs surrounding the community of Jacksonville are no different. For decades, the economic and industrial areas where many people work have been miles away from the best neighborhoods. Called "bedroom communities," numerous smaller suburban cities draw in a large segment of their residents because they offer a great place to spend time after work. However, despite the benefits of the particular town, the details of the drive to work and other attractions are important considerations. Read below for a few things to know about commuting to downtown Jacksonville from the area's surrounding suburbs.
Palm Valley to Downtown Jacksonville
The Palm Valley community is a coastal city that sits southeast of downtown Jacksonville. The community has a population of about 20,000 and is part of St. Johns County. Most drivers take several roads, given that the more direct route is impossible due to undeveloped land and greenery. Florida A1A, FL-202, and I-95 will take drivers right into the heart of downtown in about 30 minutes. During heavier traffic, the same trip can take as long as 40 minutes.
Fruit Cove to Downtown Jacksonville
The city of Fruit Cove is directly south of Jacksonville along the St. Johns River. With a population of about 16,100, the city is also located in St. Johns County. Travelers heading downtown will need to take the Fl-13 to connect to I-295. From there, they can turn east to connect to the I-95 or west to reach the I-10. The I-95 route is the fastest, making the trip in about 30 minutes under the best conditions. The I-295 to I-10 combination will take 5-10 minutes longer. Drivers should prepare to add another 15 minutes due to rush-hour traffic.
Nocatee to Downtown Jacksonville
The community of Nocatee is located about 26 miles southeast of the downtown area. It's a small community with about 14,700 residents situated in St. Johns County. Nocatee residents will need to take Nocatee Parkway to US-1 until it crosses I-95. From that point, the I-95 goes right into the downtown area. In light traffic, the commute should take about 30 minutes. Drivers should expect an extra 10 minutes of delays during rush hour.
Fleming Island to Downtown Jacksonville
With a little more than 27,000 people, the unincorporated community of Fleming Island is located in Clay County. It's about 21 miles southwest of downtown Jacksonville, also along the St. Johns River. Despite its name, it's not actually an island. However, driving to Jacksonville requires crossing two bridges on US-17. In fact, drivers will take US-17 the entire distance. The commute will take up to 55 minutes during rush hour, but driving during light traffic will save about 20 minutes.
St. Augustine to Downtown Jacksonville
Named for Saint Augustine of Hippo, the namesake has a current population of about 15,400. As part of St. Johns County, the St. Augustine community is about 40 miles southeast of central Jacksonville. Commuters have two choices for their daily drive. Taking I-95 will result in a rush-hour travel time of about one hour and five minutes. The alternate route, US-1, will take about the same length of time. Both routes will take about 45 minutes in light traffic.
Fernandina Beach to Downtown Jacksonville
Whereas the above locations were located south of the central community, the Fernandina Beach community can be found to the northeast. As part of Nassau County, the city has about 13,100 residents. The most direct route to downtown is taking State Road 200 to I-95 for a distance of around 36.2 miles. During light traffic, this journey will take about 40-50 minutes. The same trip during rush hour can take up to one hour and five minutes.
Yulee to Downtown Jacksonville
The Yulee community is on the larger side of the bedroom communities in the area. With about 28,800 residents, the city is part of Nassau County and can be found about 24.7 miles northeast of downtown Jacksonville. Commuters will need to take State Road 200 to I-95, which passes through downtown. The trip takes about 40 minutes during rush-hour traffic, but traveling during other periods can shave off about five minutes.
Lakeside to Downtown Jacksonville
With about 30,000 people, the Lakeside community is located in Clay County. The town is southwest of downtown Jacksonville, and there are two separate routes travelers can take for this commute. The highway path involves taking I-10 from downtown before connecting with the I-295. The other route is taking the US-17 along a parallel course to the I-295. Both routes can take up to 35 minutes during low traffic. However, rush hour will likely add 15 to 20 minutes to the journey.
Oakleaf Plantation to Downtown Jacksonville
The Oakleaf Plantation community is a planned community partly located within Jacksonville. However, the locality also stretches into Clay County. With a current population of about 20,300, the area is southwest of the downtown area. Commuters will take the I-10 to the FL-23 on a trip with a distance of about 25 miles. The journey will last up to 40 minutes during rush-hour traffic, but clearer roads can save 10 minutes.
Explore Jacksonville & Beyond Today
There are two final things to consider about commuting to the suburbs of Jacksonville. The first is the impact of the area's many bodies of water. With the St. Johns River, Mill Cove, and Doctor's Lake, drivers will need to plan around potential bottlenecks created by bridges. In many cases, there are no convenient alternate routes because the surface streets don't offer bridges. That means it may be necessary to add extra time to the commute, as there may be no way around traffic.
The second element to consider is that this area of Florida is full of green space. Cary, Jennings, and Belmore State Forests can all be found in or near Jacksonville. Additionally, the Timucuan Ecological and Historical Preserve and other unnamed areas are in the surrounding communities. That means many commutes will be longer due to the need to drive around undeveloped spaces.
With advanced preparation and a careful selection of neighborhoods, living in the Jacksonville suburbs can be a great experience.
If you're making the move to Jacksonville, contact The Marganon Group @ RE/MAX Sterling with Florida Real Estate Central at (904) 866-4006 to get in touch with Jacksonville real estate agents who can help you find the Jacksonville home that's right for you.