Best Water Activities in Jacksonville
Posted by Lazaro Marganon on Thursday, April 29, 2021 at 12:40 PM
By Lazaro Marganon / April 29, 2021
Comment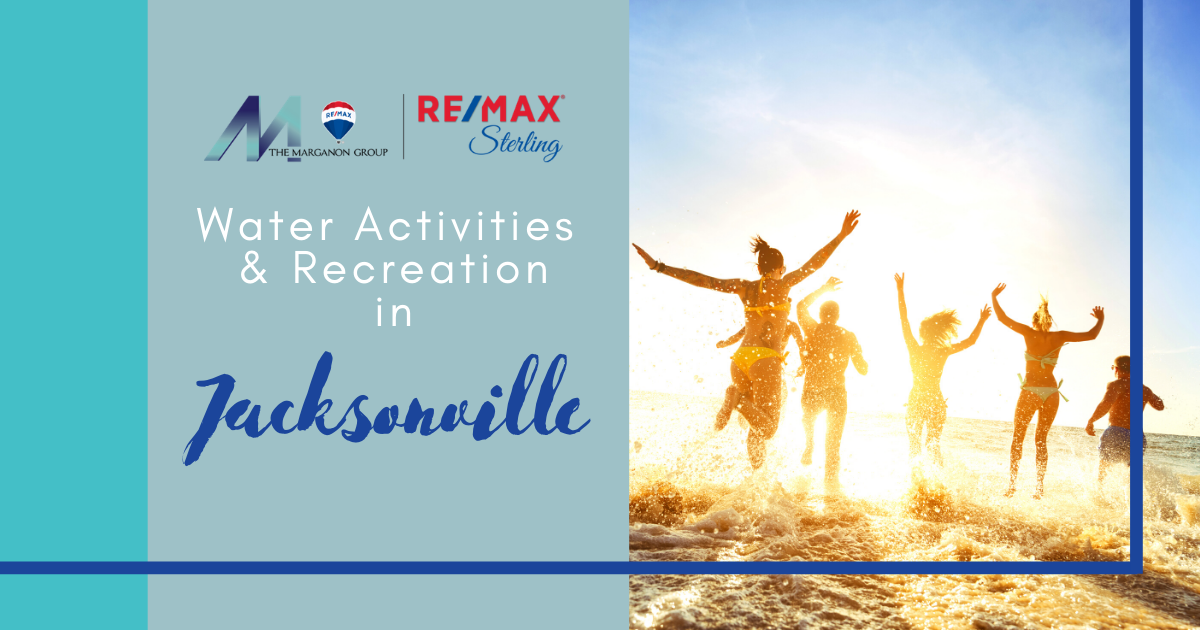 With more than 20 miles of gorgeous beaches, a large park system, plentiful lakes, water view and waterfront homes, and other places to enjoy nature, Jacksonville, Florida, is a year-round playground. Water enthusiasts have an array of options to choose from in addition to easy access to eclectic museums, delicious coastal cuisine, world-class fishing, and a lively art and music scene. However, when the call for outdoor action beckons, the following water recreation activities are a must for Jacksonville residents and visitors to experience.
Adventure Landing at Jacksonville Beach
Adventure Landing Attractions
Four water slides
Wave pool
Splash cove
Pirate's play village
Lazy river
Hydro Halfpipe
One of the best places for people to have a cool time is Adventure Landing at Jacksonville Beach, where there's something for everyone looking for thrills on water and land. One of the highlights for water lovers seeking to avoid sand and pesky jellyfish in a water park environment is Shipwreck Island at Adventure Landing.
In addition to a human-made slow river, there is also a Typhoon Lagoon wave pool and a shallow pool zone for interactive water play, replete with waterfalls. Four extreme water slides compliment smaller ones for the youngest visitors, along with a Teddy Bear Factory for creating cuddly custom friends.
There's much more at this Jacksonville water park than water. Guests can partake in thrilling laser tag matches, play on two unique mini-golf courses, or head to the arcade with over 100 ticket-redemption games. There's a six-cage batting zone with 20-70 mph speed options and two fun kid-friendly roller coasters.
Visitors looking for more intense action can visit Adventure Landing's gator feeding zone or head to the adventure speedway for some go-karting fun. Those who want to experience impossible-to-construct flight and coaster rides will never forget a 'ride' on the Max 3D simulator.
Fishing in Jacksonville's Rivers & Coastline
Anyone looking for a big catch or some of the world's most coveted fish needs to look no further than the expansive coastline and excess of 1100 miles of interior shorelines in Jacksonville. From freshwater and saltwater choices, finding places to fish in Jacksonville is easy.
Fishing on the St. Johns River
Other Fishing Spots in Jacksonville
Stockton Park
Intracoastal Waterway
Nassau Sound Fishing Bridge
Guana River Wildlife Management Area
Fishing on the St. Johns River is an experience like no other. This massive triple-basin zone flows slowly backward and boasts clear waters and blackwater streams. Additionally, over 3,000 lakes connect to the river. These unique features have caused St. Johns to earn the name 'liquid chameleon.'
This fisherman's paradise begins at Vero Beach and traverses over 300 miles and 12 counties before ending at the Atlantic Ocean. Because of this union, fishers can land salt and freshwater species. Some come to the river in search of:
Redfish
Tarpon
Flounder
Sheepshead
Spanish mackerel
Trout
Largemouth bass
Catfish
Crappie
With numerous parks, marinas, docking stations, and preserves along the St. Johns River, one doesn't necessarily need a boat for fishing adventures here.
Fishing on the Intracoastal Waterway
Wetlands, creeks, marshes, and flats line the Intracoastal Waterway near Jacksonville. There are numerous piers and docks as well as local parks for land-based fishing. However, many opt to fish from kayaks, canoes, and boats.
Fishing from Jacksonville's Beaches
Shore fishing and deep-sea fishing are popular along the ocean in Jacksonville. There are dozens of natural and artificial reefs to boost anglers' luck for saltwater fish favorites. Popular beach fishing spots include Mayport Village, Nassau Sound's fishing bridge, Jacksonville's Beach Pier, and offshore amid the Gulf Stream.
Take a Kayak Tour
Other Kayak Tour Services
North Beach Adventures
Adventures Up the Creek
Amelia Island Adventures
Amelia Island Kayak Excursions
Hanna Park Canoe & Kayak Tours, also known as Adventure Kayak Florida, offers self and guided tours, rentals, and lessons. Whether paddle boarding, canoeing, or kayaking is on the agenda, these experts have visitors covered. There is a campsite here along with a park store, making overnight adventures simple.
Kayak Amelia is another top outfitter for kayaking in Jacksonville that also offers self-guided and pro-guided tours and rentals. Instruction is available, and there is a snack bar and a nice place to swim on the shoreline at the boat launch.
Spend the Day at the Beach
There's no denying the appeal of the gorgeous beaches along the Jacksonville coastline. Here are some of those favored by travelers and locals alike.
Jacksonville Beach
Looking for a large beach with easy access and a wide range of things to do? Jacksonville Beach is the ideal spot to go. Sixty blocks of ultra-busy beaches feature sunbathers, volleyball games, boat races, surfing, and more. The Sea Walk Pavilion hosts events and concerts, and the pier and boardwalk offer numerous treats and surprises.
Atlantic Beach and Neptune Beach
While technically two different beaches, Neptune and Atlantic beaches meet up in the middle of two relaxed beach towns. Miles of white sands and fantastic surf provide excellent surfing and swimming opportunities. Rental shops, restaurants, and boutiques are plentiful too!
Take an Exciting Boat Tour
Other Boat Tour Services
Crazy Fish Airboat Tours
Jacksonville Dolphin and Alligator Tours
Kat-Man-Tay Tours
Amelia River Cruises & Charters
Sea Serpent Tours
From river tours, sailing excursions, water taxis, and wild airboat rides, there are boat tours beyond deep sea charters in Jacksonville. The top river tours are with Kraken Cycle Boats, which are self-powered catamarans designed for groups.
Now and Zen Sailing Charters offers a five-star luxury sunset sail for private and communal groups. Book a day cruise, or plan to spend a night or more with advanced reservations. St. Johns River Taxi & Tours takes passengers to nearby popular destinations in addition to Ecotourism sunset cruises and trips with live entertainment.
Take a thrilling boating trip off the Intracoastal Waterway with Crazy Fish Airboat Rides. Get onboard a 600-horsepower tour boat and see several sites of interest along the waterway while capturing photos of helicopters, planes, and more placed in a giant naval ship docked at Mayport. Of course, dolphin sightings are guaranteed, in addition to viewing other amazing marine animals.
Jacksonville Is Filled With Water Recreation
Whether water parks are the preference, getting out into the sea, or taking guided tours around the waterways are desired, Jacksonville has many options for everyone. Even better, there is excellent highway and interstate access that gets locals and travelers to most of these destinations quickly and with ease. Take time to explore all that Jacksonville offers on both land and water — after all, Florida's best destination for exploration is right here.
If you're making the move to Jacksonville, contact The Marganon Group @ RE/MAX Sterling with Florida Real Estate Central at (904) 866-4006 to get in touch with Jacksonville real estate agents who can help you find the Jacksonville home that's right for you.