Best Sarasota, FL Suburbs: Sarasota Suburbs Living Guide
Posted by Lazaro Marganon on Monday, July 10, 2023 at 9:00 AM
By Lazaro Marganon / July 10, 2023
Comment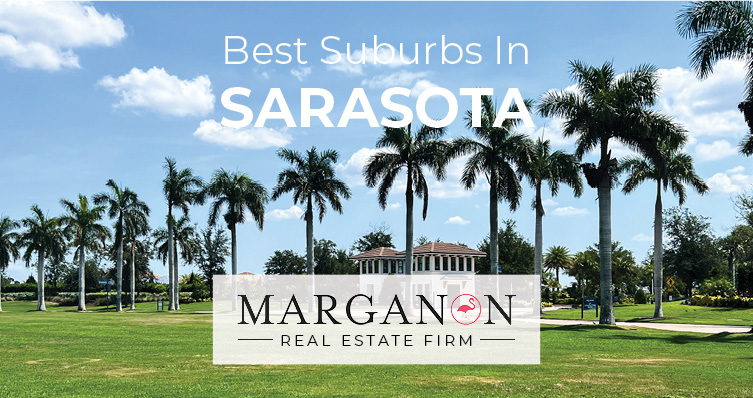 Sunny Sarasota is a dream destination for those looking to put down roots in a coastal city with plenty of sunshine, culture, and opportunity. But not all Sarasota is the same — different parts of town have unique characteristics, amenities, and attractions.
This vibrant city along the Gulf Coast offers a plethora of attractive suburbs, each with its own unique charm and amenities. While each area offers a variety of amenities and attractions, they each maintain the sunny seaside charm that makes Sarasota so desirable.
To give you a better idea of what to expect from the Sarasota area, here are some of the best neighborhoods and suburbs in the area:
Bradenton: A Suburban Haven with Rich History and Natural Beauty
Just 13 miles north of Sarasota, the suburb of Bradenton is a hidden gem. This charming community, nestled along the Manatee River, offers a blend of rich history, cultural attractions, and stunning natural beauty.
Bradenton is home to the Manatee Village Historical Park, where you can step back in time and experience Florida's pioneer era. The Bishop Museum of Science and Nature is another must-visit destination, featuring interactive exhibits and a planetarium.
For nature enthusiasts, Bradenton boasts an abundance of outdoor recreational opportunities. Take a stroll through the Village of the Arts, an eclectic neighborhood filled with art galleries, studios, and charming shops.
The Riverwalk, a 1 1/2-mile park along the waterfront, offers scenic trails, a playground, and an amphitheater for community events. Bradenton maintains a close-knit community feel while providing access to modern conveniences.
Bradenton Hot Spots
of the top hot spots in Bradenton:
Shopping
Dining
Nightlife
Lakewood Ranch: A Master-Planned Community with Endless Amenities
If you're looking for a suburban oasis that offers a resort-like lifestyle, Lakewood Ranch is the place to be.
This award-winning master-planned community spans over 50 square miles and is home to around 40,000 residents. Lakewood Ranch boasts an impressive lineup of amenities, including championship golf courses, tennis courts, fitness centers, and miles of scenic trails for walking and biking.
The community's Main Street is a vibrant hub of activity featuring boutique shops, gourmet restaurants, and a lively atmosphere. Lakewood Ranch also hosts a variety of events and festivals throughout the year, creating a strong sense of community and camaraderie among its residents.
With highly rated schools, beautiful neighborhoods, and a wide range of housing options, Lakewood Ranch is a top choice for any homeowner seeking a balanced suburban lifestyle.
Lakewood Ranch Hot Spots
Shopping
Dining
Nightlife
Cafes
Siesta Key: Where Beachfront Living Meets Relaxed Island Vibes
Siesta Key, an idyllic barrier island located just off the coast of Sarasota, offers the perfect blend of beachfront living and relaxed island vibes.
Known for its pristine, powdery white sand beaches, Siesta Key has consistently been ranked among the best beaches in the United States. Residents of this charming suburb enjoy easy access to the turquoise waters of the Gulf of Mexico and breathtaking sunsets that paint the sky each evening.
In addition to its stunning natural beauty, Siesta Key offers a laid-back atmosphere with a vibrant village center. Explore the unique shops, eclectic restaurants, and lively bars that line Siesta Key Village.
The island also hosts regular events, such as the Siesta Key Farmers Market and the Siesta Key Crystal Classic sand sculpting competition. Whether you're looking for a beachfront condo or a luxurious waterfront estate, Siesta Key offers a range of housing options to suit your preferences.
Siesta Key Hot Spots
Shopping
Dining
Nightlife
Cafes
Palmer Ranch: Serene Living Surrounded by Nature
Nestled amidst lush landscapes and picturesque lakes, Palmer Ranch offers a serene suburban lifestyle that is cherished by its residents.
This master-planned community spans over 10,000 acres and features a variety of neighborhoods, each with its own unique identity. Palmer Ranch is known for its abundant green spaces, nature trails, and well-maintained parks, providing ample outdoor recreation and relaxation opportunities.
One of the highlights of Palmer Ranch is the Legacy Trail, a 10-mile paved trail that winds through scenic landscapes and connects to other popular trails in the area.
Residents can enjoy biking, jogging, or simply taking a leisurely stroll along this picturesque pathway. Palmer Ranch also boasts several golf courses, including the prestigious TPC Prestancia, which offers world-class golfing experiences.
Palmer Ranch Hot Spots
Shopping
Dining
Nightlife
The Meadows: A Golfer's Paradise with a Strong Sense of Community
If you're an avid golfer or simply appreciate a well-manicured landscape, The Meadows is the perfect suburb for you. This sprawling community is home to three golf courses, each offering its own unique challenges and stunning views.
The Meadows Country Club is the centerpiece of the community, providing residents with access to top-notch amenities, including tennis courts, fitness facilities, and social events.
Beyond its golfing allure, The Meadows is renowned for its strong sense of community. Residents enjoy a wide range of social clubs and activities, fostering connections and friendships among neighbors.
The community is also committed to preserving its natural beauty, with over 80 acres of lakes, ponds, and wildlife habitats. With its convenient location near downtown Sarasota and a variety of housing options, The Meadows offers a sought-after suburban lifestyle.
The Meadows Hot Spots
Shopping
Dining
Nightlife
Gulf Gate Estates: Affordable Living with Easy Access to Amenities
Gulf Gate Estates is an excellent choice for those seeking affordable living with easy access to amenities.
This well-established neighborhood offers a range of housing options, including single-family homes and condominiums, at a more affordable price point than some of the other suburbs in Sarasota. Gulf Gate Estates is known for its strong sense of community and friendly atmosphere.
The neighborhood's central location provides residents with convenient access to various amenities. Gulf Gate Village, the community's commercial hub, features an array of shops, restaurants, and entertainment options.
With its proximity to Siesta Key Beach, residents can also enjoy the natural beauty and recreational opportunities the nearby coast offers. Gulf Gate Estates is an ideal neighborhood for first-time homebuyers, retirees, and young professionals looking for affordability without compromising on convenience.
Gulf Gate Estates Hot Spots
Shopping
Dining
Southgate: A Suburban Gem with a Rich Cultural Scene
Nestled between downtown Sarasota and Siesta Key Beach, Southgate offers a suburban lifestyle with easy access to both urban and coastal attractions. This well-established neighborhood is known for its tree-lined streets, lush landscapes, and charming mid-century modern homes.
Southgate's close proximity to cultural attractions, such as the Sarasota Opera House and the Florida Studio Theatre, makes it an ideal choice for those seeking a rich cultural scene.
Residents of Southgate also enjoy convenient access to shopping centers, restaurants, and recreational facilities. Westfield Southgate, a popular shopping destination, is located within the neighborhood, offering a wide range of retail options. Southgate is also home to several parks, including Arlington Park, which features walking trails, tennis courts, and a swimming pool.
With its diverse housing options and excellent location, Southgate offers the best of suburban living with a touch of urban flair.
Southgate Hot Spots
Shopping
Dining
Nightlife
University Park: Where Nature and Luxury Living Converge
Located just north of Sarasota, University Park seamlessly blends natural beauty with luxury living. This upscale suburban community is known for its meticulously designed neighborhoods, lush landscaping, and championship golf courses.
The centerpiece of University Park is the University Park Country Club, which offers residents access to world-class amenities, including a golf course, tennis courts, a fitness center, and fine dining options.
Nature enthusiasts will appreciate the abundance of green spaces and preservation areas within University Park. The community is home to the 27-acre Nathan Benderson Park, which features a picturesque lake, walking trails, and a venue for rowing and other water sports. With its gated entrances and well-maintained surroundings, University Park offers a secure and tranquil living environment for its residents.
University Park Hot Spots
Shopping
Dining
Bird Key: Exclusive Island Living with Spectacular Waterfront Views
For those seeking exclusive island living with spectacular waterfront views, Bird Key is the epitome of luxury.
This private island, located between downtown Sarasota and Lido Key, offers a prestigious address and unparalleled access to the waters of Sarasota Bay. Bird Key is home to a collection of lavish estates, many of which boast private docks and panoramic water views.
Residents of Bird Key enjoy a luxurious lifestyle, with easy access to boating, fishing, and other water-based activities. The island is also conveniently located near the vibrant cultural scene of downtown Sarasota, providing residents with an abundance of dining, shopping, and entertainment options.
Bird Key Hot Spots
Shopping
Dining
Nightlife
Longboat Key: Where Luxury Living Meets Pristine Beaches
Longboat Key, a barrier island nestled between Sarasota Bay and the Gulf of Mexico, is synonymous with luxury living and pristine beaches. This upscale suburb offers a mix of beachfront estates, luxury condominiums, and exclusive communities. Longboat Key's 12 miles of white sand beaches provide residents with a tranquil and picturesque setting for relaxation and recreation.
In addition to its stunning beaches, Longboat Key is home to several world-class golf courses, tennis clubs, and marinas. The island's dining scene is equally impressive, with a wide range of upscale restaurants offering diverse culinary experiences.
With its serene atmosphere, upscale amenities, and breathtaking natural beauty, Longboat Key is a coveted destination for those seeking a sophisticated coastal lifestyle.
Longboat Key Hot Spots
Shopping
Dining
Nightlife
Parrish: A Serene Suburb with a Small-Town Feel
Nestled in the northern part of Sarasota County, Parrish offers a serene suburban lifestyle with a small-town feel. This charming community is characterized by its sprawling landscapes, tranquil lakes, and friendly atmosphere. Parrish is ideal for those seeking a slower pace of life while enjoying convenient access to Sarasota's attractions.
Parrish is home to several parks and nature preserves, providing ample outdoor recreation and exploration opportunities.
The community's close-knit atmosphere is exemplified by its annual events and festivals, which unite residents for celebrations and community bonding. With its affordable housing options, top-rated schools, and a variety of recreational amenities, Parrish offers a suburban haven for families and retirees alike.
Parrish Hot Spots
Shopping
Dining
Nightlife
Find Your Perfect Suburban Retreat in Sarasota with Marganon Real Estate Firm
Sarasota, Florida, offers a diverse range of suburbs, each with its own unique appeal and amenities. Whether you're drawn to the beachfront lifestyle of Siesta Key or the luxury living of Bird Key, Sarasota has a suburb that will meet your desires.
From master-planned communities with resort-like amenities to quaint neighborhoods with a strong sense of community, each suburb in Sarasota offers a distinct living experience.
If you're making the move to Sarasota, contact Marganon Real Estate Firm with Florida Real Estate Central at (904) 866-4006 to get in touch with Sarasota real estate agents who can help you find the Sarasota home that's right for you.