The Best Parks in Jacksonville, FL - 2022 Recreation Guide
Posted by Lazaro Marganon on Monday, July 12, 2021 at 10:40 AM
By Lazaro Marganon / July 12, 2021
Comment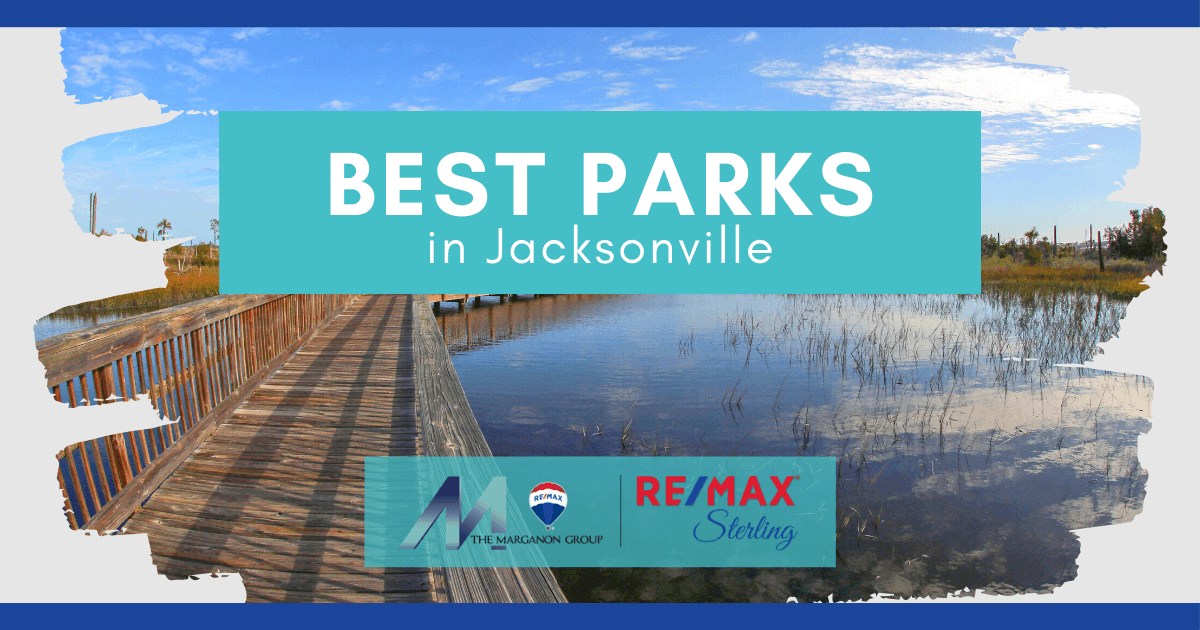 It's no secret there's an abundance of sleek new construction homes and desirable waterfront real estate in Jacksonville, Florida. Homeowners also enjoy plenty of local parks seamlessly integrated within the best neighborhoods in Jacksonville. Most are absolutely free to visit, while some require nominal entrance fees and boat launch costs. When residents wish to embark on a boating trip, climb a jungle gym, cast a fishing line, or hike a lush trail, the parks in Jacksonville are equipped to satisfy every need. Read on to learn about all of the best parks in Jacksonville, Florida.
Riverside Park
Riverside Park Amenities
Two spring-fed lakes
Stone bridges and walking paths
Playground
Basketball and tennis courts
For over 100 years, locals have treasured the abundance of beauty at Riverside Park. It all started with a 14-acre donation of land in West Jacksonville back in 1869. By the early 1890s, Riverside Park had expanded greatly. Designers included numerous ornamental stone bridges and walking paths in addition to a carriage lane.
Two refreshing spring-fed lakes are stocked with fish and ducks. A sizable playground is adjacent to the basketball and tennis courts, which are lighted after dusk. Dogs are welcomed at Riverside Park but must be kept on a run or leash and under control at all times.
Riverside Park Additional Information
Hours: Dawn to 9 p.m. daily
Stockton Park
Stockton Park Amenities
Along St. Johns River
Canopy
Benches
Picnic tables
Water fountains
Fishing
Stockton Park is another local gem with a rich history and was added to the National Register of Historic Places in 2004. Named for the developer and active public service member John N. C. Stockton, the park is small but beloved by people who live in homes in the Ortega neighborhood. Stockton is nestled along the banks of the St. Johns River and is frequented by runners, dog walkers, and those looking for a playground.
Amenities available include a large canopy, benches, picnic tables, and water fountains. One can fish from the banks or cast a line from a small boat to land several varieties of freshwater species.
Parking is limited at Stockton Park, and there are no restroom facilities besides portable bathrooms.
Stockton Park Additional Information
Phone: (904) 630-2489
Hours: 6 a.m – dusk daily
Mandarin Park
Mandarin Park Amenities
Fishing
Canopy
Playground
Tennis and pickleball courts
Large pier and boat launches
Shuffleboard
Located next to the Julington Creek neighborhood in southeast Jacksonville, Mandarin Park was appropriately named after the tasty oranges the region is known for. Fishing is prevalent here, as the water is rated for any size vessel, and the fish typically bite year-round. Bring along a picnic or something to grill at the park's canopy or while watching the youngsters play in the soft surface playground.
Since its first opening in 1989, Mandarin Park has grown to include boat launches, tennis courts, a large pier, shuffleboard, and pickleball courts. One feature that truly makes this park stand out is that just 1000 feet from the shoreline, there's a manatee zone that sees pods rather frequently during migration seasons. Bathrooms are plentiful, as is parking for cars and boat trailers.
Mandarin Park Additional Information
Phone: 904-630-2489
Hours: Sunrise to 10 p.m. daily
Castaway Island Preserve
Castaway Island Preserve Amenities
Marshland wildlife
Wooden boardwalk
Observation platform
Kid-friendly nature trail
Summer programs
Located along the Intracoastal Waterway, visitors can explore nature and play the day away at Castaway Island Preserve, the best place in the community to spot marshland wildlife. In addition to the preserve's wooden boardwalk, visitors can get an impressive overhead view from a tall observation platform above the waterway.
Castaway also has a kid-friendly nature trail, and the marshes can be explored via kayak or canoe. During the summer season, the park hosts a theater-style camp and other scheduled programs.
Castaway Island Preserve Additional Information
Phone: 904-630-2489
Hours: Daily 7 a.m. to sunset
Big Talbot Island State Park
Big Talbot Island State Park Amenities
Bird watching
Fishing
Timucuan Trail
Petrified trees beach
Big Talbot Island State Park is situated on a unique sea island and serves as a nature preserve and place to study wildlife and local flora. Bird watching and photography opportunities are excellent year-round in this habitat that includes shoreline trails and marshes through a maritime forest.
Visitors can launch boats for fishing at the north end of the park or explore the beach known as the 'boneyard' due to the presence of petrified trees that once donned the shoreline. It's common to see in-line skaters and bicyclists taking advantage of the 3.9-mile paved Timucuan Trail that traverses the boardwalk zone.
Big Talbot Island State Park Additional Information
Phone: 904-251-2320
Hours: 8 a.m. – sundown daily / boat ramp open 24 hours
Fees: $2 for fishing pier, $3 per vehicle
Ed Austin Regional Park
Ed Austin Regional Park Amenities
300 acres
Dog park
2.7-mile trail
Playground
Shaded picnic areas
Baseball and soccer fields
Skate park
Disc golf course
Locals wanting to play team sports or hit the trails with their dogs can find just about everything they need at Ed Austin Regional Park in Jacksonville. Once known as District II Regional Park, the name was changed in 2005 to honor former mayor Ed Austin. Today, the park protects more than 300 acres of coastal habitat adjacent to the soothing San Pablo River.
A dog park and a 2.7-mile wildflower-filled trail welcome leashed pets alongside hikers, bikers, and joggers. Plenty of playground equipment and shaded picnic tables are on-site, as well as a concession stand and bathrooms. This is an excellent place for bird watching, especially in the months between October and April.
Sports enthusiasts and local teams meet here routinely to take advantage of the lighted baseball and soccer fields. A large skate park and the city's top disc golf course ensure there's something for all guests to enjoy. With 18 holes, Ed Austin Regional Park is host to weekly events and disc golf tournaments for novices and professional players alike.
Ed Austin Regional Park Additional Information
Phone: 904-630-2489
Hours: 7 a.m. – 10 p.m. daily
Jacksonville Parks & Beaches Keep the Community Active
So many people love the coastal lifestyle, and the mild weather makes it possible to enjoy the best water activities in Jacksonville year-round. There are dozens of parks situated near Jacksonville's single-family homes. Be sure to check the city's parks department website to discover more places to explore, play, and gather.
If you're making the move to Jacksonville, contact The Marganon Group @ RE/MAX Sterling with Florida Real Estate Central at (904) 866-4006 to get in touch with Jacksonville real estate agents who can help you find the Jacksonville home that's right for you.