Best Outdoor Activities in Jacksonville
Posted by Lazaro Marganon on Friday, April 16, 2021 at 12:05 PM
By Lazaro Marganon / April 16, 2021
Comment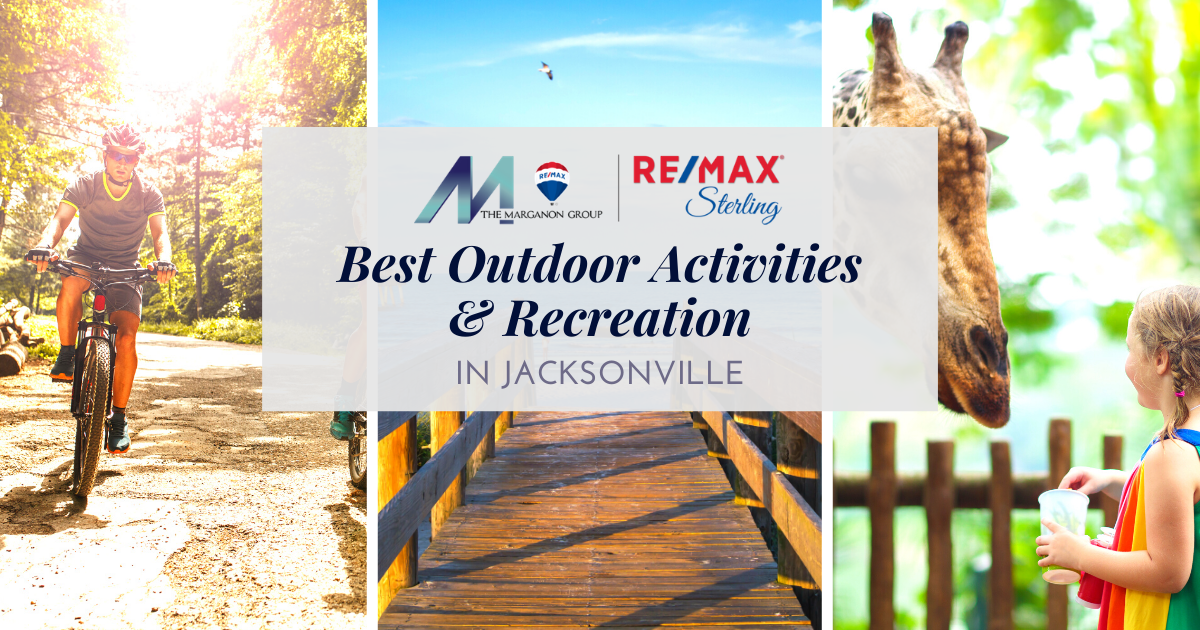 Jacksonville, Florida, is one of the Sunshine State's premier cities for outdoor activities. From parks and trails to swimming pools and pristine beaches, fun in the sun is possible throughout the year. Current residents, visitors, and those planning to move to Jacksonville can soak in the rays with the following outdoor adventures.
Water Recreation in Jacksonville
Jacksonville Water Amenities
Shipwreck Island Waterpark
Jacksonville Beach Pier
Intracoastal Waterway
George Crady Bridge Fishing Pier State Park
St. Johns River
Brooks Family YMCA
Fort Caroline Club
When the Florida sunshine is at its peak and steaming hot, there are plenty of places around Jacksonville to cool off. A visit to Shipwreck Island Waterpark is a sure way to take the sizzle out of the temperature. People of all ages have plenty of options with multiple slides, a 500,000-gallon wave pool, water cannons, waterfalls, and a lazy river.
Anglers who want to drop a fishing line have plenty of options at nearby fishing locations such as the Jacksonville Beach Pier, the Intracoastal Waterway, and George Crady Bridge Fishing Pier State Park. Accessing the St. Johns River to fish is easy from local parks like Stockton Park, Stinson Park, and Memorial Park. The parks also offer amenities like picnic tables, playgrounds, boat docks, and a non-motorized launch area.
Any time of year is an excellent time for swimming, especially in Brooks Family YMCA's heated pool. The city also has public and membership pools at Fort Caroline Club and the Aquatic Complex. Even more convenient, of course, is having a pool in your backyard.
Jacksonville Hiking and Biking Trails
Jacksonville Trails Amenities
Jacksonville-Baldwin Rail-Trail
Tillie Fowler Park Loop
Jacksonville Arboretum and Garden
When getting an up-close view of Jacksonville's scenic areas is the plan for the day, finding plenty to see and do is possible along area hiking and biking trails. A visit to Jacksonville-Baldwin Rail-Trail is a good place to start. The 14.5-mile trail is part of the Rails to Trails program and is open to hikers, bicyclists, and rollerblade enthusiasts from sunrise to sunset. Running parallel to the trail is a separate trail for horseback riding. Available amenities include access to restrooms, a drinking fountain, benches, picnic tables, and shelters.
For a short 2.3-mile jaunt suitable for all skill levels, the Tillie Fowler Park Loop offers an enjoyable walk along a pine- and palmetto-lined path. Leashed canine companions are welcome on the trail, and the park features a playground and a dog park.
The Jacksonville Arboretum and Garden connects nature with its network of seven trails through the lush landscape, which is a lovely backdrop for taking pictures. The gardens are open daily from 8 a.m. to 7 p.m. Canines on a leash are welcome.
Jacksonville Parks
Jacksonville Parks Amenities
Riverside Park
John Gorrie Dog Park
Beach and Peach Urban Park
Willowbranch Park
Hemming Park
Kathryn Abbey Hanna Park
City parks offer residents and visitors the convenience and fun of enjoying a day outdoors without much travel time. In Riverside, one of Jacksonville's best neighborhoods, visitors have access to the historic 14-acre Riverside Park duck pond, spring-fed lake, playground, picnic tables, basketball court, and the John Gorrie Dog Park.
At Beach and Peach Urban Park, there's a little something for everyone. The park features a five-acre pond, fishing, a hiking and biking trail, a launch point for non-motorized boats, and picnic shelters.
The 15-acre Willowbranch Park, established in 1916, features towering trees in a quiet setting ideal for walking and relaxing. It also offers baseball, basketball, picnic shelters, and a playground.
The first and oldest park in the city is Hemming Park, located in downtown Jacksonville's hustle and bustle. The 1.5-acre park featuring a brick-paved square, water decor, and monument was established in 1857 and remains a focal point and gathering spot for socializing, relaxing while shopping, and scheduled events.
If an extended weekend close to Mother Nature sounds exciting, Kathryn Abbey Hanna Park offers cabins, tent sites, and RV camping. It's also fun as a day visit with hiking and biking trails, a splash park, and the best surfing spot in Northeast Florida.
Beaches in Jacksonville
Jacksonville Beaches Amenities
Atlantic Beach
Neptune Beach
Mayport Beach
Jacksonville Beach
If a day of sun, sea, and sand is the plan, pick your choice of location from among the 22 miles that make up Jacksonville's beaches. There are four beaches to choose from located just minutes from downtown: Atlantic Beach, Neptune Beach, Mayport Beach, and Jacksonville Beach. Bring a beach chair and sunscreen to enjoy lounging by the ocean or building a sandcastle. During the nesting season that runs from May through October, sea turtles may be part of the beach crowd. There is also scuba diving, snorkeling, jet-skiing, paddle boarding, and sailing for those who prefer diving in.
The beaches are near plenty of restaurants, but sun lovers can bring a charcoal or gas grill and create personalized meals. Jacksonville's beaches are also dog-friendly from October 1 to the end of March. From April 1 through the end of September, canines cannot be on the beach between 9 a.m. and 5 p.m.
Other Outdoor Activities in Jacksonville
Other Outdoor Jacksonville Amenities
Catty Shack Ranch Wildlife Sanctuary
Jacksonville Zoo and Gardens
Golf courses
When it's time to get out and about enjoying outdoor activities, there are plenty to choose from in Jacksonville. At the Catty Shack Ranch Wildlife Sanctuary, taking a walk on the wild side means getting up close to big cats and other wildlife in their forever home. The Jacksonville Zoo and Gardens has an even larger variety of animals for visitors to see and learn about, along with many appropriately themed botanical gardens intertwined among the wildlife habitats.
Jacksonville is also home to several golf courses and homes near golf courses.
Outdoor Jacksonville Has a Lot to Offer
From its historical parks to modern-day architecture and technology, Jacksonville offers a look at the past while enjoying new activities. Whether the itinerary for the day is lounging at the beach enjoying the breeze from the Atlantic, fishing at one of the many lakes, hiking a scenic trail in the park, or camping under the stars, Jacksonville's menu of outdoor activities serves ample helpings of fun, adventure, and excitement for all ages.
If you're making the move to Jacksonville, contact The Marganon Group @ RE/MAX Sterling with Florida Real Estate Central at (904) 866-4006 to get in touch with Jacksonville real estate agents who can help you find the Jacksonville home that's right for you.