Best Jacksonville, FL Suburbs: Jacksonville Suburbs Living Guide
Posted by Lazaro Marganon on Friday, June 11, 2021 at 10:23 AM
By Lazaro Marganon / June 11, 2021
Comment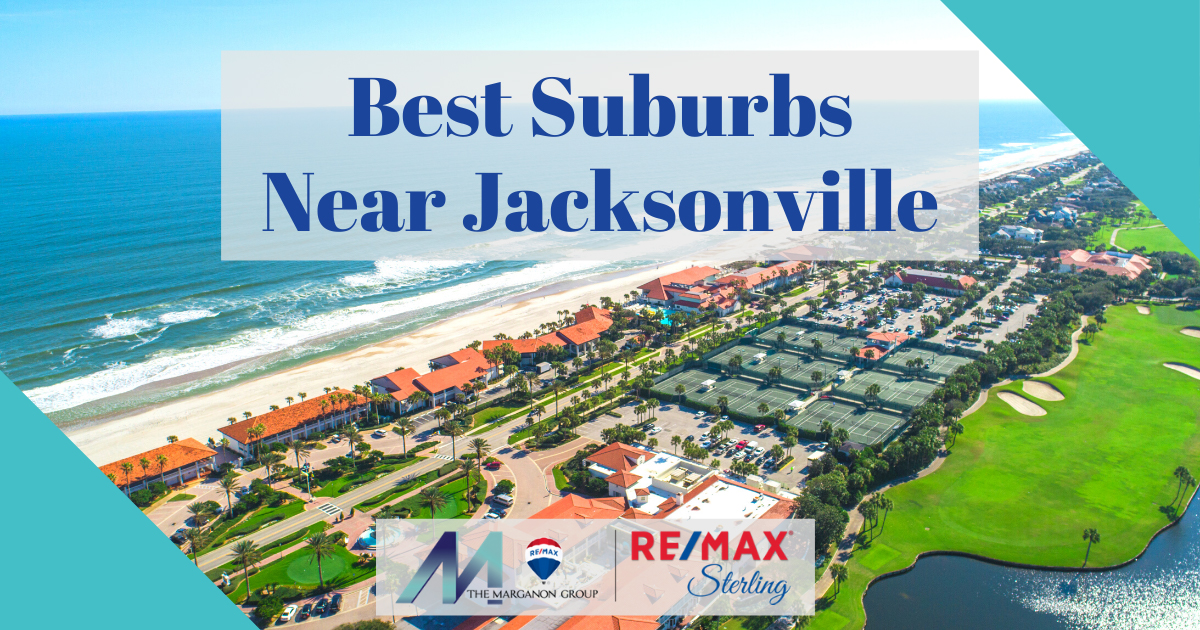 Jacksonville, Florida, is one of the largest communities in the southeastern U.S. As the center of Duval County, in many ways, the city and county governments act as one. The 2021 population of the city is estimated at almost 930,000, but the metro area is home to well over 1.5 million people. That leaves plenty of opportunities for new residents to select homes in the region surrounding the central city. Here are a few things to consider before choosing which of the following best suburbs near Jacksonville you're most interested in calling home.
Fleming Island
Fleming Island Amenities
Black Creek Park and Trail
Several public and private schools
Quick access to U.S. HWY 17 and County Road 220
Lots of waterfront areas
Access to Eagle Harbor Golf Club
Fleming Island was named after George Fleming, who received the island as a land grant from a Spanish king. Serving as an unincorporated Clay County community, the current population is listed at 27,126. The area can be found about 21 miles southwest of Jacksonville. Much of the region was undeveloped or farmland until the U.S. Navy created an auxiliary airfield in 1942. Serving Naval Air Station Jacksonville, the runways operated until the jet aircraft of the 1960s required longer lanes.
As a master-planned community, Fleming Island was rebuilt specifically to meet the needs and requests of the residents. Despite its small size, it has a wide variety of retail and grocery stores. The county's public library headquarters and the Clay County Soccer Club can be found within the community. In fact, new residents can find many of Jacksonville's outdoor activities here, such as tennis, golf, and hiking. Being so close to several bodies of water, it is also possible to find locations for boating, fishing, canoeing, and swimming. As for places to live, the community offers multiple options for Fleming Island waterfront homes or homes near Fleming Island's golf courses.
Nocatee
Nocatee Amenities
300 acres of parks and green space
Fast access to U.S. 1
Plenty of waterways
Palm Valley Golf Club
Nocatee Splash Waterpark
Located in St. Johns County, Nocatee is another planned community. It's also unincorporated but still recognized by the Census count. The most recent population was 14,787, divided into more than 20 neighborhoods. Less than two decades old, the community is designed to blend building development and natural beauty. New residents can find almost everything they need, including shopping, eateries, recreational facilities, schools, and office buildings.
The finished plan is designed to offer nearly 15,000 homes, plus public and private schools. The average price of homes in Nocatee is about $798,000, but potential buyers can find a wide range available. Affordable purchases can be found for less than $500,000, while other luxury homes approach $3 million. Those looking for Nocatee townhomes and condos can shop at the lower end of the price range. While most of the community is in St. Johns County, a small portion crosses over into Duval. That may be an important distinction for the selection of schools and some county services.
Fruit Cove
Fruit Cove Amenities
Great views of St. Johns River
Alpine Groves and other parks
Race Track Rd is a direct route to I-95
Great waterways for boating and fishing
With a population of just over 16,000, Fruit Cove is also located within St. Johns County. Unlike many other neighborhoods in the area, Fruit Cove is almost entirely located on dry land. However, the St. Johns River does trace the western border.
As a bedroom community, many of the residents commute to Jacksonville or other regions of the metro area. As a result, the driving time is a bit longer than average at 30–45 minutes per trip. Fruit Cove does have a tourism base stemming largely from the presence of golf courses or other attractions.
The overall median real estate price for Fruit Cove is around $427,000, making it one of the more expensive areas of the state. However, average rental prices are among the lowest in Florida at $1,058. That potentially makes it a great community for new residents of the state. Unlike many other communities in the metro area, much of the housing stock is older homes. The dwellings here were largely built between 1970 and 2000.
Atlantic Beach
Atlantic Beach Amenities
Views of the Intracoastal Waterway
Quick access to beaches
Several neighborhoods overlook the Atlantic Ocean
Major roads like Mayport Rd and Atlantic Blvd
Located in Duval County, Atlantic Beach has a current population of about 13,900. This is a gain of around 10% since the 2010 population estimate. The community is part of the Jacksonville Beaches collective. Partially independent, the city has its own local government but also votes for Jacksonville mayoral elections. The Jacksonville city council also has representation from Atlantic Beach to serve the area's concerns.
Atlantic Beach was formally created in 1926 on the site of a former tourist hotel called the Continental. Over the years, the city expanded by annexing other communities and grew following the Mayport Naval Station and Mathews Bridge. The area is about 13 square miles, of which only about 3.5 miles is solid land. That means several great opportunities for waterfront homes and water view homes in Atlantic Beach, with all homes having a median value of around $454,000.
Neptune Beach
Neptune Beach Amenities
Several neighborhoods along the Intracoastal Waterway
Lots of homes overlooking the Atlantic Ocean
Atlantic Avenue and 3rd Street are major roads
Jarboe Park
Neptune Beach is one of the smallest suburbs in terms of population, but its attractiveness means it's growing. In 2010, the community reported 7,037 residents. By 2019, the number grew to 7,259. This represents a healthy increase of around 3%. The total area of the city is 6.85 square miles, but 66% of that is water.
Neptune Beach is one of few beachfront communities that became partially independent when other towns consolidated with Jacksonville. As a result, residents vote in Jacksonville elections but also receive certain services from a local government. Potential homeowners will pay a median home price of about $506,000, and renters average $1,745 per month.
Neptune Beach Hotspots
Neptune Beach Nightlife
Neptune Beach Restaurants
Sawgrass
Sawgrass Amenities
Home views of the Atlantic Ocean
Several small lakes and rivers for water lovers
Several nearby beaches
Florida State Road A1A provides a quick travel route
Home to the Players Championship golf tournament, Sawgrass is an unincorporated area in St. Johns County. The population as of 2010 was 4,880, which was a slight decrease from the 2000 numbers. The community is small at only 3.2 square miles, but only about 4% of the city is water. As of 2015, the average home value was about $339,000. This average was split by different costs for different types of homes. Detached housing averaged $386,000, while Sawgrass townhomes were much cheaper at an average of $169,000.
The area is separated into two separate subdivisions. TPC Sawgrass Players Club is a luxury gated community with 16 neighborhoods. Spread out over 1,200 acres, the region includes housing areas, a country club, and a golf course. The Sawgrass Country Club subdivision comprises 38 neighborhoods, plus a private golf course and beach club.
Sawgrass Hotspots
Sawgrass Shopping
Sawgrass Nightlife
Sawgrass Restaurants
Palm Valley
Palm Valley Amenities
Variety of natural and artificial waterways
Great views of the Intracoastal Waterway
TPC Sawgrass Golf Resort
Florida State Road A1A access
With a nickname like "Paradise Valley," this has to be a beautiful community. Located in St. Johns County, Palm Valley has a population of about 20,019. For much of its history, the community stood as farmland. Settlers raised cattle and farmed to make a living. Recently, most of the community has been replaced with luxury housing set against the Intracoastal rivers and canals.
The median home value for Palm Valley is about $477,000, with 76% of residents being homeowners. However, several rental properties do exist, with a median rent of around $1,400. As for the commute, 91.7% of Palm Valley residents drive alone to work. However, nearly a third have driving times shorter or about the same as the national average of about 26 minutes.
Jacksonville Beach
Jacksonville Beach Amenities
Close to the Intracoastal Waterway
Quick access to multiple highways
Multiple beachfront properties
Multiple public parks
Officially settled in 1831, Jacksonville Beach had a 2019 population of 23,628. This was more than a 10% growth from the 2010 population estimate. Water fills nearly 67% of the community borders, so those desiring waterfront Jacksonville Beach homes may find the perfect haven. Originally called Pablo Beach, residents have a local government and a vote in Jacksonville elections.
The median home price for Jacksonville Beach is $455,000, and the community has a total of almost 11,000 housing units. Around 29% of homes cost between $377,000 and $503,000, making that the largest market segment. However, opportunities exist at nearly all price levels, with about 14% of homes under $251,000 and 8.5% available at or above the $1 million range. The average rental cost is $2,135 a month.
Jacksonville Beach Hotspots
Find Your Jacksonville Suburb Home
Jacksonville, Florida, is one of the fastest-growing communities in the nation. However, new residents don't have to live in the city. With a little research, anyone can find a little slice of Florida heaven.
If you're making the move to Jacksonville, contact Marganon Real Estate Firm with Florida Real Estate Central at (904) 866-4006 to get in touch with Jacksonville real estate agents who can help you find the Jacksonville home that's right for you.