5 Best Beaches Near Jacksonville: Surf, Sand & Sun Near You
Posted by Lazaro Marganon on Thursday, February 3, 2022 at 7:47 AM
By Lazaro Marganon / February 3, 2022
Comment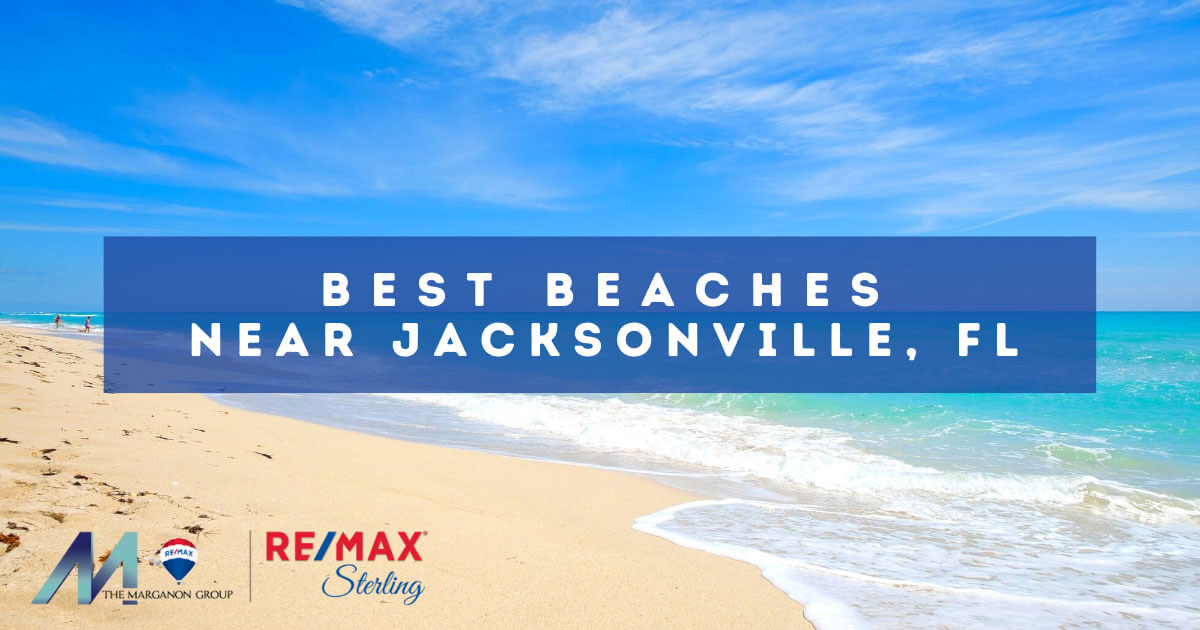 In Jacksonville, Florida, high temperatures stay in the 80s from April through October every year. As a result, it's no surprise locals enjoy finding ways to beat the heat. One favorite pastime is heading to one of the local beaches, whether for surfing, spotting wildlife, searching for seashells, or viewing a beautiful sunset. Those who want to get away from it all will find the city of Jacksonville has many great choices. Keep reading to discover some of Jacksonville's best beaches.
Best Jacksonville Beaches for Surfing
Surfing is an incredibly popular beach activity, and some of the beaches around Jacksonville have a reputation for great waves for beginners and experts alike.
Atlantic Beach
With Jacksonville waterfront homes on one side and mild waves on the other, Atlantic Beach is an excellent spot for the views and beginner surfing waves. Atlantic Beach runs for several miles along the ocean, so even if it's a bit crowded in one area, you can likely find a spot further along to catch some light waves.
Huguenot Park
With free parking near Jacksonville's seaside condos, Huguenot Park is a great spot for more advanced surfers. Experts to mid-level surfers enjoy the bigger waves on this beach. There are multiple parking access spots located off 1st Street South, at 14th, 15th, and 16th avenues. It gets busy, but people can meet a lot of fellow surfers who may share their favorite spots.
Mayport Poles at Hanna Park
You'll find Mayport Poles at the far north end of Hanna Park in northeast Jacksonville, just south of the Mayport Lighthouse. This spot has excellent waves, especially in the wintertime; don't forget to wear your wetsuit because it's chilly. The best waves break at low tide, and "the Poles" has great surfing year-round for mid-level to expert surfers.
Best Jacksonville Beaches for Spotting Wildlife
Florida has a wide variety of wildlife to enjoy, and this is still true in a big city like Jacksonville. Here are some of the best area beaches for looking for wildlife.
Where to Find Sea Turtles
Atlantic Beach, Neptune Beach, and Jacksonville Beach are three spots to view majestic sea turtles. Loggerheads, greens, and leatherbacks have their beach nesting seasons from May 1 through October 31 each year. These are federally protected endangered species, so visitors should keep their distance if they see a nesting site at the beach that is roped off. Contact the Beaches Sea Turtle Patrol to find more information and the best spots to see the turtles.
Huguenot Memorial Park
This park is across the St. Johns River from Jacksonville. The Mayport Ferry in northern Jacksonville is the best access to the island where this park is located. It's one of the best spots near Jacksonville for birding.
Some 251 species of birds have been recorded in this park. The beach is a resting area for many notable migratory birds, including endangered Red Knots, which stop here on their way from Chile to the Arctic Circle.
Little Talbot Island State Park
Located just a bit further north from Huguenot Memorial Park is Little Talbot Island. Wildlife on this undeveloped barrier island includes birds, raccoons, armadillos, white-tail deer, marsh rabbits, and bobcats. There's a $5 per vehicle fee to access the park.
Best Jacksonville Beaches for Shells
Not interested in swimming? Shelling is a great activity that can result in a unique souvenir or addition to a collection.
Mickler's Landing Beach
Located in the southeast of Jacksonville with access to the A1A, Mickler's Landing Beach has parking spots, public restrooms, and an abundance of seashells and shark's teeth on the beach. This beach is also a great spot to search for beautiful sea glass.
Hanna Park
The northern part of Hanna Park is another excellent place to spend an afternoon looking for shells. Just don't wander too far north along the beach, or the guards at the Mayport Naval Station will have some questions. As many as 59 species of shells have been cataloged along this stretch of beach after "nor'easter" storms. March and April are the best months to find Epitonium shells on this beach, while the summer months are best for collecting Hastula cinerea salleana.
The beach near Hanna Park is another great spot to collect sea glass. The rule of thumb for searching for sea glass on beaches near Jacksonville is the less sand, the better!
Best Jacksonville Beaches for Sunrises & Sunsets
There are few things more beautiful than watching the sun rise or set on one of Jacksonville's pristine beaches. Here are the best beaches to spend a relaxing morning or evening.
Black Rock Beach
Located off the A1A on Big Talbot Island (just north of Jacksonville), Black Rock Beach is a scenic photographer's dream come true. Visitors can view the rocky shoreline dotted with driftwood and fallen oaks from the scenic viewing area. They might even see a dolphin in the water as the sun comes up.
Stinson Park
Stinson Park is named for a heroic World War I medical officer from Jacksonville, William Stinson. It's a spectacular viewing spot just off the north side of the Ortega Bridge in Jacksonville's center and is one of the best spots to watch the sunset in the city.
Riverfront Park
The beach at Riverfront Park — just south of downtown Jacksonville — is another excellent location to bring a camera and watch the spectacular sunset. The beach is a favorite local fishing spot, so it can get crowded at times. The cool breeze and the chance to spot a manatee in the St. Johns River make it worth the trip.
Memorial Park
Memorial Park is the city's World War I memorial. Aside from being the #1 picnic spot in Jacksonville since 1924, it's a location for truly breathtaking views of the sunrise and sunset in Jacksonville.
Best Jacksonville Beaches for Avoiding Crowds
Looking for a little alone time? These beaches usually have fewer visitors, letting the people have plenty of space to themselves.
The Talbot Islands
Little Talbot Island and Big Talbot Island are more difficult to access than the regular beaches in Jacksonville. Because one must take a ferry to get across the St. Johns River and access the islands, it makes sense that they are less crowded. The beautiful driftwood, sandy beaches, endangered species of birds, and the occasional dolphin in the Atlantic Ocean make it worth the extra effort to reach these islands just north of Jacksonville.
Hanna Park
Hanna Park has made this list several times, and it offers many access points that are less crowded during the weekdays. The northern end of the park attracts a lot of surfers and seashell explorers. However, there are smaller crowds during the week when accessing the park near Campground Drive or Seminole Road (the southern end of the park).
St. Augustine Beaches
Those who don't mind a scenic drive south along the A1A will find beaches in St. Augustine (about a 15-20 minute drive from Jacksonville), including Vilano Beach and Crescent Beach. These are a bit out of the way, but those who have a weekday off from work won't regret the short drive leading to a beach with very few people around.
Have Fun in the Sun & Sand Near Jacksonville
There are no words to describe the incredible beauty of the Jacksonville area parks and beaches. No matter what someone's reason is for heading to the beach, this metro area of 1.6 million people provides astonishingly beautiful views and the chance to dip their toes in the sand or the water all year long. Just don't forget to bring a picnic lunch, a camera, and sunscreen.
If you're making the move to Jacksonville, contact The Marganon Group @ RE/MAX Sterling with Florida Real Estate Central at (904) 866-4006 to get in touch with Jacksonville real estate agents who can help you find the Jacksonville home that's right for you.